What Is the Magic Online Weekly Announcements Blog?
Every Tuesday, we round up all of the biggest Magic Online news for the Weekly Announcements Blog.
Check in weekly for the latest updates!
---
Quick Links
---
Legacy Festival "Conquer" Phase Begins July 6
The Legacy Festival is approaching its conclusion: The Legacy Festival Championship on July 24! To qualify for the Championship, get five wins in the Competitive Legacy League from July 6–20. Players who get five wins in a Competitive Legacy League will also get a premium Ponder promo while players with four wins will receive a non-premium Ponder promo.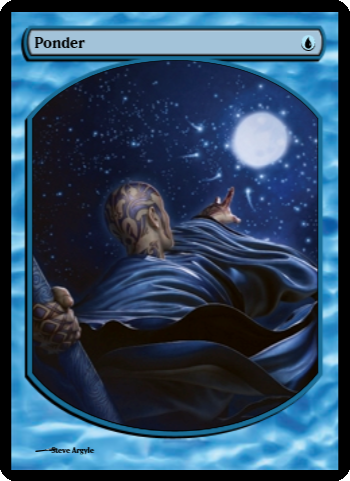 Double your chances for qualification by shooting for the Top 16 in the Legacy Challenge on July 9!
---
Upcoming Vintage Cube Streamer Showdown on July 21
If you've never seen a Streamer Showdown before, they come in two eight-player pods that feature some of the best streamers in the community brawling with the latest Magic Online sets, Cubes, and Flashback Drafts. If you're trying to improve your game, Magic Online streamers are some of the best players out there—and some of the best teachers, too. Even if you're already a Magic pro, throw your support behind one of the competitors and cheer them on from their Twitch chat!

This Streamer Showdown will feature a Vintage Cube Draft! Check out the streamer lineup below, then stop by your favorite streamer's Twitch channel on Thursday, July 21, at 1:00 p.m. PT/8:00 p.m. UTC and 6:00 p.m. PT/1:00 a.m. UTC for the latest Streamer Showdown.
Thursday, July 21, 1:00 p.m. PT/8:00 p.m. UTC Event
Thursday, July 21, 6:00 p.m. PT/1:00 a.m. UTC Event
---
The Vintage Cube Returns July 13–29
A freshly tuned Vintage Cube is coming to Magic Online July 13–29! Learn about the latest Cube changes in Game Designer Adam Prosak's latest article and get the full Cube cardlist here
---
The Year of Modern Flashbacks Adds Conflux
It's 2016: the Year of Modern Flashbacks! If you want to build up a collection for Modern, these Flashback Drafts add everything you draft to your collection once the event is over. Even if Modern isn't your thing, you can enjoy a leisurely draft through the planes of the past with rotating formats each week!
Shards of Alara-Shards of Alara-Conflux Flashback Drafts begin Wednesday, July 6, after the downtime, and are followed up with a full Alara block Flashback Draft. The full Flashback Draft schedule has been updated with formats throughout the rest of the year, so mark your calendar for the formats you're most excited about!
---
Vintage Super League Week 6
This week, the Vintage Super League will be in Week 6 of Season 5— it's the last week playing with the decklists introduced in Week 4!
---
Double Pro Tour Qualifier Weekend
Attention all Pro Tour hopefuls: there's a double Pro Tour Qualifier (PTQ) weekend coming up! Modern Pro Tour Qualifier Preliminaries and the Shadows over Innistrad Sealed Pro Tour Qualifier Preliminaries begin Thursday, July 7, and run through Sunday, July 10. The Modern Finals are Saturday, July 9, at 9:00 a.m. PT/4:00 p.m. UTC and the Shadows over Innistrad Sealed Finals will take place on Sunday, July 10, at 7:00 a.m. PT/2:00 p.m. UTC.
Learn more about Magic Online Pro Tour Qualifiers here.
---
Bug Reporting and Reimbursement Requests Temporarily Unavailable on July 5
On Tuesday, July 5, our bug reporting and reimbursement requests will be unavailable from 6:00 p.m. PT/1:00 a.m. UTC to 10 p.m. PT/5:00 a.m. UTC due to maintenance. If you encounter a bug that you would like to report during that time frame, please make a note of it and report it after the maintenance period.
---
Downtime for July 6, 2016
All tournaments will close Wednesday, July 6, at 5:00 a.m. PT/12 p.m. UTC
Store and trade activity will be suspended at approximately 7:45 a.m. PT/2:45 p.m. UTC
The system will be down from 8:00 a.m./3 p.m. UTC until 12:00 p.m. PT/7 p.m. UTC
---
Build Notes
Cardset | Cards that grant a bonus to other permanents based on the number of counters on them, such as Joraga Warcaller or Sigil of Distinction, now grant the correct scaling bonus.
Cardset | Infernal Darkness correctly changes colorless mana produced by lands into black mana.
Cardset | Squandered Resources's activated ability now adds the proper amount of mana to the player's mana pool.
Collection | A rare display error in which the Added To Your Collection dialog box would not show all of the prizes awarded has been resolved.
Collection | The warning message for indicating that there are too many cards in a Freeform or Freeform Vanguard sideboard now displays the correct value.
General | A bug that caused Magic Online to crash in rare circumstances immediately upon connecting has been fixed.
General | An issue that caused players to receive extra notifications about receiving a bye has been resolved.
Leagues | A display error that occurred when a player reconnects after disconnecting during Friendly league sideboarding has been corrected.
Leagues | A rare bug in which adding booster packs to a Friendly League deck caused the deck to become invalid has been resolved.
Leagues | You may now correctly load decks after reconnecting from a disconnection during Sealed league sideboarding.
Limited Scene | Deckbuilding and round timers now display the correct time remaining.
Sideboard | A visual display bug no longer appears during sideboarding when your opponent leaves the game.
Trade | An issue affecting client performance when adding multiple cards to a trade binder by double-clicking has been resolved.
Trade | When in a trade, the Submit button now flashes correctly to indicate that your trade partner has accepted the offer.

---

Ongoing and Upcoming Events

Head on over to our shiny new event calendar at MTGO.com/Calendar for an easy-to-digest breakdown of events happening all across Magic Online.