Let's take a Gatherer dive through Khans of Tarkir , letter by letter. Some of these might be more of a stretch than others, so bear with me.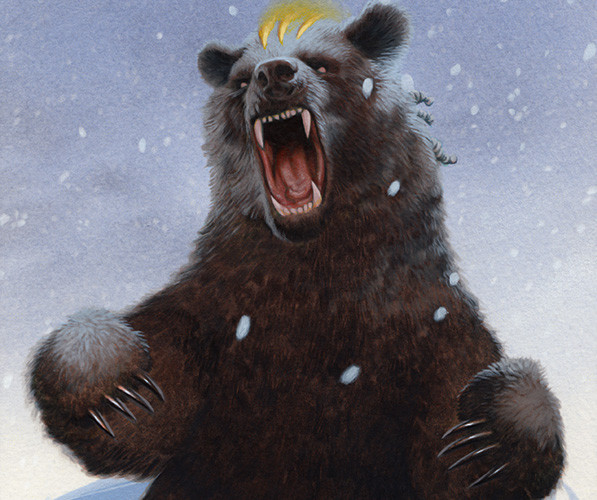 Bear Token | Art by Kev Walker
A is for Ascendancy, of which there are five. A is also for Abzan, the white-black-green clan, which has 30 cards bearing its watermark.
B is for Banner, one for each clan. B is also for bear, because there are an awful lot of them running around Tarkir, and they sure do get punched.
C is for Charm. As you probably know, there are also five of them.
D is for dual lands. There are ten of them, all at common, and they go by several nicknames: "KTK Refuges" (based off the original cycle of five from Zendikar , each with Refuge in the name), "lifelands," and "KTK duals" are the ones I've seen most. D is also for delve, the Sultai mechanic that returns to us from Future Sight, which is on eleven cards.
E is for Elk, because Elk tribal has become a thing in recent sets. You're welcome, Marshall.
F is for fetch lands. These five rare lands originally saw print in Onslaught. Their inclusion in Khans of Tarkir makes them legal in the Modern format for the first time. F is also for ferocious, the Temur mechanic, which is on eleven cards.
G is for Goblin, a creature type with a couple of distinctive looks on Tarkir.
H is for Honolulu, the always-popular site of Pro Tour Khans of Tarkir.
I is for ibex, which pull Anafenza around on her chariot and also serve as mounts for the Abzan.
J is for Jeskai, the blue-red-white clan. Like Abzan, 30 cards bear the Jeskai watermark.
K is for khans, because of course it is. There are five legendary creatures in the set, each the leader of his or her clan.
L is for Loxodon, as in Woolly Loxodon, biggest (power + toughness) common and morph creature in the set. That ties ol' Woolly with Pearl Lake Ancient (a mythic rare!) for the second highest P/T sum at 13. The biggest creature in the set? The rare turtle Meandering Towershell, at 14.
M is for Mardu, the red-white-black clan. The Horde claims 29 cards with its watermark. M is also for morph, which originated in Onslaught and is in all five clans. There are 35 creatures with morph.
N is for Naturalize, a common, a reprint, and the only card whose name begins with N not represented by any other link in this article.
O is for outlast, the Abzan mechanic. There are nine creatures with outlast. O is also for Orc, a creature type making its triumphant return to Magic with seven cards in Khans of Tarkir.
P is for prowess, the Jeskai mechanic, which appears on ten creatures.
Q is for Quiet Contemplation. Shh...
R is for raid, the Mardu mechanic that appears not just on creatures, but on eleven cards of various types. R is also for Rakshasa, a type of creature from Hindu mythology making its Magic debut on Tarkir.
S is for Sultai, the black-green-blue clan, which commands the highest number of clan-related cards with a total of 36 cards bearing its watermark.
T is for Temur, the green-blue-red clan, which has 31 cards with its watermark. T is also for tri-lands, the five lands that tap for clan-specific colors.
U is for Ugin, who is dead. (Spoilers!) But his Nexus yet remains.
V is for Villainous Wealth, a very vexing vindication of the vanity of venal value we vouch when villain visits violence upon victim who, vacant the vestige of volition, views vicariously the verdict of victory.
W is for wedge, which is what we call the three-color groupings that make up the clans' colors.
X is for Empty the Pits, or more specifically its casting cost, which is the first black card with XX in its casting cost.
Y is for Yasimin Ankleshank, a female goblin warrior, we are told by the Planeswalker's Guide, is "famed for her rash battle expertise."
Z is for Zurgo Helmsmasher, who gets a second callout because he's the only card that starts with Z. Oh, and also because he was a face card for Duel Decks: Speed vs. Cunning .