For the past several years, Wizards of the Coast has provided 30-card sample decks to stores and organizations as an easy way for players to learn Magic. These single-color decks are meant to serve as easy introductory points for players who stop in to a store and wonder what this Magic game is all about.
We provide five decks, one for each color. Stores have begun to get these decks featuring cards from Magic Origins, but with a bit of a twist. Each sample deck has several cards numbered 273 and higher that do not appear in Magic Origins booster packs. These cards are legal for tournament play in any format that includes Magic Origins. These cards are available in the sample decks as well as Magic Origins Deck Builder's Toolkits. Each of these cards has been printed before.
You can see the decklists below, as well as the new, never-before-seen Magic Origins cards included in the decks. For more on several of the cards included in the set, check out Mark Rosewater's article today on changing evergreen keywords.
The cards numbered 273 and up include:
If a card is in a decklist below but not listed above and not a new card, that means it is a reprint that is also in Magic Origins.
But wait, there's more!
That's right, if you pick up a Sample Deck, you'll also get a rules insert. Because we like to use pretty cards to illustrate our many awesome rules (at least that's what our rules manager says they are), we have another preview card for you today! Presenting Avaricious Dragon: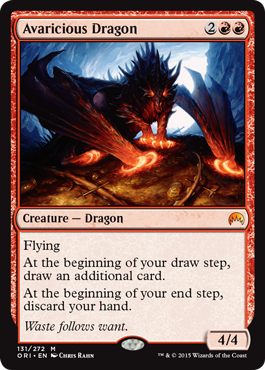 Fierce. And very, very red.
Magic Origins releases July 17.