By Nate Price
A longtime member of the Pro Tour and Grand Prix coverage staff, Nate Price now works making beautiful words for all of you lovely people as the community manager for organized play. When not covering events, he lords over the @MagicProTour Twitter account, ruling with an iron fist.
Two days of fighting behind them, one more to go. The players in the Magic Online Championship have been putting in some seriously long days over the course of Worlds thus far, with grueling days of the Main Event followed by four rounds of MOCS play in the evening. Things have been even more grueling for Jun'ya Iyanaga (SEVERUS) and David Caplan (goobafish), both of whom had to sprint over to the MOCS play area after, I don't know, Top 8ing the World Championships!
It has been quite the showing for the MOCS players this weekend. Representing 12 out of the over 300 players making up the Worlds field, there were five MOCS players left in contention for Top 8 with two rounds to play. Considering that there were only 20 players in contention at that point, five percent of the total field made up twenty-five percent of the contenders. Insane.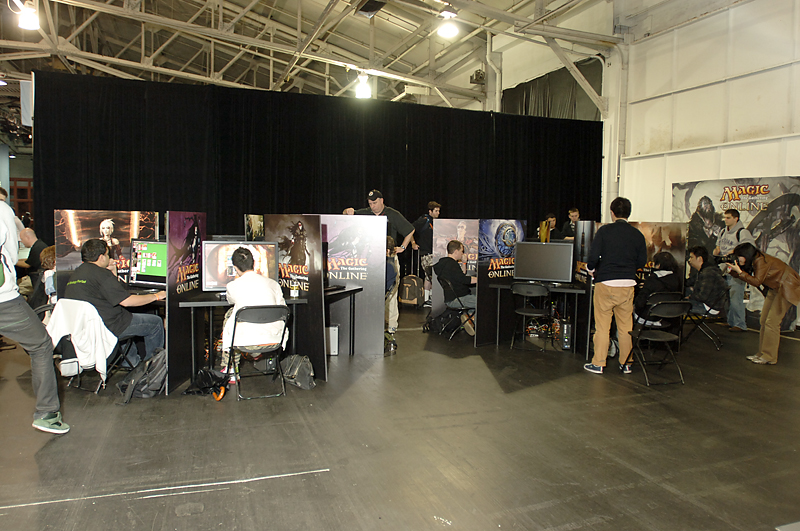 Day Three, Modern Constructed. It's still undecided on who will be playing in the finals. Which one of these players will finish on top?
Going into this final event, the Modern portion of the MOCS, things were pretty tight near the top of the MOCS standings. Florian Pils (flying man) and MOCS Player of the Year Reid Duke (reiderrabbit) sat atop the standings after going 3-1 on both previous days of the tournament. Following in their footsteps were Brandon Burton (sandydogmtg) and David Caplan (goobafish). Not entirely out of contention were Jun'ya Iyanaga (Iyanaga) and Thoralf Severin (Toffel), who would need to go 4-0 today, as well as have the players above them finish with abysmal performances.
Round 1
Things started out with some incredibly aggressive matchups. Pils's Counter Cat deck matched up against Brandon Burton's more aggressive Zoo deck. In the end, Burton's kittens were too fast for Pils to deal with, and he gained some much needed points in his chase for the Finals. Meanwhile, on the other side of the play area, Reid Duke had much better luck in his Cat vs. Kittens matchup. While Bing Luke (prolepsis9) took him to the third game, it was ultimately the power of Cat combined with a somewhat slower draw from Luke's Zoo deck that allowed Duke to take sole possession of the lead. Caplan hurt his chances of a Finals appearance after losing to Jörg Unfried's Jund deck after a tight match. One of the outside contenders, Toffel, kept his hopes alive by out maneuvering Benny (HeavenX) Soewnada's Twin Combo deck with his powerful Next Level Blue deck. The other, unfortunately, was unable to keep afloat. Iyanaga and his Esper Teachings deck fell to Ricky Sidher and his aggressive Zoo deck 2-1.
Round 2
Just as Iyanaga's dreams were crushed in the previous round, so too were Toffel's in Round 2. As powerful as his Next Level Blue deck can be against combo, he was out maneuvered by Andrew Cuneo's Melira Life combo in two short games, including a second game where Cuneo just dispensed with the combo and attacked for the win. It turns out that when your main creature control cards involve stealing them, Viscera Seer is a good antidote. For the other hopefuls, Caplan kept his dreams alive, winning the Zoo mirror match against Bing Luke, who managed to finish just a few rounds short of the Top 8 in Worlds, and saw the same scenario play out in the MOCS.
Both Duke and Pils extended their lead with wins in the second round. The other contender, Brandon Burton, fell to Sidher in much the same manner as Iyanaga had in the round before, potentially eliminating him from the finals.
Round 3
This was the round that decided it all. With contention coming down to the wire, things took a turn for the worse. Pils won his match against Jörg Unfried's Jund deck in rather convincing fashion, but Duke lost his match against Sidher, who was showing his mastery of the Modern format by dream crushing every contender that stood in his way. This loss opened up the door for Burton and Caplan, who needed to win out, and have Duke lose one more round, in order to make the Finals. Unfortunately, it was not to be. Caplan was paired up against Toffel's Blue deck, a matchup that is not particularly good for the Zoo player. Toffel took him down quickly and methodically, and Caplan would have to settle for knowing that he still had a chance to win Worlds in the morning. Brandon Burton, meanwhile, ran afoul of Soewnada's Twin Combo deck, which managed to go off right on time in two consecutive games, leaving Burton out in the cold.
With these results in, it was impossible for anyone to overtake the leaders, Reid Duke and Florian Pils, who would meet in the morning for the Modern Finals.
Round 4
You didn't think it was over, did you? Third and fourth places still get a substantial prize, and there was still much contention for them. Ultimately, the surprise of the tournament came when Andrew Cuneo stormed (well not "storm"ed) back from a 1-3 performance to go 4-0 in the Modern portion of the event, which was enough to catapult him into third place. The fourth place slot went to none other than David Caplan, who managed to take his final match against Soewnada's Twin deck to secure fourth place. An unfortunate turn of events for Brandon Burton, who lost to perfect draws from Soewnada in the previous round and again to Yoshidora's Storm deck in the final round to fall just short, sealing things for Caplan.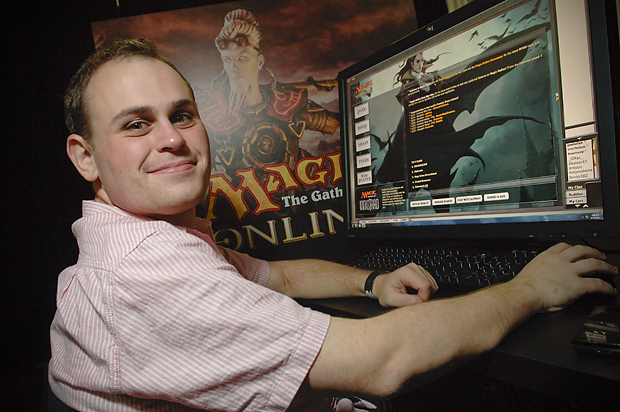 David Caplan not only finished in fourth of the Magic Online Championship, but also earned himself a Top 8 in the main event!"
And just like that, Modern had changed the fates of the MOCS. The leaders had been more or less the same since the middle of the second day of play, and things happened to fall perfectly so that Florian Pils and Reid Duke were locked into the Finals after the third round of Modern Play. Riding the strength and versatility of his Melira Life deck, Andrew Cuneo, one of the original beta testers for Magic Online, was able to shove his way past the horde and into third place. And David Caplan, after crushing the Standard portion of Worlds, was able to continue his success, ensuring himself a place on the Sunday stage of Worlds as well as fourth place for his efforts in the MOCS.
Check back later as Pils and Duke, well, duke it out for the right to be called the MOCS 2011 Champion!
Standings
| | | | | | | |
| --- | --- | --- | --- | --- | --- | --- |
| Place | MTGO Name | Name | Standard | ISD Draft | Modern | Current Total |
| 1st | reiderrabbit | Reid Duke | 17 | 17 | 17 | 51 |
| 1st | flying man | Flo Pils | 17 | 17 | 17 | 51 |
| 3rd | Gainsay | Andrew Cuneo | 10 | 4 | 25 | 39 |
| 4th | goobafish | David Caplan | 17 | 10 | 10 | 37 |
| 5th | sandydogmtg | Brandon Burton | 17 | 10 | 4 | 31 |
| 6th | Toffel | Thoralf Severin | 10 | 10 | 10 | 30 |
| 7th | SEVERUS | Jun'ya Iyanaga | 17 | 4 | 4 | 25 |
| 8th | __SipItHolla | Ricky Sidher | 4 | 0 | 17 | 21 |
| 9th | ponza | Jörg Unfried | 0 | 10 | 10 | 20 |
| 10th | prolepsis9 | Bing Luke | 10 | 4 | 0 | 14 |
| 11th | yoshidora | Yuki Yoshioka | 4 | 0 | 10 | 14 |
| 12th | HeavenX | Benny Soewnada | 4 | 4 | 4 | 12 |