Zainuddin powered out of the gate early with a Satyr Wanderer. Yasooka tried to off it with a Magma Jet, but Zainuddin kept it around with a timely Feral Invocation.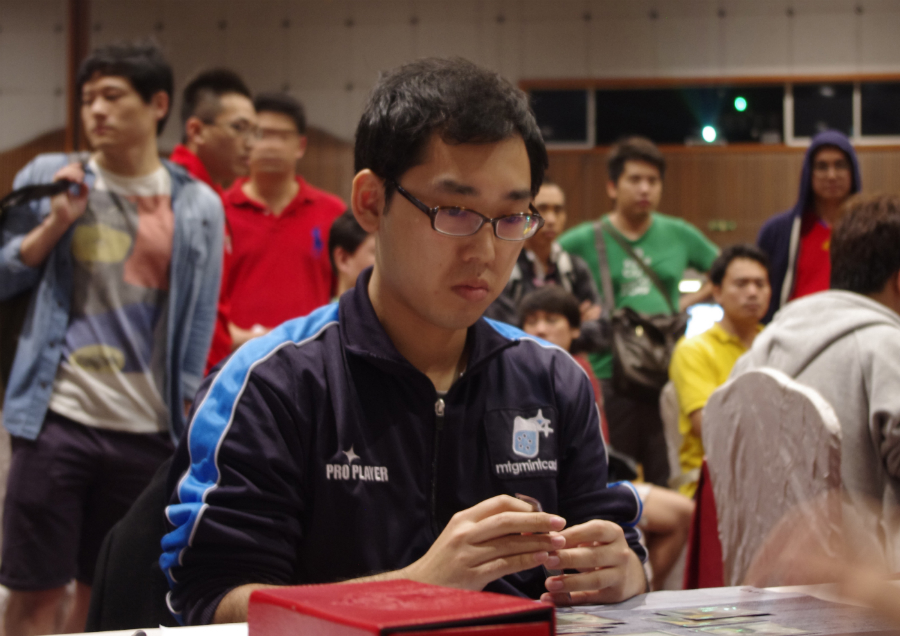 Yasooka contemplates his opponent's growing army
Zainuddin kept up the pressure with a Nessian Asp. Yasooka added his own pressure with a Vulpine Goliath. Zainuddin was barely fazed by the Fox, simply adding more creatures to the battlefield. A few turns of relentless attacks later, Zainuddin wore down Yasooka's defences to take the first game.
Shamshul Zainuddin 1 - Shouta Yasooka 0
Yasooka started the second game off with a Polis Crusher, while Zainuddin went with a Nimbus Naiad and a Prescient Chimera. Zainuddin cast a Sea God's Revenge to get rid of the Crusher for a brief turn, but Yasooka simply replayed it and used a Time to Feed to off the Chimera. And as quickly as that, it was on to the deciding game for both players.
Zainuddin led things off earl with a Vaporkin, but Yasooka had the solid Nessian Courser to keep things interesting. When Yasooka followed up with a Staunch-Hearted Warrior, Zainuddin flashed in a Horizon Chimera, the powerful fliers cracking in overhead. Yasooka had a Magma Jet for the Horizon Chimera during his upkeep, filtering his draw and attacking with his team, bringing the life totals to 13-11. Zainuddin flashed in a Breaching Hippocamp to keep up the pressure, and then summoned a coastline Chimera to shore up his defence.
Yasooka used a Time to Feed on his Staunch-Hearted Warrior to take out Zainuddin's Hippocamp, gaining some precious life in the race. Yasooka's Courser kept nibbling away, while Zainuddin went all-out offensive with both his fliers. Zainuddin had a Nylea's Disciple to gain a few precious life points, hoarding a Sea God's Revenge in his hand for another turn on the premise that Yasooka couldn't break through just yet.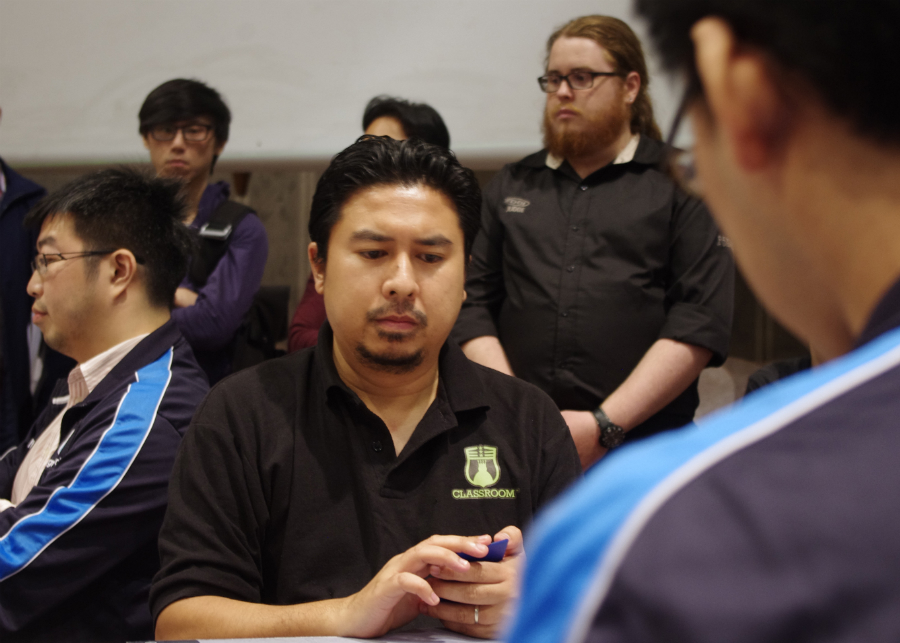 Zainuddin plots his path to victory
Yasooka bestowed a Leafcrown Dryad on his Warrior, bringing it up to a somewhat terrifying 8 power, earning a groan from Zainuddin. He attacked with everything and Zainuddin used a Lost in a Labyrinth to keep himself out of danger's reach, albeit only briefly. If there was ever a time to Sea God's Revenge, now was it, but Zainuddin was stuck on 5 lands.
Yasooka went to bestow a Purphoros's Emissary on his Nessian Courser, drawing a Griptide from Zainuddin and leaving him 'only' having to deal with the incoming 8/8 Staunch-Hearted Warrior. While Zainuddin was considering his blocks, there was a brief moment of confusion about the player's life totals. Once that had been cleared up, Zainuddin's decision became a great deal easier - he chump-blocked, untapped, and dropped an Aqueous Form on his Disciple to attack Yasooka for lethal.
Shamshul Zainuddin 2 - Shouta Yasooka 0