The Story
David and Goliath. William Jensen is a Hall of Famer and widely considered one of the Top 5 Limited players of all time. Edgar Magalhaes is an amateur taking his first steps into the professional world. Welcome to the big leagues, kid.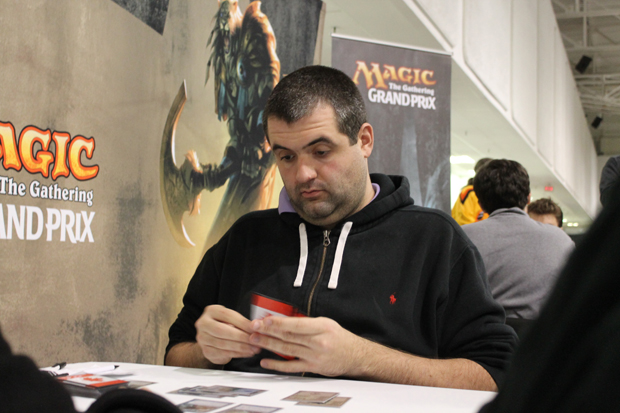 William Jensen
Magalhaes has drafted a Green-Black deck with a white splash. Jensen drafted his favorite deck in the format: Blue-Black Card Advantage. Mnemonic Wall seems to be his signature card for the format.
The Match
Magalhaes started the first game on the offensive. He played out turn-two Fleecemane Lion and then Agent of Horizons. Jensen summoned Blood-Toll Harpy and traded it off for the 3/2. Magalhaes had another copy at the ready. Jensen put up Sealock Monster as a roadblock. Magalhaes made his Fleecemane Lion monstrous. Still it looked like a comfortable spot for Jensen. Pharika's Cure took care of the second Agent and they both built up their forces.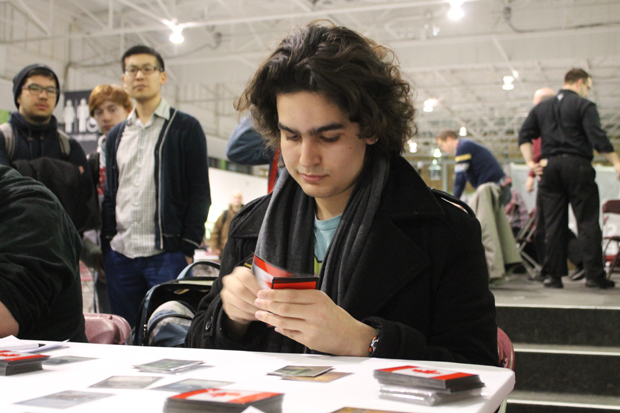 Edgar Magalhaes
That all changed when Magalhaes tapped four and bestowed Hopeful Eidolon on his Lion. Jensen could hide behind his monstrous Sealock Monster, but Magalhaes would be gaining five life a turn. Victory by damage was soon out the window as an option. Jensen dug through his deck with Read the Bones, and came up with Returned Centaur. He used its ability to mill Magalhaes for four. Magalhaes played his last card, a Scholar of Athreos, but Jensen had Sip of Hemlock at the ready.
But it wasn't going to be a cakewalk for Jensen. Magalhaes's next draw was a Lash of the Whip that took out the Sealock Monster after blocking. Now the Fleecemane Lion would act as The Abyss. Time was running out for Jensen. He spent his removal well, buying the maximum turns. He needed March of the Returned to get back his Returned Centaur and mill Magalhaes out. He drew it slowly... Insatiable Harpy! Enough to buy one more turn. It was all or nothing. He drew again. March of the Returned!
Jensen 1 - Magalhaes 0
Magalhaes mulliganed for the second game and started slowly. His Agent of Horizons fell to Stymied Hopes from Jensen. Jensen untapped and played Burnished Hart, but had to take a turn off to search up lands because his hand was all spells. Magalhaes played out a few creatures but nothing too threatening. That is until the Fleecemane Lion reappeared. It went Monstrous before Jensen could remove it. Magalhaes had just two cards in hand, so Jensen went for Psychic Intrusion. They were both good ones: Reaper of the Wilds and Hopeful Eidolon. After what happened in the first game, Jensen was fine leaving him with the Eidolon.
Would it be a replay of the game one? This time Jensen's big defensive creature was Shipbreaker Kraken, and Magalhaes was unable to break through. Jensen was scrying through his deck with the help of the stolen Reaper of the wilds. Soon he had March of the Returned and Mnemonic Wall to go with his Returned Centaur. Jensen was at a low life total, though, so it looked like there was a chance for Magalhaes's topdecked Scholar of Athreos to steal a win, but Jensen's deck served up Sip of Hemlock to shut the door.
Jensen 2 - Magalhaes 0
The Aftermath
Shortly after the match, Sam Black came up to Jensen and asked how the match went. "Well, both games he had Fleecemane Lion, monstrous, with Hopeful Eidolon on it against my blue-black deck so, yeah I won."