Bernhard Wurmitzer (Urzatron) vs. Marcel Kachapow (Splinter Twin)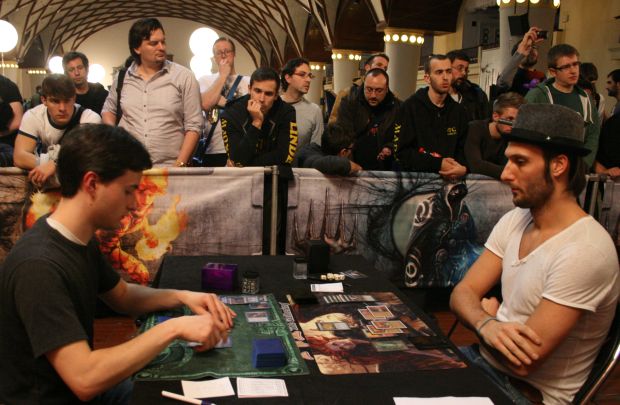 Marcel Kachapow vs. Bernhard Wurmitzer
The most lopsided matchup of the top 8 unfortunately also had the most predictable outcome. Bernhard Wurmitzer could only watch as Marcel Kachapow Remanded his second turn Expedition Map and followed up with Deceiver Exarch into Splinter Twin, attacking him on his fourth turn with a billion 1/4 monsters. In the second game Wurmitzer had high hopes when casting a third turn Karn Liberated, while holding two more copies in his hand. However the first copy was met by mana Leak, the second by Remand, and then a Snapcaster Mage to flashback the Mana Leak followed by a second Remand and a Vendilion Clique to finally discard the third copy from his hand. Although the match went on for a few more turns it was essentially already over.
Marcel Kachapow 2-0 Bernhard Wurmitzer
Vjeren Horvat (Blue/White/Red) vs. Robin Dolar (4-color Jund)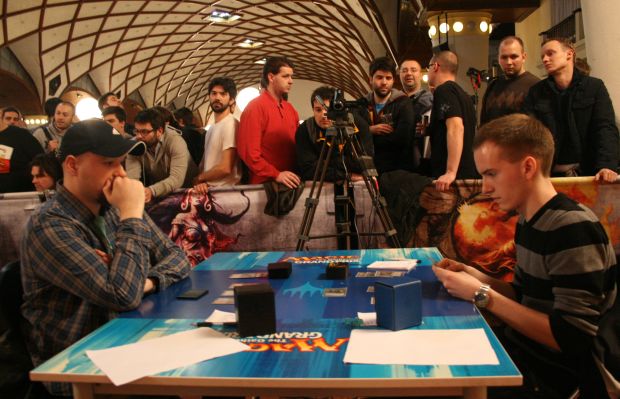 Vjeran Horvat vs. Robin Dolar
Robin Dolar, fresh off a top 8 in Vienna had been piloting his 4 color Jund with expertise the entire weekend. Unfortunately Vjeren Horvat came well prepared for the matchup. Having played it seven times already he only had a single loss against the archetype and he soon displayed why. A ton of removal backed up by Snapcaster to reuse it he managed to remove all of Dolar's creatures and finish the first game quick with a Thundermaw Hellkite. Croatian Vjeren Horvat took down game two in similar fashion, although it looked like Dolar's Fulminator Mages might be able to keep him off vital mana. When they didn't he had no problem casting both removal, Snapcaster Mage, Geist of Saint Traft and Cryptic Command.

Vjeren Horvat 2-0 Robin Dolar
Andrej Rutar (4-color Jund) vs. Emanuele Giusti Jund)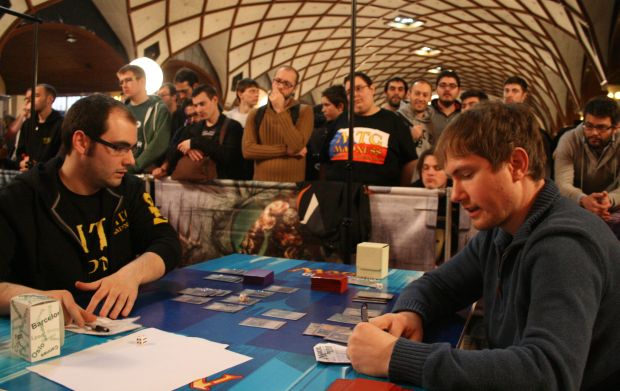 Emanuele Giusti vs. Andrej Rutar
In the Jund-mirror that many might expect to be a long and grindy matchup the games finished surprisingly quick. Andrej Rutar took a small gamble in the first game, keeping a 2-land hand, and when he never saw a third land Emanuele Giusti was quick to put him out of his misery. In game two Giusti was throwing out cheap creatures while Rutar had more clunky spells in Fulminator Mages and Liliana of the Veil. Giusti's two copies of Scavenging Ooze were able to control the size of opposing Tarmogoyfs, and an unanswered Dark Confidant found both lands and an Olivia Voldaren that sealed the Jund deal.
Emanuele Giusti 2-0 Andrej Rutar
Carlos Moral (Blue/Red Delver) vs. Jeremy Dezani (Junk)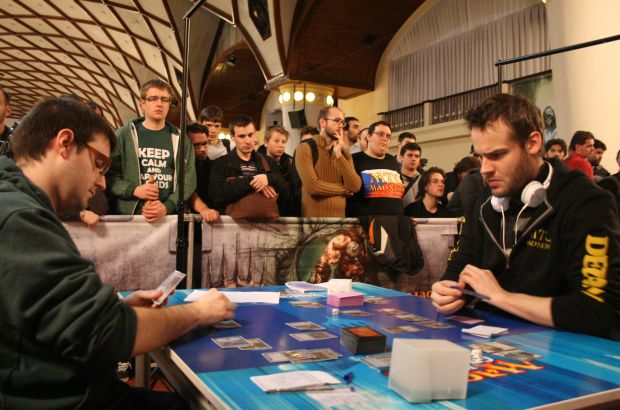 Carlos Moral vs. Jeremy Dezani
Ah the best also lasted the longest. The fourth quarter-final displayed some excellent games between (9) Jeremy Dezani and Spanish Carlos Moral. In his debut top 8 he managed to take the first game of the back of two Young Pyromancer. Dezani could only kill one of them and was soon swarmed with Elemental tokens, almost in chock when he realized how powerful the Young Pyromancer is against his deck. For game two he took command early, and in the end two Tarmogoyf was too hard for his Blue/Red opponent to deal with. The decider was a display of how poorly Liliana of the Veil matches up against Young Pyromancer. As Dezani found no other removals Moral had no trouble casting instants to create Elemental tokens to feed Dezani's Lilianas while attacking with the Pyromancer and adding Delver of Secret and more tokens to the board. In the end Dezani gave a look that in writing would have translated to "Nice deck".
Carlos Moral 2-1 Jeremy Dezani