Playing for almost a decade, Marcus Camargo is here in his first Nationals, and doing rather well at 7-1 with one round of draft to play. Having gone 2-1 with Bant Pod, he's playing now for the perfect draft record. So too is his 25 year old opponent Eduardo Borges. The Porto Allegre resident has played in half a dozen Nationals, and came closest to glory when finishing a heartbreaking 9th last year. Perhaps his mono-red deck can get him across the line this year. But first, that small matter of the 6-0 draft bragging rights...
Game One
Camargo began with an Island into Ponder, leaving the cards on top. Island was also Borges' first play, with Alluring Siren on turn two. Three Islands from Camargo, and pass. Three Islands from Borges, attack for one, and pass.
Now we headed towards a second color. Forest from Camargo led to a blue creature, Aven Fleetwing. Borges had Phantasmal Dragon, but Arachnus Web punctured that illusion. The Aven Fleetwing attacked for two, with Stampeding Rhino next for Camargo. Borges, still with just Islands in a deck that also wanted to use Mountains, cast Mind Unbound, but Camargo was ready with Acidic Slime to take it out.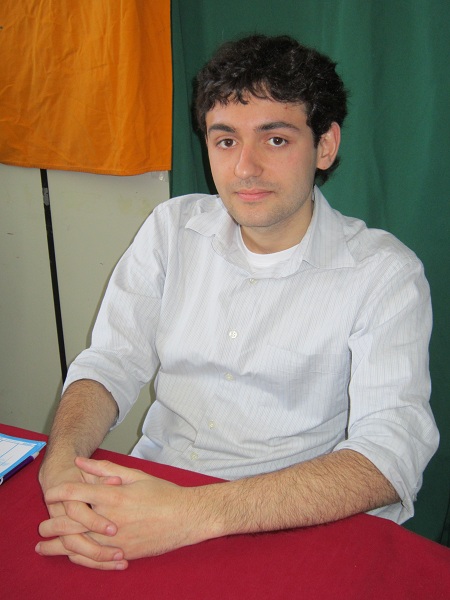 Eduardo Borges
The game continued to evolve, with Borges adding Æther Adept, Phantasmal Bear, and Lord of the Unreal to the board. Another Phantasmal Bear followed. Meanwhile Camargo was replaying his Stampeding Rhino, bounced earlier by the Æther Adept, and trading Acidic Slime for Æther Adept.
Then the game changed rather radically, with the arrival for Camargo of Primeval Titan. Not quite as much of a powerhouse as in Valakut decks, the 6/6 Trampler was still more than a little good. Thin two lands out of your deck, attack as a 6/6 Trampler, get two more lands out of your deck...
Æther Adept from Camargo bounced the Lord of the Unreal back to hand, and his Aven piled in. Borges looked at the Stampeding Rhino, Aven Fleetwing, and Primeval Titan across the table, and packed it in.
Camargo 1 - 0 Borges
Game Two
It was a very different opening hand for Borges, who this time had Mountains at his disposal. Island was first, however, allowing a turn one Phantasmal Bear. Goblin Piker joined the rush on turn two, with Camargo casting Garruk's Companion off his two Forests. In came Borges for four, and he continued to curve out with a Bloodthirsty Blood Ogre. What a start!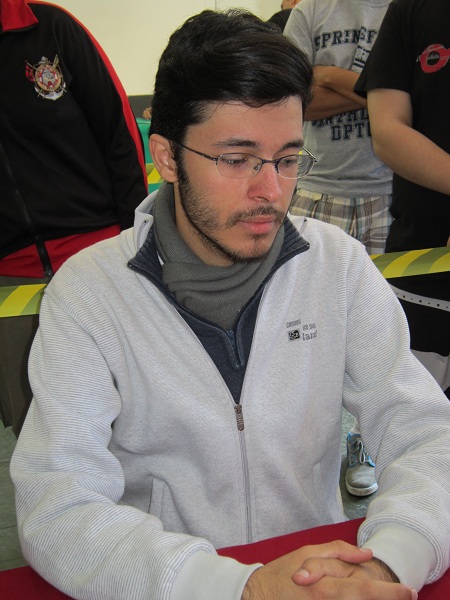 Marcus Camargo
Camargo kept just one creature on the board, his Garruk's Companion, choosing to equip it with Trollhide. Borges elected not to attack, adding Alluring Siren to the board. His Blood Ogre met Arachnus Web from Camargo, who passed back, neither side willing to take the initiative. With Borges apparently stalled, Camargo sent his Garruk's Companion into battle, following up with Belltower Sphinx. A second Phantasmal Bear from Borges wasn't going to get past an increasingly-impressive defense.
In came the Camargo team, with Æther Adept bouncing, and therefore killing, a Phantasmal Bear. Camargo still wasn't done, with a second Garruk's Companion arriving on the scene. Borges drew for the turn, and extended the hand. He had begun the game with three good turns, but that was it. Still at 7-2, he was in with a shout of the top 8, but it was Camargo who managed a perfect 6-0 record in draft, taking him to 8-1, and possibly within one Standard win of the top 8.
Marcus Camargo 2 - 0 Eduardo Borges