After 7 rounds of play, Dmitriy "Butakov" Butakov is in sole possession of first place. Despite a relative lack of experience drafting Cube, Dmitriy was able to cruise to a 3-0 finish with a Blue-Black control deck full of "very good cards."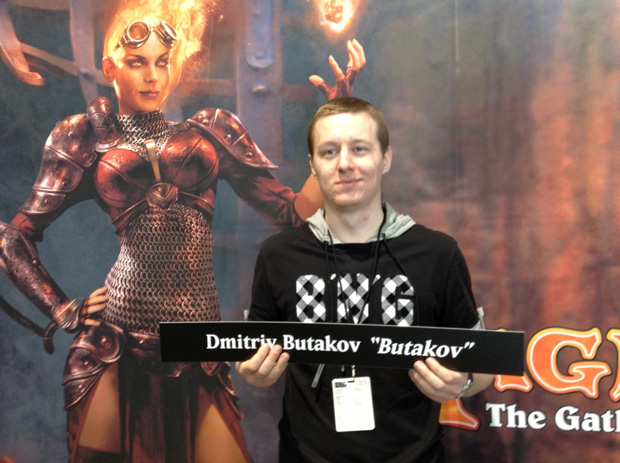 Dmitriy "Butakov" Butakov
When Dmitriy was asked if there was a deck that he wanted to draft, he explained that he just didn't approach limited in that way. "I never know what I'm going to play before a draft starts – I always just follow the signals." Despite ending the day in first place, Dmitriy remained very modest about how he reached his position – crediting luck as a large part of how he was able to escape what he saw as his weakest format with a 3-0 record. "I outdrew all of my opponents during the Cube draft. Every match I drew better than my opponents, and I won."
Perhaps the biggest upset of the event happened as reigning Magic Online Champion, and six-time Grand Prix Top 8 competitor Reid "reiderrabbit" Duke fell on hard times during the Cube Draft - ultimately going 0-3 with his Blue White Control deck despite the fact that he put a ton of time preparing for the format.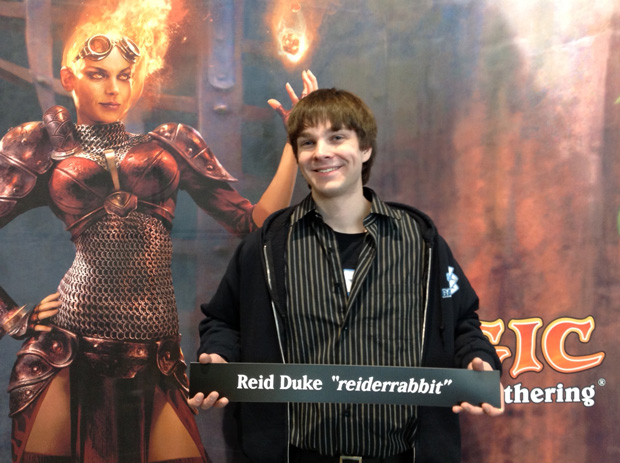 Reid "reiderrabbit" Duke
Up until the very last round of play, 15 year old phenom Oscar "pyromaniac4290" Jones found himself in contention to end Day One in first place. He ultimately fell a bit short of reaching the apex, as he lost the final round to eventual Day One leader Dmitriy Butakov.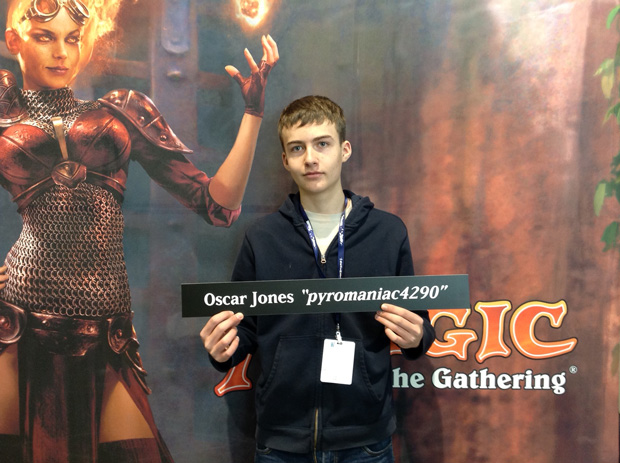 Oscar "pyromaniac4290" Jones
And while Dmitriy knew that he was going to leave himself open, Oscar had a very strong preference going into the draft.
"I really, really wanted to force White Weenie. I think that White Weenie splashing black has done the best for me overall – I don't think I've ever gone 1-2 with the deck. It's surprising, and a lot of people might not expect it - but if you just get some bears, and then some good cards like Swords to Plowshares or Path to Exile, some disruption, and some really powerful cards like Gideon it's just really good."
However, things didn't quite play out the way that Oscar had hoped – and after first picking a Recurring Nightmare (a card which he describes as being "absolutely insane") he eventually settled into a black heavy Orzhov deck full of big creatures, and removal spells.
After a 2-2 finish in Sealed, Andreas "Ekun." Eklund was able to propel himself into a tie for second place by 3-0ing his draft with an aggressive Gruul deck.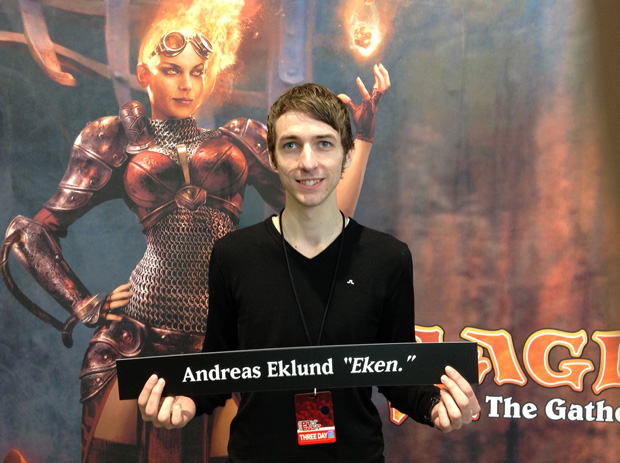 Andreas "Ekun." Eklund
"I started off my draft with a Koth of the Hammer, then I got Bloodbraid Elf and I decided that I would draft Red-Green aggro. The red cards were flowing pretty nicely, and my deck wound up being really, really, good. I got five 1 drops, some burn, a really good curve, and a Skullclamp."
Andreas lost a game in his first Cube match to David "goobafish" Caplan when David gained dozens of life with Obstinate Baloth, Thragtusk, and Parallax Wave - then swept his board with Wrath of God. And he lost another game against Samuel Pardee in the following round, but when they got to the third game, neither of these players were able to contain Andreas's hyper-aggressive Gruul deck.
But not everyone's aggressive red deck turned out as well as Andreas's. After going 4-0 in Gatecrash Sealed Deck, Malte "Malteko" Holm put together what seemed like a fairly strong mono red deck. However, two quick losses later, and the deck didn't seem all that strong.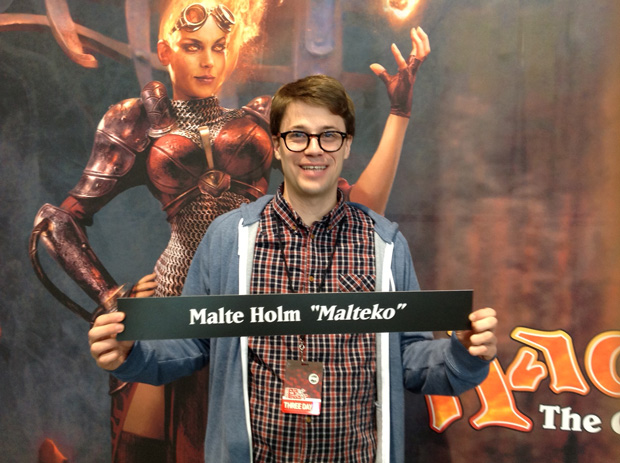 Malte "Malteko" Holm
But despite his slide, Malte was able to keep himself very much in contention for the finals by defeating Reid Duke in the final round of the draft.