I managed to snag 2013 MOCS competitor Bruno Dias between rounds for a quick interview. Here's how it went down.
You've been pretty busy lately. Tell me about the last few weeks.
Yes! Well, the Pro Tour, of course. I flew out to Atlanta the week before to practice. Then, after that, I stayed in Atlanta for the Grand Prix. Then I flew home and here we are at the team GP.
You competed in the MOCS, but Atlanta was your first PT. What were your thoughts as you prepared for that?
It's a whole other level! My goal was only to make Day 2. Of course I wanted to win, everyone wants to win. Nobody says 'Oh, I hope I lose!' But I thought that I could make Day 2, that was my first goal. After that we would see.
And you did it!
Yes just barely. Round 6 at 2-3 I played a match against the great William Jensen. It went three games but I won, that was a big victory for me. After that I thought 'Okay, I can do this'.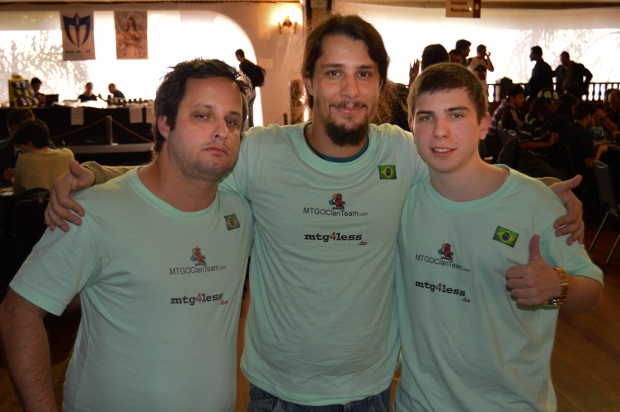 Bruno Diaz, left, with teammates Paulo Cabral and Hugo da Costa
You ended the tournament 117th with a 9-7 record. What were your thoughts then?
It was a mix of feelings. You know, anger at my bad draws, but at the same time... something like "Mission Accomplished". My last match it came down to a topdeck. I was going to kill him with my dragon, he had no cards in hand, and I was at four so I wasn't going to die to Lightning Strike so I thought I was fine. Then he untaps and plays Harness by Force. Bam. That's a thousand dollars and two pro points right there.
That's awful!
That's Magic! You know I went 4-1 in Constructed on Day 2 so I can't complain. Although I did ask him if I could see his deck, he had two of them in 34 cards so you can do the math.
Tell me about the week after the Pro Tour in Atlanta.
Oh that was great. I finally got to be a tourist, see all the sights. The first week, I was very focused, I would only play Magic .
How did the Grand Prix go?
I got 69th, not bad. I was 10-1 going into the 2nd draft and my pod had all kinds of pros in it, Saito, Wafo-Tapa, that awesome guy from Team MTGMint with three names [Tzu Ching Kuo], I actually beat him 2-0 in the first pod. The worst of it was that I thought my 2nd draft was even better than my first one but my draws just weren't there.
After all that, this event has to be like a vacation.
Yeah you know it's always great to play a big event with your friends. My teammates Hugo da Silva and Paulo Cabral are also big Magic Online guys.
So what's next for you?
Well I'm going to be trying to get back to the Pro Tour. It's hard here, though. There are not many PTQs, maybe three a season. I'll be going to them, though, and the Grand Prix in Santiago. Also trying to Top 4 this event of course!
Anything you'd like to add?
Well I just want to say, for me the best thing about Magic is the people involved. You know, people are so welcoming, at the MOCS, at the Pro Tour. I also want to say that I'm so grateful to Willy Edel for his help before the Pro Tour. He really took care of me.