The end of day one saw two players with undefeated records: Florian Koch, whose first draft we already covered, and Helge Nelson who is currently 8-0 in draft matches over the weekend. 8-0? Why, yes, he started the tournament early, by winning one of the last-chance qualifiers on Thursday. That meant 5-0 and his 7-0 winning streak in the main event obviously included a 3-0 in the draft portion. He definitely considers draft his stronger format, and we considered him an ideal pick to watch in the second draft.
He opened a booster with lots of unexciting cards, Greater Basilisk, Aven Fleetwing, and two stand-outs in Oblivion Ring and Doom Blade. He went with Doom Blade and was passed a choice between Merfolk Looter, Stingerfling Spider, and Wring Flesh as the only black card. Time for a second color, apparently, and after some deliberation he picked Stingerfling Spider.
Next up was Sorin's Thirst over Greater Basilisk and Griffin Sentinel, then Acidic Slime over Wring Flesh and Duskhunter Bat. He stuck with green for his fifth pick and took Sacred Wolf, passing Assault Griffin as well as Aven Fleetwing.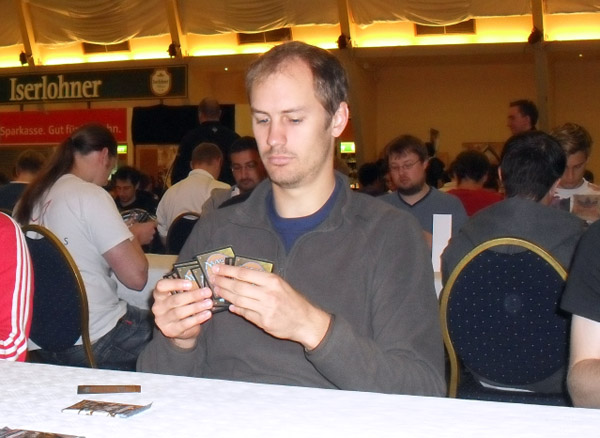 The rest of pack one:
Rampant Growth › Auramancer, Armored Warhorse, Crumbling Colossus
Naturalize › Auramancer
Mind Rot › Rampant Growth, Disentomb
Aven Fleetwing › Titanic Growth, Brink of Disaster
Drowned Catacomb
Cancel
Fog
Bonebreaker Giant
Lava Axe
The second booster he opened had exactly one green card (Fog) and exactly one black card (Child of Night). Even the blue, in which Nelson had dabbled a little, disappointed with Aven Fleetwing. The goodies, like Gideon's Lawkeeper and Blood Ogre, were all elsewhere on the color wheel. He picked Child of Night. The next pack had Rampant Growth and Tormented Soul as well as Merfolk Looter and Skywinder Drake. He chose blue, specifically Skywinder Drake.
Black returned to him with a third-pick Sorin's Thirst, passing Belltower Sphinx, and fourth-pick Gravedigger, passing Devouring Swarm. Even green found its way back to Nelson, when his fifth pick offered him the choice between Lurking Crocodile and Mind Rot. He took the Crocodile.
The rest of pack two:
Vastwood Gorger › Zombie Goliath
Greater Basilisk › Mana Leak
Drifting Shade
Goblin Arsonist › Mind Unbound
Greatsword › Ice Cage
Stampeding Rhino
Circle of Flames
Lure
Bountiful Harvest
The third pack compensated for the weak second pack with the obvious first pick of Grave Titan which moved to Nelson's draft pile in record speed. The next booster gave him pause, though. So far, the packs in this draft had seemed a tad on the low side of the power curve. This one contained: Archon of Justice, Incinerate, Chandra's Outrage, Azure Mage, Assault Griffin, Merfolk Looter, Volcanic Dragon, Lurking Crocodile, andGravedigger, which Nelson took.
Next, he had a hard time deciding between Mind Control and Consume Spirit. It was still unclear, whether green or blue would make up his second main color, but, by my count, the green seemed to be ahead. A three-color deck was also very possible, what with the Rampant Growth and the Darkwater Catacomb he already had, so he chose Mind Control. Then he took Devouring Swarm out of a rather empty pack.
The rest of pack three:
Consume Spirit › Æther Adept
Phantasmal Dragon › Plummet, Stampeding Rhino
Belltower Sphinx › Stampeding Rhino
Mana Leak
Plummet
Merfolk Looter › Lurking Crocodile
Titanic Growth
Buried Ruin
Ponder
Lure
In the end, his deck indeed turned out to be three-colored.