I due studiano le rispettive liste e Gionata scopre subito una cosa che non gli piace...
"Ma tu giochi i Timely Reinforcements di main? Nooo....affrontami da uomo e levale"
"Se tu levi le Goblin Guide"
"Ok, ci sto!"
Ma i judge non sono d'accordo e si parte.
Game 1
Terra Preordain per Mattia che ferma con Spell Pierce lo Shrine of Burning Rage di Gionata e risponde con doppio Squadron Hawk a Furnace Scamp. La race la guida quindi Caw Blade, contrariamente ai pronostici, e Gionata deve usare un Dismember per disfarsi di una Hero of Bladehold che poteva diventare molesta. Ma ormai il vantaggio dato dai falchetti è parecchio, il Celestial Colonnade si anima e insieme ai pennuti porta il piemontese a 5, e a nulla serve un Hero of Oxid Ridge per portare a casa la prima.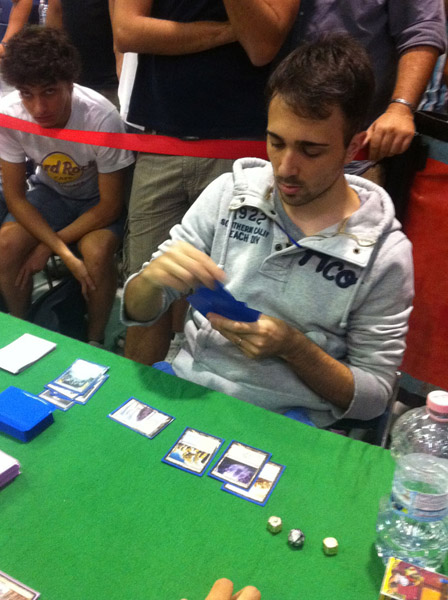 Dal Farra 0-1 Montanari
Game 2
Gio parte sparato con Goblin Guide che però rivela Spellskite dal mazzo, il che mette la partita già abbastanza in salita; una seconda Guida prova a capitalizzare il vantaggio della partenza, ed un Grim Lavamancer dovrebbe essere sufficiente a riciclare le fecthlands che il piemontese sta mettendo nel cimitero in queste prime fasi di gioco. Searing Blaze scoppia lo Spellskite dopo che ha bloccato una delle due guide, ma la race viene interrotta da Timely Reinforcements, giunti al momento opportuno per parare e temporeggiare un turno perché arrivi Day of Judgement. C'è poco da fare però contro una Hero of Bladehold che si vede equipaggiare con Sword of War and Peace, specialmente con un singolo Lighning Bolt e terre in mano, il game finisce esattamente come il primo.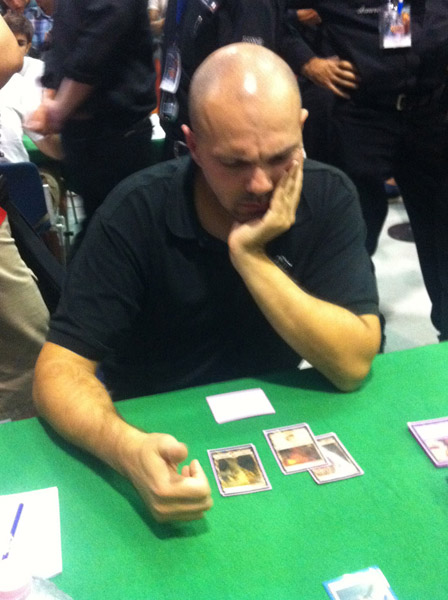 Dal Farra 0-2 Montanari
Game 3
Mulligan per Gionata che vede la strada farsi sempre più ripida davanti: Grim Lavamancer di primo e passa, per poi nei turni successivi mettere Shrine of Burning Rage e Chandra's Phoenix, subito mangiata da Oblivion Ring, a cui Mattia fa seguire Ratchet Bomb, Spellskite e poi Squadron Hawk. La situazione sembrerebbe smuoversi quando su un Revoke Existence, Gionata fa Dismember sullo Spellskite e poi detona il santuario sul suo opponent, ma Mattia decide che è il momento di Timely Reinforcements e torna su di vite, bloccando con Flashfreeze una nuova evocazione di Grim Lavamancer. Gideon Jura decide che è il suo turno e scende in campo gettando il piemontese nello sconforto, e mentre il secondo Shrine si carica, la pescata di Lightning Bolt dà adito a nuove illusioni, frustrate però dal nuovo attacco del planeswalker. Troppo alto di vite il romano per continuare a sperare nel miracolo, Gionata gira la prima del suo mazzo e tende la mano: Mattia Montanari è il primo finalista di questo campionato nazionale!
Dal Farra 0-3 Montanari