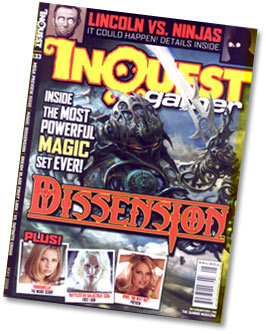 Dissension marks R&D member Aaron Forsythe's debut as lead designer for a set. Aaron wrote an article for InQuest that was essentially a quick diary of his experience designing the set. The original was over 3,000 words, but the version that made it to print ended up being about half that size due to a combination of what the magazine could print (and fit) and what Wizards could give out before the set was out.
Now that Dissension is fully public, we thought this was a great opportunity to print the original. Those who read the InQuest article will find considerably more detail here, and those who missed the original article will get a second chance at Aaron's inside look at designing one of the most highly anticipated Magic sets in history. For those that would like to read the original, copies of InQuest Gamer #133 (pictured right) should be available at your local magazine vendor as you read this. (While you're there, don't miss InQuest's awesome first look at Wizards of the Coast's major new release for 2006: Dreamblade!)
- Scott Johns, Producer for magicthegathering.com
---
The following is a diary of my first design lead—the third set of the Ravnica block, codenamed "Delete" (as in Control-Alt-Delete). You'll know it as Dissension, but for now, have a look at the process that brought this fine set into being.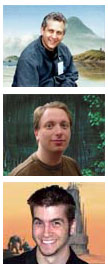 January 17, 2005
The team convenes! "Delete" design is officially underway. This marks my first-ever design lead, and my squad looks to be a competent one, consisting of the famously brilliant Mark Rosewater, the lead designer of Magic; Mark Gottlieb, resident rules expert and wacky idea man; and Brandon Bozzi, knower of all things creative.
Being part of a very structured block, "Delete" gets a few things for free right off the bat, specifically three awesome dual lands. Sounds like a great set already! Additionally we know we need some guildmages, guildhalls, guild artifacts, guild recipes for meatloaf, and so on.
We'd be dealing with three very different guilds in this set—the white-blue Azorius Senate, who are the bureaucratic high judges of the world; the reckless black-red Cult of Rakdos, a crazy group of sadists that live simply to destroy; and the bioengineers of the Simic Combine, who are out to improve nature through science. Brandon debriefed us on the guilds' philosophies—because novels had been written for the earlier sets that referenced our three guilds, we're beholden to some creative constraints right off the bat. But that doesn't bother me—some of the best designs spring forth from restrictions.
January 19
Apocalypse was thought to work well because it did not simply contain "more of the same"…
Today we discussed what we call the "third set problem." In the past, we felt the need to throw players curveballs in the third sets of blocks because we anticipated some of them getting bored with the block's settings or mechanics or both by the time the third sets rolled around. Those curve balls have typically been subthemes that were very loosely connected to the rest of the block. For instance, the "converted mana cost matters" and "dragon" themes in
Scourge
, the "sunburst/five-color" theme in
Fifth Dawn
, and the "hand size matters" theme in
Saviors of Kamigawa
. The main problem is that these subthemes generally feel "tacked on," and don't necessarily play very well in the context of a block's other two sets, mainly because the designers of the third sets had to fend for themselves, as no thought was usually put into how the third set of any given block should look when the first set of that block was being put together. Often nothing exciting was saved for set three, and the people working on them had to scrap to find any new twist on the block's themes (I know first hand—
Fifth Dawn
was the first set I did design work on).
Rosewater was convinced that "Delete" would suffer no such fate, as it had more in common with Apocalypse —generally considered the most successful of all recent third sets—than it did with Scourge or Saviors. Apocalypse was thought to work well because it did not simply contain "more of the same"; instead, it delivered entirely new material than what was present in Invasion and Planeshift. Because of Ravnica block's guild model, "Delete" would by default not be delivering "more of the same"—no more dredge, convoke, haunt, etc.—but instead would have new mechanics and color combination so players wouldn't be bored with it before they even tried it.
I find that sentiment encouraging, but at the same time I've been stockpiling cards for a subtheme that I think will complement the entire block as opposed to trying to turn it on its ear. I call it "gold matters," and it is simply a collection of spells and creatures that reward or punish players for using multicolored cards. Muddle the Mixture in Ravnica used to counter multicolored spells, but I said, "Let's save that." Streetbreaker Wurm from "Alt" used to have protection from multicolored (and be six mana), but I said, "Let's save that." I also had the "Alt" team push off a cycle of Spirits that regrow themselves whenever you play a multicolored spell. What I like about this theme is that it plays into cards you already have access to and gives them new value.
But even though I don't really anticipate the traditional "third set" problem with "Delete," this little subtheme is probably not enough "juice" for the set on its own.
January 21
Rosewater had a great idea today—bring back split cards, except make both halves gold so as to fit our multicolored matters theme. We have been avoiding reusing tricks from Invasion in this block because we want to differentiate the two in players' minds, but now that we're near the end of Ravnica world it might be okay to bend the rules a little.
The team liked the idea, as the split cards would fill the role the Nephilim and Leylines tried to fill in "Alt"—something wild and unexpected. I discussed split cards with Matt Place, the man slated to be the lead developer for "Delete." If Matt believes one thing, it's that we shouldn't be afraid to reuse ideas that players really like, and he believes split cards fall squarely in that camp. Sounds like a go to me!
January 24
The team started talking mechanics today. It didn't take long for us to agree on directions for each guild to go.
Because white-blue wants to promote inaction, we want to try a mechanic that works from your hand. We're calling it "brainwave," and the flavor justification is that the spells are so powerful that merely thinking about them generates an effect.
Brainwave—[cost], reveal CARDNAME from your hand: Do X. Play this ability only during [time], and only once each turn.
We're not sure when we want you to be able to use them—your upkeep, and opponent's upkeep, combat, maybe a mix? Rosewater wants me to talk to rules manager John Carter to see if this ability can be triggered instead of activated, but there are doubts as to whether we can make cards hidden in your hand trigger.
Black-red is supposed to be the fun-loving destructive guild, so we came up with a mechanic that rewards you for destroying your opponent's stuff.
Thrillkill N—Do X. (At the beginning of your upkeep, if any opponent controls N or fewer permanents, do the thrillkill effect.)
The mechanic has quite a few variables, but it should be interesting to work with.
Because blue-green wants to have good creatures and be able to alter its creatures, we figured something with +1/+1 counters would be in order, especially since we could engineer it to work well with Gruul and Golgari cards. Our first attempt:
Mutato—2, Remove a +1/+1 counter from CARDNAME: Put a +1/+1 counter on another target creature. That creature gains [ability] until end of turn.
So they'd play like souped-up Stronghold Spikes, granting abilities like flying and trample to other creatures in addition to donating +1/+1 counters. "Mutato," by the way, is a word Gottlieb culled from an old X-Files episode. Of the three, this is the mechanic that I feel could be improved the most.