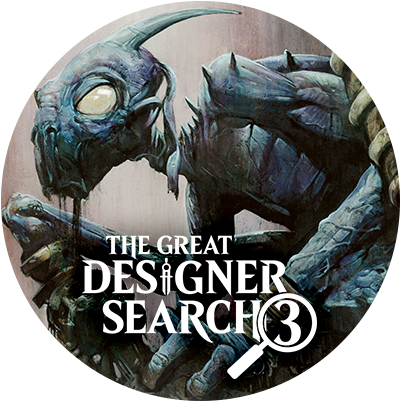 Trial 3

Judges

Eli Shiffrin

Erik Lauer

Melissa DeTora

Guest judge Ethan Fleischer

Mark Rosewater

Design 1

Swallow Whole (uncommon)
BG
Instant
Exile target creature if its toughness is less than the greatest toughness among creatures you control. You gain life equal to the difference.

This is a nice draft-around uncommon. It is a strong reward for drafting tough creatures, and provides them a card they need: an answer to evasion.

This is a cool removal spell doing something we haven't really done before. The life gain gives you a choice as to what you're killing with it if you care about the life. I think it's unfortunate that I need to have big creatures in play to cast this. That really limits what kinds of decks this goes in.

The flavor (pun intended) of this card is a bit off; why am I gaining life if my creature is doing the eating? I find this card to be needlessly baroque, but I could imagine putting it into a set with a "toughness matters" theme like Khans of Tarkir.

I enjoy Limited answers with cool restrictions, so I'm a fan of this design. Also, props for recognizing "toughness matters" as a recurring black-green theme.

Design 2

Sewer Skimmer (common)
1UB
Creature — Bat Horror
2/1
Flying
Whenever Sewer Skimmer deals combat damage, exile up to that many cards from a single graveyard.
Sewer Skimmer has deathtouch as long as it's attacking a player with an empty graveyard.

This combination of abilities is rather puzzling, especially for a common creature. It has to hit them to grind their graveyard, so it has deathtouch, but only when attacking.

Also, it feels more like a mono-black card than a blue-black card.

This is a sweet common. I am already getting a nice evasive body, and by attacking I can work up to a reward. I'm not sure if deathtouch is the right reward here. It would be an unfortunate thing to lose if my opponent had an instant in combat. I would prefer it had a reward that didn't make you lose combat if it turned off, especially on a common.

I would probably move this card up to uncommon, just so players aren't constantly pawing through each other's graveyards in Limited games. I suspect that this card is good enough as a 2/1 flying creature that some players will main-deck it even if their opponent isn't playing a graveyard-centric deck. If we want this to be a sideboard-only card, we could make it a 1/1. I would consider adding a card like this to a set that has a strong graveyard theme, to help give players points of interaction.

Not black-blue and not common, for starters. I do like the general setup of the card, that you're slowly eating their graveyard and get a reward when it's empty. I would move this up to uncommon and give a bonus that makes you end the game faster once you get it (Erik and Melissa are correct that deathtouch is the wrong reward), ideally with some hint of blue to make this a blue-black creature.

Design 3

Indiscriminate Slaughter (rare)
2BR
Sorcery
Choose a creature at random. Destroy all other creatures.

This is a fun but familiar design, but probably not for Standard tournament play. I would charge more mana.

This is cool and has the right amount of randomness that makes it not too swingy. Looks very fun for Commander, but is costed aggressively enough where it will be Standard relevant.

Ugh, this is gonna feel bad when it doesn't work out for you. I'm only going to Wrath when I'm behind on board, which means this will more often than not choose my opponent's creature to save. I just don't think people will enjoy this, and they'll play other, more reliable cards in their decks.

I like this design. It's a cool but simple black-red mass-creature-kill card. I think the variance will make the card quite an event when it's cast.

Design 4

See You Tomorrow (rare)
2WUU
Instant
Return target attacking creature to its owner's hand. Its controller skips his or her postcombat main phase.

Whenever you're referring to a future point in time, our rich history of cards works against us a little—that future point in time might not be when you expect, and it might happen more than you think. Thanks to Time Stop, that player's next postcombat main phase may be a few turns from now; and thanks to Aggravated Assault, it could happen seventeen times this turn. This card is easily fixed by tweaking the phrase to "next postcombat main phase this turn," but not all designs can be saved so easily.

People get punished once for attacking before casting their spells, then learn to play around this by casting spells precombat when you leave five mana available. I don't think that is very fun. I would change this to not allow its controller to cast that creature for the rest of this turn.

This design looks unfun. It would feel so bad to have this cast against me, to have planned a turn only to lose not only my attack but also the rest of my turn. I enjoy Time Walks, but not like this. I also am unsure if this card needs white mana. I think both are mono-blue effects (Mark can confirm).

If this card is powerful, it will incentivize people to try to unlearn the best practices of a lifetime of playing Magic. They will need to cast their spells during their precombat main phase, which is generally a bad idea. I don't think it's as egregious as, say, the miracle mechanic, but it looks like a frustrating effect to have in an environment.

This is another card that blends together two different colors' effects cleanly, resulting in a not so fun card to play against. Also, Melissa is kind of correct; both of these effects can be done in blue, but the attacking restriction leans heavily white, making this card feel white-blue enough to me.

Design 5

Heart's Desire (mythic rare)
3GGUU
Enchantment
If you would search your library for a card or cards, search for twice as many cards that fit the search criteria instead.

Some cards like Cultivate that refer to a singular "the other" can easily enough be brushed off as affecting "the others," which is a power level issue rather than rules. Protean Hulk boggles in confusion, though—two sets with total converted mana cost 6, or one? I'd aim the text simpler to get straight to the point and only mention the bits you care about:

While searching your library for one or more cards, you may search for up to twice that many cards.

I would reword this to search twice (since I am not confident "twice as many" always works), but it is a very interesting idea.

I like this card. It can lead to a lot of searching and shuffling (because you are building around it), which will slow down gameplay, but I think it is expensive enough where the amount of decks it will appear in is limited. I think this card looks fun.

This reads as pretty appealing for players (not me, mind you!) who enjoy Tutors, but I'd be shocked if it actually works with many search effects. What does this do with Long-Term Plans? What about Scion of the Ur-Dragon?

Doubling searches? I think I'm in love. My only criticism of this card is a self-criticism that I didn't think of it first.

Design 6

Kaya, Kingslayer (mythic rare)
WB
Legendary Planeswalker — Kaya
1
+1: Each opponent loses 1 life and you gain 1 life.
-3: Exile target creature until Kaya, Kingslayer leaves the battlefield.
-6: You get an emblem with Creatures can't attack Kaya planeswalkers you control.

I suspect that most games this does almost nothing, and in others it is too potent. I don't find this novel enough to bother with, and would just replace it.

I dislike that you must have this in play untouched for four turns before you can remove the first creature with it, and then it's at 1 loyalty, which will make it very easy to remove. The mana cost may be worth the time investment, but even then, one attack will ruin your day. I think there is something here with a Journey to Nowhere planeswalker, but I would prefer if it didn't have to have this sit around for so many turns.

I generally prefer to give players two choices of loyalty abilities when their planeswalker enters the battlefield. This card has a little ultimate and a big ultimate, which is okay to try, but the design is fighting an uphill battle right from the start. This card looks like, when it actually fulfills its potential, it bogs the game down in some sort of soft lock where the opponent can't remove it, you're gaining life, and you're occasionally removing creatures. Yuck!

I'm wishy-washy on this design. There's elements I like. It's flavorfully Kaya, but it just doesn't seem particularly fun to play. My biggest criticism is the ultimate. It's neither splashy nor pushes toward fun gameplay. Your ultimate should help you win, not prevent you from losing.

Design 7

Cranky Hydra (rare)
XRG
Creature — Hydra
1/1
When Cranky Hydra enters the battlefield, choose X. You may choose the same mode more than once —
* Put a +1/+1 counter on Cranky Hydra.
* Cranky Hydra deals 1 damage to target player.
* Destroy target artifact or enchantment.

I like the idea of a modal creature that scales like this. I don't think the modes are equal in power level. I think generally with this card you are always killing an artifact or enchantment if they have one, or always getting counters, unless you are killing them with the damage (or have more face burn in hand). When making modal cards that require no additional mana, each mode should be similar to each other in power level.

This card is pretty sweet. I don't know if each of the modes is sufficiently balanced against each other, but the essence of the design (X Hydra with Confluence text) looks like it will make a cool, flexible, appealing rare card, or maybe even a mythic rare!

I like this design a lot. Using X to set how many modes you get to pick is really cool. My one criticism is I would like the last effect to feel more like it's part of the Hydra. The first two feel like I'm affecting the Hydra, where the Naturalize effect feels like a spell stapled on.

Design 8

Ral, Living Experiment (mythic rare)
4UR
Legendary Planeswalker — Ral
4
+2: Discard a card. If you do, draw two cards.
0: Instant and sorcery spells you cast cost 1 less to cast this turn.
-9: Take an extra turn after this one. During that turn, whenever you cast an instant or sorcery spell, copy it. You may choose new targets for the copy.

This is a very clear Ral design.

This is nice. All abilities are appealing, the entire package works, and it is in character for Ral.

A cost-reduction ability on a six-mana planeswalker seems out of place to me. The ultimate doesn't seem very splashy to me; generally we want our ultimates to help bring the game to a close, but this ability is only going to close out games under certain circumstances (when you're ahead on board and/or have a powerful spell to double).

This both seems like a flavorful capturing of Ral Zarek and fun card to play. I particularly like the ultimate in that it allows you to take many turns setting it up. My one change is I might make the second ability an emblem so that it could interact with the ultimate.

Design 9

Alacrity (common)
(g/w)
Sorcery
Target creature gets +2/+2 and gains vigilance until your next turn.

This is a good hybrid design. However, the memory issues make it a poor choice for common.

I dislike the tracking issue on this card. It seems simple in a vacuum, but gets pretty complicated if you play multiple of these on different creatures, or other cards that grant different keywords if this is part of a cycle. There are non-elegant solutions for this, but there is a reason why we haven't reprinted Riding the Dilu Horse.

This design fits well within the color pie; white and green can both do this effect. The problem is that this card is so weak, even at one mana, that I would never put it into a deck. One mana is as low as we can go, though. If I really liked this design, I'd make it a cantrip and maybe add a mana to its casting cost. Or maybe we could turn it into an Aura.

I'm not a big fan of "until your next turn." I would just remove it from this card and leave it at common (if you leave it, Erik is right that it needs to move up in rarity). I do appreciate that you understood that a spell that grants vigilance needs to be a sorcery as being an instant would allow players to mistakenly use it (granting vigilance to a creature already attacking doesn't really do anything).

Design 10

Curse of Apprehension (uncommon)
1RW
Enchantment — Aura Curse
Enchant player
Creatures enchanted player controls can't attack or block alone.

This is novel, but what worries me that it is a lock-out component, so I would likely charge more mana. That sounds innocuous, but is clearly a step toward replacing the card.

This is overall cool. It can be pretty punishing if the opponent is playing a control deck with one win condition like Aetherling, which I think is a good thing. There is definitely a cost to playing this in your deck, but it can have huge upside depending on what kind of deck your opponent is playing. I would cost it a little higher just because of how punishing it can be.

This is an interesting card. It's Goblin War Drums with additional upside. It doesn't hose aggro players too hard, but the fewer creature a deck runs, the more this hoses them. I could even imagine this as a symmetrical effect maybe. This card has definite potential.

My gut is to punish the cursed player for not doing what the spell restricts rather than prevent it from happening. This helps with Erik's lockout issue.

Overall Judge Commentary

You have some good, novel designs, but also cards that have very clear problems. Sometimes the key is to treat a card design as a draft, then come back and revise the card later, perhaps the next day.

Overall, I thought your cards were very good. That said, they were also very safe. Many of your cards were simple effects and not very innovative. You didn't try many things that haven't been explored before. Most of your cards were effects that have been printed in Magic's past, but with a different angle. I think you need to be a bit bolder and think outside the box a little. Based on what you've shown us, you know how to make cards that look fun and cost them appropriately, so I believe you can do this.

I'm going to give you the same note I've given to more than one of your competitors: playtest your cards! I have a lot of practice imagining what cards will end up doing (and I'm sure that Erik's comments above are even more comprehensive in that regard) but the best way to learn about this is to actually playtest with the cards. Your cards aren't as innovative as some of the other contestants, and they aren't as resonant as some. Your designs have the potential for elegance, but you're failing in the execution. It essential that your cards aren't simply elegant to read; they need to be fun to play with. For the next show, it's going to be essential for you to put in the extra effort to playtest your cards and iterate on them a few times before handing them in.

You were very middle-of-the-pack for me. You neither excelled nor failed at any one aspect. I saw elements of innovation, polish, flavor, and of execution, but in each you had failings. I really enjoyed Heart's Desire, and Cranky Hydra seems like inspiration for a cycle of cards, yet you also had a bunch of misses. My advice to you is one I've given out a lot today: playtest your cards. You have neat ideas which I think would be improved by actually watching them in action. Most of your designs seem one or two steps away from being awesome. For these upcoming challenges, you need to keep evolving your designs to get them from good to great.
Challenge #1

Judges

Eli Shiffrin

Erik Lauer

Melissa DeTora

Guest judge Alexis Janson

Mark Rosewater

Tribal Choice: Imp

Contestant Comments

I chose Imps for this challenge because they don't really have a mechanical identity in Magic right now, which is a shame, as their creative is super clear; Imps are tricky, annoying, and well . . . impish!

I didn't want to encroach on Faeries, so I knew I wanted Imps to be proactive rather than reactive. I also didn't want them to just seem like flying Goblins, so I shied away from token creation. I hoped to slot them in a sweet spot between those two tribes, where they'd have the intelligence and trickiness of Fae with the nastiness and aggression of Goblins.

Discarding Imps was meant to evoke the uncertainty of whether an Imp was lurking behind any given corner, ready to jump out and poke at you. From a game design perspective, it also helped give a tribe with only small creatures more late-game reach. Lastly, it helps Chimney Imp potentially be not terrible? (Probably not. Poor Chimney Imp.)

The punisher cards were meant to give players a chance to feel a little like an Imp themselves. "Hey, you wanna discard a card? Hey, you wanna sacrifice some stuff? How about now? How about now?"

I wanted to ensure there was a legendary Imp for the Commander crowd, leading to Ixix (which also features nostalgia nods to Nettling Imp and Imp's Mischief). I also tried to make the commons fit in the sweet spot for Draft where they're playable by anyone, but often make it to the Imp player

Hope you're imp-ressed!

Design 1

Tiny Pitchfork (common)
2
Artifact — Equipment
Equipped creature gets +1/+0 and has first strike.
Tiny Pitchfork's equip ability costs 1 less to activate if it targets an Imp creature.
Equip 2

This is simple, flavorful, and a good tribal reward. If we are making an artifact set, this is an appropriate common. If we are not making an artifact set, Equipment tends to stay on the battlefield the whole game. So, at common, it is not surprising that someone playing Imps has two of these on the battlefield. This can create a "brick wall" effect, where blocking is too effective.

I like the idea of an Equipment that has a cost reduction if it targets the appropriate creature. That said, I would definitely avoid first strike Equipment at common. It makes blocking in Limited difficult and frustrating, and scales with multiples.

This doesn't really excite me; my deck needs to be mostly Imps for this to become Viridian Claw, but at that point I'd hope to have better tribal bonuses to put into my deck. If I ignore the tribal bonus, this mechanically represents a pitchfork just fine, but why is it easier to equip Imps? The tribal bonus feels arbitrary to me. This card doesn't integrate with your mechanical themes at all. Your commons need to demonstrate the simplest execution of your theme or play well in a deck built around those themes.

This design is simple and somewhat flavorful (I more connect Devils with pitchforks than Imps). Dominaria introduces templating that's would make it less wordy: Equip to Imps 1. To solve Melissa's issue of board stall, but keep the pitchfork flavor, I would have had the first strike only work on attack. I also agree with Alexis that this card does not do a great job of establishing your overall theme for Imps.

Design 2

Imp Pulse (common)
2R
Sorcery
As an additional cost to cast Imp Pulse, discard a card.
Draw two cards. If you discarded an Imp card to cast Imp Pulse, Imp Pulse deals 2 damage to each opponent.

This is appropriate for red, and for common. In many ways, this is a good design. However, it is a common telling players to discard their Imps. That is appropriate if we want them to put their Imps in the graveyard (which would make sense for Zombies). While you have one card that rewards you for having an Imp in your graveyard, it isn't a major enough element of this tribe for a common to reward discarding Imps.

This is a sweet common for Limited! Tormenting Voices are useful Limited commons, and this one has a nice little bonus.

I think this a neat combination of rummage and a bonus that we haven't seen before, with a lot of potential design space. Awesome! Not sure I understand how this is Imp-ish.

This is a nice tweak on a rummaging card, although I agree with Erik that discarding Imps doesn't seem like a great overall play pattern. Also, be careful with design names as to not to imply something mechanically that isn't true. (This card isn't Impulse, a very iconic blue card that has become the nickname for "look at cards from the top of your library and put one (or more) into your hand.") We have found time after time that this messes up playtests, as players assume the names are correctly helping them.

Design 3

Leave an Imp-ression (uncommon)
3B
Enchantment
At the beginning of combat on your turn, Imps you control get +1/+0 until end of turn unless target opponent discards a card. Repeat this process once.

This is quite interesting, but a deck is going to need so many Imps before it is worth playing this in Draft. I think that is quite fixable. If the card gave +2/+0 unless the opponent discards a card (once), at a lower mana cost, I think this would be an interesting card in Draft. However, I would choose to either have the Equipment or to have this enchantment. Imagine you draft a black-red Imp deck. You are playing 40 cards, and about seventeen of those cards are lands, and maybe fifteen are creatures. Black and red have the most creature removal cards, so say you are playing five of those. That leaves you three cards for the rest of your deck. Since most of the cards you open are common are uncommon, having so many slots devoted to cards that make up so little of what you expect them to play doesn't help me make a set.

This is interesting, but I'm not sure this is the right execution. If you have no Imps in play, the opponent will just choose to pump Imps, making this have an unnecessary trigger and choice, and do nothing. Maybe it could only trigger if you control an Imp, or have target Imp get a larger bonus.

I am actively disinterested in ever playing against this card. Your opponent has an opportunity to stall things a little, but this quickly becomes a non-decision. I fear this specific design ultimately just encourages someone to hose themselves. Requiring a single discard to stop the full +2/+0 would be a more reasonable choice. Doing punisher every turn might be an interesting direction to explore, but probably only results in a couple of stand-alone designs such as Torment of Scarabs.

I'm not a big fan of "I get to do cool stuff unless my opponent says I can't" designs. I would prefer you worded this as "choose one: your Imps gets +1/+0 or your opponent discards a card." Also, you're heading down an odd path where one part of your play pattern wants you discarding Imps and another wants you having as many Imps on the battlefield as possible. You need to have a cohesive overall plan that clearly communicates to the player what they're supposed to want to do with the tribe.

Design 4

Lead Into A Trap (uncommon)
2R
Instant
Lead Into A Trap deals 2 damage to each creature blocking or blocked by an Imp.

This is an interesting card, but not as useful for this color pair. This color pair has the amplest selection of creature removal, so it is the least interested in what to do when the board is flooded with creatures. Additionally, this effect is not appealing in a tribe of low-toughness creatures. This would make a lot more sense in a red-green tribe.

This is cool flavor. However, we do damage to blocking or blocked creatures in white. This card can be a potential one-sided wrath if you have enough blocked Imps. Overall, I think this card is too narrow. It's just a blank unless you have enough Imps in your deck. I think a better execution is to deal 2 damage to a creature, but if you control an Imp, deal more. It would still be a weak Limited card, but be desirable if you have Imps.

This is a white card, other than the reference to Imps. It's also pretty narrow, which is a big hoop for a combat trick that is often just a worse Trumpet Blast. This doesn't excite me as a player or designer. I also don't see any connection to your other cards here.

This card is quite narrow. It's a completely unusable uncommon for everyone but the dedicated Imp player. I'd prefer it do something and then do an extra something if the affected creature is an Imp. Also, as Melissa and Alexis both point out, this is a white effect.

Design 5

Hell's Gate (rare)
Land
Hell's Gate enters the battlefield tapped.
T: Add B or R to your mana pool.
1BR, T, Sacrifice Hell's Gate: Return an Imp creature card at random from your graveyard to the battlefield. Activate this ability only any time you could cast a sorcery.

This is a solid design rare land design. Randomness is a good way of adding a red element to what is a base black effect.

This land is sweet, and it enters tapped, so there is a cost to include it in your deck. It has the right amount of variance for what it's doing, works well with the Imp theme, and feels on-flavor. One downside I see is that you can build your deck in a way where you are actively discarding your one strong Imp to reduce variance. This type of card will restrict Imp designs, due to the low cost to cheating one into play. I think it should cost one more mana to activate.

A dual land with a tribal ability is reasonable, and this ability fits your theme, but this only excites me in the sense that my Spike sensibilities love good mana and lands that are useful late game. Note that this card doesn't encourage me to play an Imp tribal deck. It encourages me to play a deck with four copies of the best Imp in the format and no other Imps.

I agree that having the return be random actually makes you less likely to play Imp tribal and instead encourages you to just play your best Imp. I'm also not sure how this card fits into the larger Imp theme you're building.

Design 6

Noxious Imp (rare)
1BB
Creature — Imp
2/1
Flying
Whenever you discard an Imp card, Imps you control get +1/+0 until end of turn.
1B, Discard a card: Each opponent discards a card. Activate this ability only any time you could cast a sorcery.
3BB, Discard two cards: Each opponent sacrifices a creature.

Where is the player supposed to get all the cards to discard? If they discard Imps, how are they going to have enough Imps for the reward? When they discard so many cards, there is a lot less hidden information. This doesn't look very fun to me.

I would avoid abilities that make gameplay too repetitive. I think this is one of those cards, but that can be solved by changing what the abilities do. I think Raven's Crime is not a fun card, so I would first find a different 1B activated ability. I think the 3BB one is appropriate, because discarding two is a huge cost. The tribal payoff looks great. What I dislike most about this is the "whenever you discard an Imp card." This card is asking me to keep Imps in play, and Imps in my hand? I want to play my Imps! I would just remove that line of text and have a static "other Imps you control get +1/+0," to simplify it and remove a lot of tension.

This is a lot of text. The ability progression makes sense, but as a package this feels pretty uninspiring. What good is an Imp tribal reward if I keep discarding my Imps? The discard rewards feel like pure value propositions rather than creating a cohesive Imp-like story. Games with this card sound miserable. If it stays in play, the game quickly devolves into a continual sequence of trading cards. Magic is more interesting when my cards don't always answer your cards.

I like the rider that discarding Imps generates an effect, and the card has activations requiring you to discard cards. My issue is with the effect you choose. +1/+0 to all you Imps encourages you to cast all your Imps, but the card needs you to be discarding Imps. I would change the effect to something that plays better into the style of deck this card is pushing you toward (something control-y) and creates less tension.

Design 7

Four Torments (mythic rare)
2BB
Put a +1/+1 counter on each Imp you control unless target opponent sacrifices a creature. Repeat this process three times, replacing "sacrifices a creature" with "sacrifices two lands," "discards three cards," and "loses 4 life."

This sort of text-replacing sounds cool in theory, but it breaks down in translations and our digital partners are iffy. We might be able to find words that work for it without writing a novella; I'm not optimistic, though.

This is not a very fun design. For one thing, "loses 4 life" is not reasonably balanced with "discards three cards." The pattern of one, two, three, and four is nice, but not as important as the balance of the choices. Secondly, this card is more of a "how many counters can I give you and not die" than a matter of interesting choices. This is too severe.

I don't think this feels mythic rare. It's uncastable if you don't have an Imp in play (they will just choose to give you counters). I don't think this is a successful execution for a punisher card. The payoff for you (counters) is not strong or exciting enough to justify the mythic rarity.

I love the "cone of costs" you've got here. This tells a cool story and works well as an overall package, exploring punisher space where there's many permutations and most of them are reasonably decent results for the caster. I'd enjoy casting this and loathe having to make these decisions as an opponent. It's probably not remotely balanced, but I assume this can be solved without ruining the elegance.

I'm split on this card. I like it in concept. It feels impish, it forces the opponent to make decisions they don't want to make, and it's playing in interesting design space. It's in the execution that it falls down for me. First, you got clever with the one-two-three-four theme of the effects. They aren't of equal power level, so some of the decisions aren't really decisions. Second, the effects don't build, so it ends up playing out a little anticlimactically. Third, you stretched to four things when probably three was enough. It's mythic rare though, so maybe four is okay. Fourth, I think there will be confusion when the opponent doesn't have one of the requirements. Can they choose to discard three cards when they only have two? All in all, there's a lot going on and I'm not sure the whole package is going to play nearly as entertaining as it reads.

Design 8

Ixix the Trickster (mythic rare)
BR
Legendary Creature — Imp
1/2
Flying, haste
Discard an Imp card: Choose one —
• Change the target of target spell with a single target.
• Target creature attacks this turn if able.
• Target creature gets -1/-1 until end of turn.

Again, you are discarding Imps, but not drawing cards.

There are a few issues with this card. The first is the one I mentioned above, about letting players play their Imps! I think having a free Deflection sitting on the table is frustrating to play against. As long as you have cards in your hand, players will not play their spells. The second ability can also be quite frustrating. As long as you have a big creature in play, opponents will not want to play their smaller creatures, because you will just run them into your creature. And then there's the on-board combat trick to make combat even harder. Additionally, this rate is just weak for Constructed. Overall it's not exciting enough for mythic rare, despite the decision making and complexity.

Almost all my comments for Noxious Imp apply here as well. Discard as a cost (without associated mana) is dangerous, as it can be abused and reduces shields-down moments. These abilities would be frustrating to play against, as they lock me out of playing targeted spells and small creatures. The first two abilities feel Impish in practice, but would probably feel dreary rather than tricksy to play against. Also, the second and third abilities both punish small creatures. I would lose the third to at least enable some counter-play.

I like the modality of the activated ability. I probably would have made the Imp a little bigger as it's legendary. I agree with Alexis that the discard effect also needs a mana cost. Finally, if you're going to have an Imp discard theme, you need some ways to get more Imp cards into your hand.

Overall Judge Commentary

You have a nice flavor idea for your Imps, and cards that bridge well between whether you are drafting Imps or not. However, you are designing a tribe and have no creatures at common or uncommon. You aren't demonstrating the cards that will make the bulk of their deck. Moreover, there is a major strategic failing. You keep rewarding the player for discarding Imps, yet you do very little to refill their hand. If they discard their hand, they are all in. This does not match the tricky flavor you said you were trying to create. You need to iterate on "how will this play" or "what might go wrong." Given the strategic gap, it feels like very little progress was made in that direction. Because of that, there isn't much here I would use. This is not a fruitful submission.

I was not able to figure out the identity of Imps by reading the cards alone. It seemed like "discarding your creatures matter." R&D tried that during Odyssey (Patrol Hound, Wild Mongrel), and they concluded it was a failure due to players wanting to cast the cards in their hand but feeling like they had to discard them to make their other cards work. Your Imp tribe feels a little like that. Overall, I felt you did not have many successful designs. Your mythic rares were not cool, splashy, or novel. One thing I noticed about your cards holistically was that there were play pattern issues. For example, first strike at common should be used sparingly, not on Equipment. Discarding relevant spells as a mechanic is not fun. There was a lot of on-board complexity and tension. One thing I noticed from being on Play Design is that designers have a harder time imagining how cards will play out and interact with other cards, and play designers are good at reading cards and identifying play patterns without testing. So I would recommend playtesting your cards more to understand how they play.

I feel like you struggled to capture a cohesive flavor for Imps. I'm not sure why Imps want to be discarded. Your designs struggle to synergize beyond referencing Imps. You were going for a "trickiness" vibe, but you need more than a vague flavor concept to tie your theme together, as Magic is inherently a game full of tricks and surprises. All the Imp discarding makes the Imp tribal bonuses weaker and creates unfun tension. I did like Imp Pulse and Four Torments a lot as individual designs that could easily exist without being part of a theme.

Your Imp theme was muddled and inconsistent and the one element that came through strongest, discarding Imps, seems unfun and received zero support (aka help making it actually work in play) from your other designs. I do like that you worked hard to give Imps an emotional feel. I also liked that you experimented in finding new design spaces to play in. You have potential, but your execution is getting in the way. My advice for you is that you need to do more iterative playtesting. That is, make a card, play with it, take notes and then make changes based on those notes. Your cards feel like iteration two when they need to be iteration ten. I do believe you have it within you to deliver what we want, but you're going to need to spend more time working through how your cards are actually going to play.

CONTINUE

Ryan, you made it through to the next challenge—barely. Your back is up against the wall, which means that the next challenge is going to be make or break for you. Use your playtesters and make sure you're making cards that are fun to read and play. Your design instincts are raw, but seem good. You just need to get in the iteration on your playtesting to make what you're creating fun to play.
Challenge #2

Judges

Eli Shiffrin

Erik Lauer

Melissa DeTora

Guest judge Aaron Forsythe

Mark Rosewater

Contestant Comments

"Come one, come all, step right up, to the Bigtopian Circus Extravaganza! I'm Kai, master of ceremonies for the evening's festivities. Let me shine a preview spotlight on some of tonight's attractions!

Over here, you'll see one of our talented magicians. It looks like tonight he'll be making one of our audience members disappear! (Last night he was pulling rabbits out of hats!)

In any case, over here you'll see the death defying flaming hoo . . . oh . . . well, folks, it looks like she didn't quite make it through. How about we move on to the strongmen?

Look at that strapping lad over there! What power! Such toughness! So huge! He's certainly going to win the audience's favor!

The unicyclists are warming up to my left. They're doing some testing, and it sure is impressive! How do they fit two Vampires, four Warriors, a Servo, and an Anointer Priest onto one little Vehicle?

The plate-spinning demonstration unfortunately had to be cancelled due to a bit of a mishap last night. Their show came to, ah, a crashing halt. Sorry for the inconvenience.

But the trick riders will be at it again! Who would have thought it even possible for a Tasseled Dromedary to drive a Conqueror's Galleon? It'll be utter madness in the center ring!

And finally, my fellow clowns are prepping their car in the ring to my right. Wait a second . . . one, two, three . . . I could swear only two got in.

Well, it's time for me to start the show. Enjoy the spectacle!"

Design 1

Magician (common)
4U
Creature — Human Wizard
2/3
When Magician enters the battlefield, choose one —
*Create a 1/1 white Rabbit creature token.
*Return target creature or Vehicle to its owner's hand.

This is very nice. It has an interesting choice, with common effects.

I like the design and flavor, and the rarity is appropriate. I think it's pretty rare to choose Rabbit here. Bouncing a creature is very strong compared to getting a 1/1. If the card was 5U, bounce something or make two Rabbits, the choices are a little closer. That said, I do like this!

Fun-looking card, good flavor—it either makes something appear or something disappear. Good stuff.

This design is cute. I agree with Melissa though that I'd balance the effects so they're closer together in power. The card feels more uncommon than common to me. Each individual option is common, but once you add in the choice, I'd move it to uncommon.

Design 2

Flaming Hoop (common)
R
Instant
Flaming Hoop deals 3 damage to target creature that entered the battlefield this turn.
"Well, folks, it looks like she didn't quite make it through."

Blue poses a major challenge in Limited design. The preponderance of its strength should come from spells, but not from spells that eliminate a creature already on the battlefield. So, to make blue feel different from the other colors, it's important to carve out some design space that we save for blue commons. Part of that design space is counterspells for creatures a la Essence Scatter. My problem with this card is that it's red stepping on the toes of something that we need to save for blue. This is a complex issue, so it's not something I would expect someone outside of the Pit to be aware of.

I'm not a fan of this as a common burn spell. This card won't do anything if you draw it late. It's very strong early. But later on, this becomes less and less useful, between opponent's having bigger things and having such a short window to play it. It plays more like Essence Scatter for small creatures. Red should have stronger and less situational removal for Limited.

I like this line of text, and I think I still would have liked it without the "That's the joke" flavor text you included. It's a (weaker) red Essence Scatter in many ways, but a card you'd still probably play in Limited a decent amount of the time.

I'm not sure the restriction of only targeting creatures that entered the battlefield is going to make for the best gameplay. Red is usually more proactive than reactive. The flavor is cute though.

Design 3

Feats of Strength (uncommon)
2G
Sorcery
Choose target creature you control. If it has the greatest power among creatures on the battlefield, draw a card. Then, if it has the greatest toughness among creatures on the battlefield, draw a card. Then, if it has the greatest converted mana cost among creatures on the battlefield, draw a card. (Don't draw for ties.)

The reminder text is lying, but you had a good thought to put it there so your playtesters will play it correctly and then your editor can correct the card text to make it true. Kudos! Magic has no default for ties, but something that's tied for "the greatest" whatever does have the greatest whatever itself, so you'd end up with something like:

Choose target creature you control. If its power is greater than each other creature's power, draw a card. If its toughness is greater than each other creature's toughness, draw a card. If its converted mana cost is greater than each other creature's converted mana cost, draw a card.

This card tests the strength of your creature in three different ways, and feels like a good card. I would prefer three different rewards.

This is too much card draw in green. I get what you're going for, but I think this card is doing too much. If you have the only creature on the battlefield, this is 2G Concentrate, which is not appropriate.

This card feels like a feat of strength to be sure—if your creature is swole enough, you keep raking in the rewards—but I dinged it some for being too swingy. There are probably a lot of games where you cast a 2/3 on turn two then draw three cards on turn three, then a lot of other games where your creature isn't big enough or the spell fizzles because the target is removed. I'd want to see a version where the floor and ceiling are a little closer together.

I feel the flavor of this card is good and it's one of only two Feats of Strengths that actually captures the circus strongman/woman flavor the title was hinting at. In practice, it's going to be hitting a lot of big creatures and not humanoids, but the right art will probably help you capture the flavor you need. I like that it's a green card that draws cards in a green way, but I agree that all the results shouldn't be drawing a card as that's too much card draw for green, especially on an uncommon.

Design 4

Unicycle (uncommon)
1
Artifact – Vehicle
1/1
Trample
Unicycle gets +1/+1 for each creature crewing it.
Crew 1

This has all the issues with "what about creatures that died?" and "what about creatures that stopped being creatures?" with the extra bonus of caring about creatures "crewing" it, present tense. Or do you actually want its power and toughness to drop by Bolting one of the people crewing this Unicycle? We'd need to find text that's more clear in one direction or the other.

This is amusing. I think people would understand that you can "overcrew" the Vehicle.

I would have guessed this was a clown car. I think the card itself is cool, but the rate is off. It's 2 power for one mana, that scales and has trample. I would remove trample.

I can't tell if this flavor is good or not—have I seen a whole bunch of people piled up on a unicycle anywhere other than in a children's book? The card doesn't reward you very much for over-crewing, so as a package it just doesn't quite get there for me.

A Vehicle with crew 1 that encourages you to pile a lot of riders on it. Awesome! This is my favorite Unicycle design.

Design 5

Plate Spinning (rare)
2BB
Enchantment
When Plate Spinning enters the battlefield, target opponent gains control of it.
At the beginning of your upkeep, put a plate counter on Plate Spinning, then you may pay 1 for each plate counter on it. If you don't, sacrifice Plate Spinning, you lose 5 life and Plate Spinning's owner gains 5 life.

I like the idea of the challenge of keeping the plates up. I really don't like the effect here. In most games, other than "can you win the game before dropping a plate," it doesn't matter much which turn the plate falls. If cast on turn four, the correct play will frequently be to just treat it as a 5-point drain. As a Constructed card, it would not be fun (just keep stacking these up). If I thought the drain effect was important to casual play, and this was merely a gap between Constructed and casual, that would be okay, but I don't think that is right. I think this card asks, "Someone design a black effect, where the turn it happens matters in an appropriate manner," which is probably most of the work.

I felt that this card was hard to grok. It has a lot of words compared to what it actually does. I think the flavor is good, but I don't think this is an exciting rare to open in a pack. It's an interesting idea, but the execution is wordy and in my opinion isn't exciting/doesn't do enough to justify its rarity.

Now this is cool. I don't know if the cost and effect are in the right spot, but the games where the opponent has to keep paying or lose—or paying to make sure I don't pull out of range—are really epic in my head. Testing would have to bear my imagination out, but I'd be excited to do so.

One of the puzzles of this challenge was figuring out how to make a flavorful black card. The names and concepts didn't naturally lean toward black. I like that you turned plate spinning into a black card where you force you opponent to do the plate spinning, which eventually will get away from them and cause them pain. Nice card. My favorite of your designs.

Design 6

Trick Riding (rare)
GW
Enchantment
Creatures you control crew Vehicles with their toughness rather than their power.

That's cute. Note that this design begins to lock you out of designs that care about the power of creatures that crewed a Vehicle—if you crew it "with" toughness, looking at their power for another effect is pretty strange, albeit not impossible.

So, the deck has a lot of Vehicles, and a lot of creatures with more toughness than power, maybe 0 power. What happens when they don't draw this one card? This card has a big problem.

A super narrow rare that really doesn't do anything. You need a lot of Vehicles in your set to make this a reasonable inclusion. It needs another ability and a rarity downshift.

This is either a web comic or a really bad rare. It doesn't even work with your Unicycle unless you're providing a bunch of 0-power creatures. If this is the trick I came to the circus to see, I'll be leaving disappointed.

The card is flavorful and the effect is novel. On the surface, that seems like a recipe for success. The card though has what I call the "all-in problem." Your deck will only work when you get this card on the battlefield and won't function at all when you don't, meaning that too many games will be you losing while you wait for your deck to do something. The trick to these type of designs is to require an effect where the supporting cards can function without it.

Design 7

Clown Car (mythic rare)
4
Artifact — Vehicle
4/4
Haste
Whenever Clown Car deals combat damage to a player, choose up to one target creature that crewed Clown Car this turn. Create a tapped token that's a copy of that creature.
Crew 3

This design is more about crewing with one strong creature than lots of creatures, and does not feel like a clown car. Also, the board will have memory issues. I would probably replace this card.

I like this for a clown car, but I would argue that you made two clown cars! Interesting mythic rare that looks fun to build around. It feels blue, and I would worry about giving other colors access to this effect. But it is a design we can work with.

This is a decent attempt at a mythic rare Vehicle, and the flavor feels pretty good. I hesitate to say it's a good design, though, because it feels oppressive if you play it on curve—your opponent has to start chump-blocking immediately or risk getting overwhelmed. Reads fun, but it's a card people would probably tire of quickly.

I have a bunch of issues with this design. One, copying creatures feels very different than the same creature keeping popping out of it (one would expect a Clown). Maybe if you did something so the copies felt like Clowns? Two, this card makes numerous creature tokens that can all be different creatures, which introduces some logistical issues (although it's at least a mythic rare, so this wouldn't be a Limited issue often). Three, the trigger being combat damage feels off. Overall, I'm not a huge fan of this design.

Design 8

Kai, Ringmaster (mythic rare)
4WW
Legendary Creature — Human Clown
2/2
When Kai, Ringmaster enters the battlefield, create two Aura enchantment tokens named Spotlight. They have "enchant creature or Vehicle" and "enchanted permanent gets +2/+2 and has lifelink." Attach them to Kai, Ringmaster.
WW: Attach target Spotlight you control to target permanent you control.

Multiple instances of lifelink on the same creature are redundant.

Multiple instances of lifelink on the same creature are redundant.

Multiple instances of lifelink on the same creature are redundant.

I'll just make that my Twitter name for the next eighteen months, I guess. This isn't to say that you shouldn't do this, but you should be aware when you're creating a card that plays directly into a common misconception—in this case, lots of players think lifelink multiplies the life gained when you've got multiple lifelinks.

There are some interesting aspects of this card, but I dislike how much of its game boils down to "if you can't remove this you're probably going to lose." This will be a very frustrating card to face because the combat is never going to go their way and it's near impossible to race two lifelink creatures. I would change this card so when it wins it will win faster, and granting lifelink does the opposite.

Interesting card. Very weird execution. I'm not totally sold about creating Aura tokens with words (many players use objects like coins to represent tokens, and that is an issue when making Aura tokens). I think mythic rares that are expensive and do something cool when you untap with them are fun for Standard. This definitely meets that criteria, and we can find a better way to do that without making these tokens.

This card tickles me. You get a six-mana 6/6 lifelinker that can start passing the fun around. Yes, it has a lot of words, but the words add up to something, and it promises the kind of gameplay I'd enjoy (once in a while). If the card was making combat too difficult, making the activation sorcery-only would be an easy fix.

I like the general flavor of this design. I feel like there would have been numerous ways to do it that would have been less wordy.

Overall Judge Commentary

You have some interesting flavorful designs. However, the number with significant—and difficult to fix—play issues is high. That is worrisome to me. I hope you can figure out what might go wrong for some players with the play patterns of more of your cards, and address those.

I thought your flavor was above average. Some good designs, but you had quite a few cards that I classify as "doesn't do anything." Flaming Hoop, Plate Spinning, and Trick Riding (see individual card notes for more detail). Cards have a strong enough effect to warrant a slot in your deck, especially at high rarities, and I don't think those hit the mark. I liked both of your mythic rares; both felt on point for flavor, complexity, and coolness.

I didn't get a great sense of Ryan's goals for the environment he was trying to craft other than "Vehicles matter," but several of the individual designs were very clever. Ryan, like Ari, was just outside my top this week and should live to design another day.

Last time, I told you that you needed to step up or you would be in danger of being eliminated. I'm happy to say you did the former. The judges decided you had the third-best design this week. You had a number of strong designs (Magician, Unicycle, Plate Spinning) and numerous others that needed tweaking but were impressive (Feats of Strength, Clown Car, Kai). I was happy to see you bounce back. My guess is that you're more comfortable when leaning on an external component to define the cards, so I recommend adding flavor even when not instructed to so you can help give yourself a better feel for the card.

CONTINUE

Ryan, the trick now is to figure out what you did this week and replicate it for next week. While each design challenge tests different skills, there's a lot of overlap to lean on.
Challenge #3

Judges

Eli Shiffrin

Erik Lauer

Melissa DeTora

Guest judge Jules Robins

Mark Rosewater

Contestant Comments

Andante (♩ = 76)

My mechanic is. . .drumroll . . . rhythm N (If this is the Nth spell you cast this turn, it is cast in rhythm.).

This mechanic is meant to (carefully!) walk newer players up to how fun resolving several spells in "one big turn" is, without the brokenness of storm. I also like how it embiggens surge, a favorite mechanic of mine. I took Mark Rosewater's advice from last week to heart, and went with a music theme to focus my ideas.

A couple things I didn't expect came out of playtesting. One, my players desperately wanted rhythm 1 cards, even though I thought it read as downside. Two, rhythm 3 proved more complex than I expected; thinking ahead two spells was difficult for my new-player playtester. So, I moved rhythm 3 out of common entirely; with more rhythm 1 and 2, the cards didn't feel stuck in her hand anymore.

Rhythm would admittedly need some environmental support—cheap cards that represent multiple spells or cantrip help it immensely. I included one common in Ominous Music (which also represents a new and hopefully unbreakable way to make a "free" spell) and one uncommon in Raindrops on Rooftops that played in that space. Certain reprints (Unsummon was a somewhat-lenticular playtester favorite) would help here. Metronome Keeper fits the bill, and was also meant to be a Limited build-around and archetype signpost.

Design 1

Tap Dancing Centaur (common)
2G
Creature — Centaur
3/3
Rhythm 2 (If this is the second spell you cast this turn, it is cast in rhythm.)
If you cast Tap Dancing Centaur in rhythm, it enters the battlefield with a +1/+1 counter.

Rhythm 2 is a lot like surge. A vanilla creature is a good common.

I like the idea here, but a 2G 3/3 is already a premium common. It doesn't need to have upside.

Putting rhythm on cards that are very good to cast on curve leads to some pretty high-tension decisions. There are some Spikey players who enjoy that, but many don't, so be wary of doing a lot of these. Centaur Courser is already a strong Limited card, but adding rhythm will make some number of players just feel worse about it while they're curving out.

Rythym is interesting. Obviously, we've played in this space with surge, but you've taken it in a different direction—spells that are upgraded if they're played at a certain time in conjunction with other spells. I like that you've chosen to number it so that different cards can have different goals. As for this card, it's in a nice space. The reward is tempting but the card is still playable without it (although as Melissa and Jules point out, it may be a bit too strong). It's also simple as a common should be.

Design 2

Lullaby (common)
1U
Enchantment — Aura
Enchant creature
Rhythm 2 (If this is the second spell you cast this turn, it is cast in rhythm.)
If you cast Lullaby in rhythm, tap enchanted creature.
Enchanted creature doesn't untap during its controller's untap step.

That third ability secretly yearns to be an enters-the-battlefield trigger, so it needs another line of text. Be careful about dropping things like an entire line of text—your editor will know what you mean, but your card might not fit anymore where it did before.

Again, this is a lot like surge. This use case is nice. If your opponent attacks with a big creature, you can just use this, but if your opponent does not, you can build up enough mana to take advantage of rhythm.

Makes sense, I like it. Will make for some satisfying turns of Limited.

This execution is much lower tension because there isn't so clearly an optimal turn to cast the base spell. Great common!

I like this design. It's a little puzzle that makes you happy if you can solve it, but still is useful if you can't. You also used a classic upgrade effect.

Design 3

Ominous Music (common)
B
Sorcery
Rhythm 1 (If this is the first spell you cast this turn, it is cast in rhythm.)
Return target creature card from your graveyard to your hand. If you cast Ominous Music in rhythm, add B.

This is an interesting use of rhythm 1. However, I am not confident that this is reasonable in a Constructed setting. Cards that replace themselves, and don't cost any mana, are risky. I don't see any reason to take such risks, so I would change the rhythm reward to life gain.

I think this design can be a little more exciting. Raise Dead is a weak card, and free Raise Dead is still pretty weak. Death's Duet, add BB, on the other hand, sounds like a fun and rewarding Limited common. I'm not really a fan of rhythm 1. Play pattern is fine, but I don't think it's worth the words for a casting restriction on a common. The play pattern gets more interesting when it's rhythm 2 or greater.

Despite your playtester's request, I'd be pretty surprised if we wanted rhythm 1 cards. It takes up a lot of text and generally plays no differently than if the card just did everything all the time. Kudos on finding space where it serves some purpose, but we're still probably better off dropping the design and the textiness from the set. That aside, Disentomb is a slightly problematic card to put in a set with a lot of rhythm 2 and 3. We'd already be using a number of the cheap card slots on the curve for cards with rhythm 2 or 3 so that it's plausible to chain them together. Using up more slots on a card that might not be castable because it has no legal target makes it harder to get decks to come together in Limited.

I'm going to side with your playtesters and not Melissa and Jules. I like rhythm 1. I think it creates a low bar challenge that will make may players feel happy. It's important to remember that you need some simple puzzles for players to solve. The higher rhythm cards will make more tricky puzzles to solve. I also like that it tries to set up a rhythm 2, which would make for a fun turn. (My assumption is that this set would have a number of cards that trigger when you get your rhythm.)

Design 4

Metronome Keeper (uncommon)
1W
Creature — Human Knight
3/2
Rhythm 3 (If this is the third spell you cast this turn, it is cast in rhythm.)
When Metronome Keeper enters the battlefield, return a creature you control to its owner's hand. Then, if you cast Metronome Keeper in rhythm, create a 2/2 white Knight creature token.

Some people will enjoy the turns where they cast every spell on rhythm. Others will enjoy it the first few times, then find it too prescriptive. It would clearly take testing to find the right spot. Your low mana cost here makes a lot of sense. However, I feel this creature's ability to bounce itself is too much risk in terms of repetitive gameplay.

Weird card. Unless you are picking up a one-mana card, this is 3WWW, make a 3/2 and a 2/2 on average. Not exciting, and I don't feel like I'm doing anything cool. Fiddly card.

The fact that this self-enables rhythm to let you make a six-mana 2/2 every turn is pretty subtle and a fairly big portion of the card's power. I do appreciate the job it's doing to enable other rhythm cards, but I would have liked to see it done with a somewhat cleaner and less repetitive design (e.g., a larger creature that forced you to return something upon entering the battlefield unless it was cast in rhythm).

I think you're trying to do a little too much on this card. The 1W 3/2 creature that bounces another creature as a cost is a great card for this set, just not smashed onto a rhythm card. I would just make it a 1/1 for W for rhythm 3 with a good bonus. Make it cheap to help pull of a rhythm 3 and let it double as a cheap one-drop early game if needed (sometimes just to enable a rhythm 2 card). I do though appreciate the rhythm 3 and agree that it shouldn't have been at common. It's possible that rhythm 3 should be held to rare. I would need playtesting to see how relevant rhythm 3 can be in Draft.

Design 5

Raindrops on Rooftops (uncommon)
U
Instant
Rhythm 2 (If this is the second spell you cast this turn, it is cast in rhythm.)
If you cast Raindrops on Rooftops in rhythm, scry 2.
Draw a card.

This is interesting in terms of being a fixed Preordain. However, I am concerned that the amount of decisions and math is going to overload some people. While they are keeping track of the number of spells they have cast, their target rhythm, and available mana, now they need to plan turns ahead with scry.

This is some strong card filtering and the type of card that is not appropriate to give to Modern. It's hard to say if this is stronger than Preordain (I don't think it is, but it's close). Can cause tension (I need to hit my land but don't have a second spell, do I draw a card and not get to scry?). I like the idea of your mechanic on a card-filtering spell, but this is not the most novel design.

You've got the right instinct that this mechanic will demand some number of cheap cantrips, but putting them on the rhythm cards themselves is a trap. This mechanic's sequencing is already quite complicated, with plenty of high-tension decision points about not playing anything in the hopes of drawing a land. Adding a bunch of tension within your cards so you can't even figure out what order to cast your hand adds to that unnecessarily. Instant speed does the same thing to a lesser extent. You're so much more likely to be making rhythm on your own turn that it just sends players conflicting messages about what to do with their cards.

I like that you're using your rhythm cards to make enablers for other rhythm cards. This design shows off how the mechanic lets you make subtle designs that should play well. I agree with the other judges though that this design might end up being a little too decision intensive. I'd watch it in playtesting.

Design 6

Dance with Me! (rare)
2R
Sorcery
Rhythm 3 (If this is the third spell you cast this turn, it is cast in rhythm.)
Gain control of target creature until end of turn. Untap that creature. It gains haste until end of turn. If you cast Dance with Me! in rhythm, whenever that creature attacks for the first time this turn, untap all attacking creatures you control. After that phase, there is an additional combat phase.

Here's a handy trick: You can splice on large chunks of text to avoid the temporal references and this/that oddness going on with effects like this.

Gain control of target creature until end of turn. Untap that creature. It gains haste until end of turn. If you cast Dance With Me! in rhythm, until end of turn, it also gains "When this creature attacks for the first time this turn, untap all attacking creatures you control. After this phase, there is an additional combat phase."

This is a big splashy reward for rhythm 3. The design is nice, but it is hard to develop, since adding a mana makes the rhythm too difficult.

Interesting card. Act of Treason is not a Constructed card, but with this kind of upside, it's getting there. I think casting this not in rhythm is not impactful enough, and casting this in rhythm looks too hard to do at three mana. There needs to be a better balance. Maybe 1R, gain control of target creature with converted mana cost 4 or less; that way it's a little easier to cast three spells in a turn. I am still a little skeptical of anything with rhythm 3 due to how difficult it is to do.

This is a cool design! It plays a little bit at odds with itself for Standard in that aggressive creature-heavy decks (where these effects are most useful) generally have a hard time holding a lot of cards in hand to play three in one turn. That said, they do tend to be full of cheap cards, so maybe this works out to be more "fun tension" than "pipe dream."

I like that the rares are rhythm 3 with a big splashy payoff. Threaten that turns into Relentless Assault is pretty cute, although I agree with Jules that it might be working against the play pattern of the archetype. I also like how rhythm 3 lets you cost cards that aren't too far away from their normal cost. Play Design would need to double-check the costing, but it passes my gut check.

Design 7

Come Marching In (rare)
3W
Enchantment
Rhythm 3 (If this is the third spell you cast this turn, it is cast in rhythm.)
When Come Marching In enters the battlefield, if you cast it in rhythm, create three 2/2 white Knight creature tokens.
Whenever you cast a spell in rhythm, creatures you control get +1/+1 until end of turn.

I had to read the first seven words a few times to make sure my brain was working. Some card names are better when they're never self-referential. The second ability makes me wonder when Shock is in rhythm. Do you want that to be in any way possible? If so, we need to figure out what that means. If not, let's make people not ask the question:

Whenever you cast a spell with a rhythm ability, if you cast it in rhythm, creatures you control get +1/+1 until end of turn.

This is a great rhythm build-around and has plenty of developmental knobs.

The idea here is good, but this card does nothing a lot of the time. Given the text on the card, I will never cast this unless it's in rhythm. Having expensive rhythm cards makes it hard to cast two spells in one turn, let alone three spells. I think this card should have a static ability of some kind, so that you have the option of casting this if you have no other spells to cast. This card has too many fail-case scenarios.

This design has the same archetype overlap troubles as the last one, plus a couple of other issues. The higher up the curve rhythm cards get, the harder it is to actually pull off the condition. At rhythm 3 and four mana, this card costs at least six to "kick" barring extenuating circumstances. Many players will always play to get full value out of their cards, but putting the goalpost this far out of reach can just end up with those players having frustrating games where they never get to do their thing and aren't sure why. The rhythm tribal space is appealing (and another reason not to do rhythm 1; it would make us weaken the payoffs), though the card also having rhythm may lead to confusion about whether it triggers itself.

I like having a rhythm enabler. My only issue is you picked an effect that might not combo with a lot of your other rhythm cards. This card doesn't work as well in my eyes as Dance with Me! I like when the rhythm effect feels like a capper and not the main effect.

Design 8

Crescendo Phoenix (mythic rare)
1RR
Creature — Phoenix
3/1
Flying
Rhythm 4 (If this is the fourth spell you cast this turn, it is cast in rhythm.)
When Crescendo Phoenix enters the battlefield, if you cast it in rhythm, discard your hand, then draw 7 cards.
When Crescendo Phoenix dies, you may exile it. If you do, you may cast Crescendo Phoenix from exile until the beginning of your next end step.

It is challenging to design a rhythm 4 card. It is difficult to cast four cards in a turn, so you need a huge reward. But because the rhythm is so hard to hit, you need the choice of not waiting for rhythm. The 3/1 flier accomplishes that. While the Phoenix has a renewal aspect, that makes sense with drawing a new hand, I don't think the connection is strong. I would take this in a different direction. You want something with a low casting cost so you can reasonably cast it in rhythm. It needs to be something that could be impressive. My instincts are that this points toward something with a high activation cost. Perhaps this is a two-mana artifact with 4, discard a card at random: draw two cards.

I think you are not realizing how difficult it is to cast many spells in one turn, without enablers of some kind like Rituals, cheap cantrips, and Manamorphose. In Standard and Limited games, casting four spells in one turn is highly, highly unlikely. That said, I do think this design is sweet, as a card that has an ETB if a condition is met—a condition that you have to work for and build your deck around—and you can recast it to retrigger that ETB. But I think the actual abilities on the card are wrong. First you have to cast too many spells to get your bonus. If you manage to do that, then your hand is likely empty, so "discard your hand" isn't a real drawback the way it is with many Wheel of Fortune effects. I would look to reduce the rhythm to 2 and then discard your hand to draw three. The idea is in the right direction. It's also cool that it fuels itself to retrigger the "enters-the-battlefield" effect.

This card seems to be getting at the dangerous part of storm where you're really going off. It's a tough hoop to jump through, but this would certainly be on the Future Future League's watch list. The return condition for the Phoenix is cool independent of this particular context, though if you told me you were making a rhythm Phoenix, I'd just expect one that could be cast from your graveyard in rhythm.

This a pretty cool design. It's a rhythm 4, it helps you cast your other rhythm cards, it helps you fill up your hand to do it again, and it's a cool Phoenix. I like it! My only complaint mirrors Jules's suggestion. What if this was free to cast if it was cast as your fourth card? This helps increase your ability to pull off casting four cards in one turn. Melissa is right in that it's very hard to do. I like that this Phoenix can just do its thing with a dream of occasionally getting it back for free.

Overall Judge Commentary

This mechanic seems nice and straightforward. I see some design issues for the other judges to mention, but I don't have to care about those today! Yay! Small templating thing: We don't like caring about how "you" cast a spell because you might not be the player who cast it by the time it resolves. For example, Tap-Dancing Centaur should be "If Tap-Dancing Centaur was cast in rhythm, it enters . . ." This has the added bonus of shining more light on "cast" to answer the question of "what if I Zombified it instead of casting it?"

While your mechanic is very similar to surge, chaining multiple together in a turn is a very different and appealing play pattern. I like the idea of the mechanic, and you tested a lot of different design spaces.

I like the idea of your mechanic. Casting lots of spells is fun but having an effect that scales with the number of spells you cast can lead to brokenness (storm!) and this is a nice way to have a spells-matter theme without scaling. Storm didn't work well in Limited. It was hard to get a storm count of three or higher without the help of your opponent, and that's what kept the storm cards balanced in lower-powered formats. Your mechanic is similar in that it's just hard to cast a lot of spells in one turn. I would avoid rhythm 3 at anything below rare and avoid rhythm 4 entirely. Another thing I would have done differently here is to make it matter if a spell isn't cast in rhythm. Come Marching In was an example of this. You want to give the players choice, and not tell the player "cast your spell this way and only this way."

Even rhythm 2 adds a lot of sequencing complexity, and rhythm 3-plus ramps that up significantly. You definitely made the right call not to have that at common; I'd be somewhat inclined not to have it at all and just make rhythm check if you'd already cast another spell this turn. The main advantages to the numbered approach are lending themselves slightly less toward storm, being able to give bigger payoffs, and giving a bit of guidance on how to sequence, but it's also harder to track and more likely to leave players feeling like they can't use their cards the way they were supposed to. Regardless, the mechanic has some really fun core gameplay, but doesn't do that much to show off your ability to generate brand-new ideas. As you noted, it's just one step away from surge. We already know that every cost-reduction mechanic could be a kicker mechanic. Surge even had some designs like that! Your cards are cleverly constructed and generally look fun to play.

Taking one step back though, I think it was a mistake to spread this mechanic across all five colors at low rarity. While there's no color pie concern keeping the mechanic out of a specific color and the design space isn't that small, its gameplay requires some intensive sequencing that's not appealing to all players. In the Limited formats for this set, we'd want to make it easier for the players to self-select for the gameplay they enjoy. On top of that, spreading this pattern too wide will make the set get boring faster as there will be fewer different avenues to explore. Something like landfall only affects your spell choice a little bit, but rhythm heavily influences what other cards you're willing to play with, and we don't want to cut off big, fun pieces of the game.

You tapped into space we've explored with surge, but managed to find a different play pattern to encourage with it. Your designs did a good job of showing the types of things we could do in the set, even if a few individual design choices could have been improved upon. As someone who was almost eliminated after the first design challenge, you're definitely the finalist who has had the biggest upswing in the last few weeks. Also, while no one mentioned it in the individual judge comments, I believe your musical theme for your mechanic did a lot to give it a feel and a resonance that contributed to the positive reception. I can tell you spent a lot of time on that and I wanted to stress I think it was time well spent.

CONTINUE

Ryan, the judges picked you as the winner for this challenge. I'm not sure where your recent mojo has come from, but I urge you to continue tapping into it. You seem to have a good sense of how to weave flavor into your designs. Keep doing that.
Challenge #4

Judges

Eli Shiffrin

Erik Lauer

Melissa DeTora

Guest judge Jenna Helland

Mark Rosewater

Contestant Comments

Ryan Siegel-Stechler, GDS3 Challenge #4 Submission, 2018, cardstock, 63x88mm

I loved this challenge! I adore the art of Magic, and worked hard to make cards that felt like the paintings were commissioned just for them—not just appropriate for the overall picture, but also with subtler details from the art whenever possible. As examples, the tongue wrapped around the dragon's leg in Teeth, the fact that trees (green) and sky (white) made up the haunting face in Wisps, the various dead animals in Snakes, and the tormented barbarian in Huge all informed my designs.

Some individual card notes:

Bombardment is a sorcery due to the inherent confusion of casting it in response to another spell. You still can (e.g. with Quicken), and I think that's fine (a target-less Missile, I assume, would just fizzle? Also, why would you want to cast Bombardment in response to your own spell?), but if I were in R&D, this would get run by Eli posthaste. I really tried to push the boundaries here. Its playtest best buds: Narset, Enlightened Master and Enigma Drake.
Stolen Future went through the most iterations. I originally wanted the card to represent the Blind Eternities, but decided that'd be colorless, not blue. From some early concepts, however, I stumbled upon the concept of "stealing time from your opponent's life" via their deck, which ended up being extremely generative space. I'm really happy with the gameplay of the final card.
I learned "moxie" comes from the soft drink! Who knew?

Design 1

Augmented Strike (uncommon)
1W

Instant
Creatures you control get +1/+1 until end of turn. Equipped creatures you control get an additional +1/+1 and gain lifelink until end of turn.

Team-buff spells sometimes cause small hiccups when creatures can start or stop meeting the criteria after it resolves. The set of affected creatures doesn't change; but here you have an interesting workaround to that. What if your Equipment gain "Equipped creature gets +1/+1 and has lifelink"?

That is an interesting and directional uncommon reward card.

This card is not a build-around for Draft. It's a combat trick with minor upside. When we ask for Draft build-arounds, we are looking for cards that give players a clear direction of what to do (for example, Burning Vengeance from Innistrad). The art and flavor look good to me.

Grade: B. Bonus to an equipped creature was a good choice for this art. Also, the name does a good job bringing the art and the mechanic together.

This design is a good match to the art. I like the tie between the hammer in the art and the boost to equipped creatures. I might have made the card enhance "equipped or enchanted creatures" to expand its functionality for building around, but other than that this card is a fine design.

Design 2

Temple Guardian (rare)
WW

Creature — Beast
2/2
Players can't pay additional or alternative costs when casting spells.
Costs to cast spells can't be reduced.

This design works, more or less, but you're asking for an awful lot of rules knowledge, and I'm not sure if you realized how far-reaching this is. This shuts off "without paying its mana cost," which may or may not be obvious. It shuts off flashback. It doesn't stop delve. It makes Tormenting Voice impossible to cast—it doesn't remove the additional cost—and I suspect that we'd need to figure out a different way to word this so it doesn't turn Thorn of Amethyst into a hard lock.

We already have cards that make spells have additional costs. For example, this combined with Sphere of Resistance means no one can cast spells. Because of that, I doubt we would use this card.

Good design for a Spike-friendly card. However, I don't think the art really works on this card mechanically.

Grade: C. The smallness of the Dinosaur makes this a challenging creature card. Also, the mechanic feels disconnected from the art.

The match to the art is a bit of a strain for me. I don't buy the Beast as a 2/2, especially given its scale against the environment. This design seems like it's going to cause more confusion than anything. I like white "Bears" with static abilities, but I don't think this one encourages interesting deck building or addresses a common metagame issue. I also agree that this card would probably never get out of Play Design as there are combos that just shut the game down.

Design 3

Muck River Soothsayer (common)
3U

Creature — Merfolk Shaman
2/4
When Muck River Soothsayer enters the battlefield, you may exile a creature card from your graveyard. If you do, draw a card.
The Muck River clan fashion gruesome trophies out of the corpses that clog the polluted waters.

This rules text is primarily black, secondarily green. It isn't proper for blue hole-fill.

Exciting and strong common. I want to play many of these in Draft. May be too "free" to get the bonus. Removing a card is easy on turn four, and since the upside is so high, it's not really worth playing without removing the card. That said, I think this is a good idea, but could be executed differently. Art and flavor look good too.

Grade: A. The name, art, and mechanic tell a cohesive story. The flavor text could have focused more on the soothsayer aspect rather than creating trophies.

The art match is fine. As Erik pointed out, the ability is black or green, not blue.

Design 4

Stolen Future (mythic rare)
5UUU

Enchantment
When Stolen Future enters the battlefield, exile the bottom half of target opponent's library, rounded down, in a face down pile.
Play with the top card of the pile revealed.
You may play the top card of the pile.
2U: Put the top card of the pile on the bottom of the pile.

Ordered exiled piles? Now there's a blast from the past. You're touching a whole bunch of your opponent's cards—we'd probably rearrange who does what so your opponent is touching their own library. You may want to shuffle that pile and/or the library so that you don't need to make players worry about keeping the cards in order while determining how many cards to exile and moving around the pile. Consider having that player shuffle their library and then exiling the top half, rounded down. Now you don't need to shuffle the pile, and if it gets out of order, it's not relevant because it was just shuffled anyway and it'll still be random.

This is a fun idea. However, counting and taking half their deck takes a while. Also, some people will end up wondering who owns what cards.

Very cool design. Looks like a fun and appealing mythic rare. I don't think the art matches the card mechanically at all.

Grade: D. The art isn't a good fit for this mechanic.

The art is a total miss for me. The art neither shows the spell getting cast (the Elf does not read as a blue mage) nor the effect of the spell happening. The mechanic, on the other hand, I find much more intriguing. This is an exciting design with an interesting implementation. The biggest strike against it is there are a lot of logistical issues.

Design 5

Psychosis Weaver (common)
2B

Creature — Human Wizard
3/1
3BB, T, Sacrifice Psychosis Weaver: Target green or white creature deals damage equal to its power to its controller.

This is fine, but not particularly appealing.

Interesting design, but I think color-hating effects are too swingy at common. This card is obviously much stronger against green or white decks, which can be frustrating on a Limited common. I am also not really seeing how this matches the art mechanically.

Grade: B. I like this name with this art. Only reservation—mind magic treads into blue territory.

I find the mechanic a bit of a disconnect from the art. I can believe the caster is a black mage, but she seems to be crafting a creature out of her magic (see the face), not forcing another creature to attack. I know you seem to feel that it's being formed out of white and green things, but it doesn't read that way to me and at card size would be almost impossible to see. I like having a playable creature for Limited with a late game sacrifice effect, but this effect seems like an odd choice. It's not a very typical black ability. I would buy it if it was trying to rationalize what's happening in the art, but it doesn't seem to line up. I would prefer a more straightforward black ability that fit what the art was conveying.

Design 6

Hollow Demon (mythic rare)
5BB

Creature — Demon
7/7
Flying
When Hollow Demon enters the battlefield, choose target non-Demon creature. Destroy all other creatures that share a creature type with that creature.
"You wish to be the most powerful of your kind? Done."

What a great tribal punisher!

Pretty cool design, and the guy in the art definitely looks hollow. Tribal hate cards are useful tools for keeping certain decks in check, and this is an interesting take on a tribal hate card. This wording is a bit weird to me. Looks like I am only destroying things other than the chosen creature, which means that this card does nothing unless there's more than one of a certain creature type in play. I don't see why this can't just destroy all of a creature type of your choice. Pretty cool card though.

Grade: A. All the elements tell a clever story. Good job.

The art is a great match to the mechanic and the mechanic is a good match for the mechanical requirement. The Demon seems like a cool mythic rare, something Timmy and Tammy would enjoy. God job! My one complaint matches Melissa's: The fact that this doesn't kill the creature you target is very unintuitive. I would just kill the targeted creature and everything that shares a creature type with it.

Design 7

Wormtongue Hellion (uncommon)
4RR

Creature — Hellion
6/6
Reach
2R: Target Bird, Drake, or Dragon attacks this turn if able.
It gets the early bird.

Very nice design. Art and flavor look great. I would change the creature types to target creature with flying for elegance.

Grade: A. Reach is a good choice with this art. I see the direction that you were heading with "Wormtongue." Since Hellions usually have something speedy about them, consider "Snaptongue" or something along those lines.

The art is a good match. The mechanic seems okay, but not particularly enthralling. I agree with Melissa, I would have just said flying creature as the list of creatures doesn't seem flavorful or novel enough as a grouping.

Design 8

Bombardment (rare)
R

Sorcery
Until end of turn, cards you own that aren't on the battlefield lose all card types, costs, names, and abilities and become red sorceries that cost R named Missile with "This deals 2 damage to any target."

Do you want legendary sorceries? Because this is how you get legendary sorceries. Let's assume you're also making the card lose all supertypes to avoid that. Even then, this has a ton of rules nightmares going on. Casting a card causes it to become a new object and lose the characteristics you gave it. Cards that change zones won't become Missiles, either. Quickening this sounds like it'd turn Giant Growth into a kill spell, but it shouldn't—and we simply don't handle targets that were never chosen at all. Good job looking outside the box, but you've jumped out of the box into orbit. Let's pull back to the upper stratosphere and find another way to translate "R + card = 2 damage."

This has serious rules problems, because a card that leaves the battlefield would not be a Missile. So, you could have two cards in your hand that look the same, but one is a Missile, the other is not. I would solve this by making this an enchantment that you sacrifice at the beginning of your end step. Still, it has some rules challenges. So, while this is an interesting idea, I would probably not use it due to rules issues.

This is a very interesting card. I'm not totally sure what happens if I cast this then bounce all my creatures, and I don't think we've ever done any characteristic-changing effects that affect cards not on the battlefield. Assuming this card works, I like it. Pretty cool art and flavor too.

Grade: B. A direct-damage mechanic goes well with this art.

The art match seems good. I'm not sure this is a good Johnny/Jenny spell. A good Johnny/Jenny card wants to inspire them to combine things in neat and innovative ways and this card is all about making it not matter what every card in your deck is. The card basically says make a deck where you just draw a lot of cards, and that's not the most interesting of puzzles for Johnny and Jenny.

Design 9

Moxie (common)
1G

Instant
Put a +1/+1 counter on target creature. It gets +2/+2 until end of turn.
Ghrall woke up feeling like he was ready to take on anything.

The amount of math here is higher than I generally look for at common. Despite that, I like this as a combat trick that is worth playing in Limited, without being totally crushing.

Looks good as a common pump spell, and the art matches the card mechanically.

Grade: A. I like the name with this art! And instant was the best choice with this illustration.

The art is a good match and the design is simple but interesting, a Giant Growth that partially lingers. I like it!

Design 10

Blessing of Fertility (uncommon)
G

Enchantment — Aura
Enchant creature or land
Enchanted permanent has "T: Add one mana of any color."
2: Attach Blessing of Fertility to target creature or land.

I might add text to draw a card when this it put into the graveyard from the battlefield, and change the activated ability to sacrifice CARDNAME.

I wouldn't really call this a quirky Aura. It's a weaker version of Abundant Growth (no cantrip, and you're often not going to move it). I don't feel this is what the hole was asking for. It's very weak for something in an uncommon slot for Limited.

Grade: B. I like the story this card is telling, and the name ties the art and mechanic together. If the art were being created from scratch, we would need more magic in the illustration to help sell it as an enchantment.

The art seems a fine match for the card effect. The Aura doesn't seem all that quirky. I don't mind the occasional card that can move around if there's a reason for it, but this effect doesn't feel like it crosses that bar.

Overall Judge Commentary

While you had some innovative ideas, you had a lot of ideas that I did not find workable.

Overall, I think you did a good job designing cards for the holes we gave you. You had a few weird flavor choices, but overall your flavor was good. You had some innovative designs, especially on your higher-rarity cards. I felt your weakest cards were your lower-rarity cards. Things to consider for designing commons/uncommons: Avoid cards with high variance at common and watch for complexity.

You were definitely pushing boundaries this week. A few worked, but the majority didn't. Your biggest mistakes came from messing with rules in ways that didn't actually work, or at least not as I believe you intended. My favorite parts of this week's design were a lot of subtle things you did to make small but impactful decisions.

GAME OVER

Ryan, you've been hanging on by your fingernails throughout this competition. The fact that you made it this far is impressive, but your time finally ran out. You were up against a strong field and, unfortunately, they all outperformed you this week. Hold your head high though, I think you did a great job during this competition. I really like the way you think and have every belief we'll be playing your games one day.
Challenge #5

Ryan was eliminated prior to this challenge.