By Blake Rasmussen
Blake is the content manager for DailyMTG.com, making him the one you should email if you have thoughts on the website, good or less good (or not good). He's a longtime coverage reporter and hasn't turned down a game of Magic in any format ever.
The final round of Standard Showdown events is this weekend, but if you need inspiration for what to play, we'll be publishing decks from the previous weekend every Friday. This is the last time we'll be showing off Standard Showdown decklists, but you can still play in one more Showdown event this weekend at your local store!
But wait, there's more! Instead of showing off what people think of Standard Showdown this week, I want to show you what stores that participated in the event will be receiving—oversized versions of an Aether Revolt card with some pretty oversized story implications.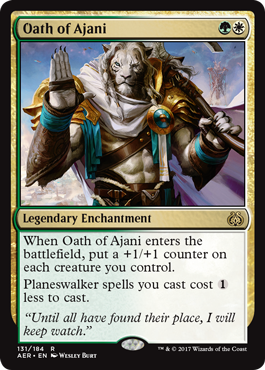 ---
4-0 or 3-0
3-1 or 2-1
Unknown Record