This article generated a lot of discussion. Everyone disagreed with some of my choices, but no two people had the same idea of what to change. Any article that gets people thinking and talking about the subject is a win in my book.
---
Welcome, Laboratiorians. Today is a very special day here on DailyMTG.com, as I get to help kick off 20th Anniversary week. To honor this game's long history, I'll be taking a look at the Top 20 Johnny cards of all time. These are cards that have a reputation for enabling all sorts of intriguing interactions, from crazy infinite combos to silly synergies. Some have shown up at the highest levels of competitive Magic, while others are hits at the casual table.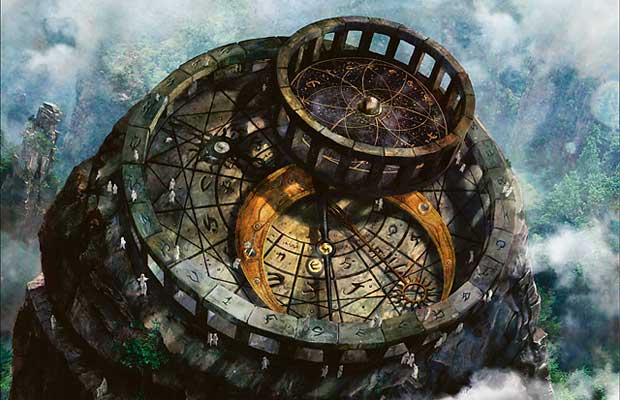 Sundial of the Infinite | Art by Vincent Proce
After putting together a list of initial candidates, I rated each of them in four different categories.
Combo Potential: Provided you can set up a combo around the card, what is the end result? An exponentially increasing army of creatures? Infinite mana or damage? The bigger, the better. The difficulty of assembling a combo around the card is also taken into account. If you need three or four other cards to make it work, this rating is going to come down a bit.
Versatility: How many options are there for cool combos with this card? If a card can create a combo with a number of different pieces, it will do well here, while a card that usually requires a specific counterpart won't be getting many points.
Ease of Discovery: Cards that take advantage of an obscure rules point can sometimes be fun for highly invested players, but interactions that are relatively easy to understand often have more lasting value. They also provide newer players an entry point into the exciting world of combos. While I love convoluted combos even more than most people, the simpler ones reach every corner of the Magic community, from kitchen tables to the stages of the World Championship, and that wide influence deserves a few extra points.
Weirdness: Most of my personal favorite Johnny cards do something unique. They go where no card has gone before. While cards that do something normal, like untapping a creature or producing mana, may be easier to abuse, cards that do something you've never seen make you really start hunting for a way to take advantage of the effect. These are the kinds of cards that are dismissed by the Magic community as a whole, only to be lovingly embraced by the Johnny crowd.
So, without further ado, I present to you the Top 20 Greatest Johnny Cards in the history of Magic.
20:
19:
18:
17:
16:
15:
14:
13:
12:
11: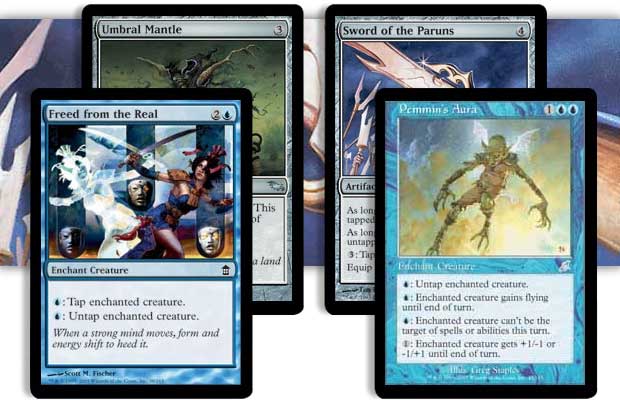 All right, this is a lot more than one card, but they usually serve the same purpose in the same kinds of combo decks. The ability to untap a creature repeatedly just by spending a small amount of mana is ripe for combo abuse, and a number of cards throughout Magic's history have made that happen. Bloom Tender was one of the most popular ways to use these cards. With Scuttlemutt allowing it to produce one mana of each color, Bloom Tender could use any one of these cards to produce infinite mana. The number of creatures that can be abused with these cards is almost staggering, from Metalworker to Fatestitcher to Viridian Joiner. Almost any creature that produces mana, untaps something, or any one of a number abilities can go infinite when equipped or enchanted with one of these.
10:
9:
8:
7:
6:
5:
4:
I'm cheating again on this one, but this is the last time, I promise. These two Altars have likely enabled more infinite combos than any other card in the history of the game. Usually ending with infinite mana, infinite creatures, or both, the number of combos these cards have enabled throughout Magic's history has proved that the ability to repeatedly sacrifice any creature for mana is absurdly powerful. Aside from a cautious experiment with the expensive and vulnerable Thermopod, we haven't seen this ability since. Fortunately, these two will always be around to make your combos easier.
3:
2:
1:
Kiki-Jiki has dominated Pro Tours and casual tables alike through its long history. It saw play in Standard with Tooth and Nail even without an infinite combo, and continues to be played in Modern thanks to Restoration Angel, Pestermite, and Deceiver Exarch, all providing an infinite number of hasty creatures in combination with the Kamigawa Goblin. In addition to its tournament dominance, it's an extremely popular card with the casual crowd, especially in Commander. I have an enters-the-battlefield-abusing Kiki-Jiki deck that also contains Rings of Brighthearth, Umbral Mantle, and Sundial of the Infinite from earlier on this list, and our own Content Manager Trick Jarrett has a Goblin tribal Kiki-Jiki deck that's his pride and joy. This card's ability to find a place in every corner of the Magic community is the biggest reason why it's number one on my list of the greatest Johnny cards of all time.
Well, that's all the time I have for today, folks. I hope you enjoyed today's look at my picks for the Top 20 Johnny cards, and I encourage you all to share your own Top 20 picks by clicking the link to the forums below. Until next time, keep looking for the next great Johnny card. See ya!