XYR and the rules text of "Fireball deals X damage divided evenly, rounded down, among Y plus one target creatures and/or players."
No one wanted to see "Y" in the mana cost of a card in a "real" Magic set, so everyone set out to find the "perfect" wording for Fireball. There was an entire white board full of suggestions at one point, and the eventual winner was "Fireball deals X damage divided evenly, rounded down, among any number of target creatures and/or players. As an additional cost to play Fireball, pay {1} for each target beyond the first."
Hanabi Blast —Called "Bungee Shock" in playtesting, this card bounced around from design file to design file before finally finding a home in Champions of Kamigawa. The card's designer? Richard Garfield.
Ire of Kaminari —We underestimated the potential power of this card initially; it cost only R during the initial stages of development! Both Brian Schneider and Alan Comer made deadly decks that abused the card, though, and its cost was raised to the more reasonable (but still effective) 3R.
Beacon of Destruction — Swimming With Sharks columnist Mike Flores has recently designed a burn deck that runs multiple copies of this card, and I'm happy to see it showing up in Constructed. My initial design of the card was this:
Eternal Combustion
4RR
Sorcery
CARDNAME deals 5 damage to each of up to two target creatures and/or players. Then shuffle CARDNAME into your library.
That was a little too wordy for development's tastes however, so at the end of Fifth Dawn design we changed it to what it is now—five mana for five damage. Development fretted over the card, feeling it lacked the splash of the other four Beacons. Several replacements were auditioned, including:
Beacon of Wheel of Fortune
Beacon of Inferno
Form of the Phoenix—Target creature gets +3/+3 and gains flying until end of turn. Sacrifice that creature at end of turn. If you do, the creature deals 4 damage to each creature without flying. Shuffle [CARDNAME] into its owner's library.
Those all had their own sets of problems, and in the end, the team resigned themselves to use the simple direct damage spell. I always liked that version, personally, as every player—no matter how new or jaded—can appreciate a great burn card.
---
Paul's Vanguard Corner

From the beginning of the Vanguard process, we knew that we needed to have the ability to tweak the hand sizes and life totals of the avatars. There simply wasn't enough time to thoroughly test the format, because as fun as Vanguard is, it isn't as high of a priority as, say, Guildpact. That said, it's not our goal to endlessly tinker with the format; we just want to get it to a place where there are a number of diverse strategies that are viable. To that end we've decreased the power of two of the avatars and increased the power of three others. (If you're not familiar with the Vanguard abilities on Magic Online, the Vanguard FAQ has a complete explanation of what we're talking about, as well a chart showing all the avatars available and what abilities they grant.)
Elvish Champion – 7 cards, 15 life (from 8, 21)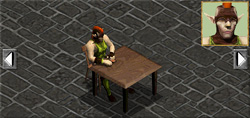 During playtesting, we thought that the early game power of the Elvish Champion would be offset by the long term power of the other avatars. Unfortunately, the Vanguard format turned out to be fast enough that this wasn't the case, and Elvish Champion ended up dominating many tournaments. The new stats should bring it into line with the other avatars and give aggressive decks a place in the format.
Seshiro the Anointed – 7 cards, 19 life (from 7, 25)
There are a number of combo decks involving Seshiro that can kill quickly and consistently. With Elvish Champion's reign coming to an end, there was a risk that Seshiro would simply rise up and take its place. A lower life total will make games more interesting by giving these decks less time to assemble their pieces.
Goblin Warchief – 7 cards, 22 life (from 7, 17)
Goblin Warchief suffered from the dilemma of a low life total combined with an ability that makes you want to neglect defense and simply attack. The extra staying power should make it better able to compete.
Ink-Eyes, Servant of Oni – 6 cards, 17 life (from 6, 13)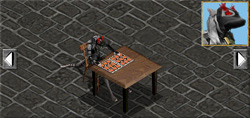 Ink-Eyes, despite being a foil to all of the combo decks, hasn't been seeing any play due to its rather low stats. The change will give it a couple more activations of the secondary ability and should breathe some life into the avatar.
Arcbound Overseer – 7 cards, 23 life (from 6, 23)
This is an interesting avatar that hasn't seen much play due to the low hand size. An extra card should allow it to compete on more even footing.
---
Last Week's Poll:
Which of the Kamigawa block prerelease tournaments did you attend?
None
5517
39.9%
All three
3148
22.7%
Saviors only
1225
8.8%
Champions only
1003
7.2%
Champions and Betrayers
932
6.7%
Betrayers and Saviors
786
5.7%
Champions and Saviors
704
5.1%
Betrayers only
528
3.8%
Total
13843
100.0%