Fate Reforged previews are steaming forward, and as the first week draws to an end, I have a card that I hope you will find pretty exciting. Traditionally, I try to make sure my preview card is something we believe will be a tournament-impacting card. But more than that, something that highlights the color pie or the ever-evolving way we create cards. This week is no different. Let me present Flamewake Phoenix.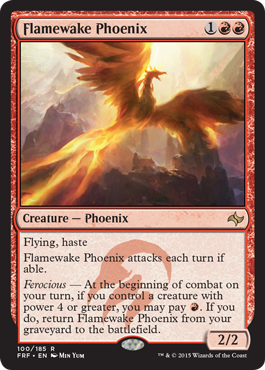 From the Ashes
Red has, traditionally, been a color with a lot of power, but also some glaring holes in its Constructed cards. It tends to get a lot of powerful but fragile weenies, burn, and a Dragon here or there. It's a problem we are slowly working on, pushing cards like Anger of the Gods to give red decks some more depth. At the very least, we want to make red aggressive decks a little less of the glass cannons that they often end up being—winning in the first few turns, or not having enough power to push the damage through.
One area we have been exploring more and more in red is the space available in Phoenixes. While black is traditionally the color that has creatures return from the graveyard, there is a lot of historical and flavor precedent in red getting Phoenixes, which give red a good tool from recovering from board wipes. The goal is to give red decks the option to rely not just on quickly reducing their opponents' life totals, but also to have options for grinding their opponents out over time—making the games more interesting, and less about the first three turns.
Phoenixes also provide red something else it is generally lacking—powerful and cheap flying creatures. The first cheap Constructed Phoenix we printed was Chandra's Phoenix, which quickly showed itself to be both a Standard and a Cube staple. It provided the model for Flamewake Phoenix, but with a different shtick. Instead of burning your opponent, we're asking you to do the thing that the Temur have always been about—getting that 4 power.
Getting to Four
Since this is a Temur card, the best way to maximize its potential is to get a creature with 4 or more power in play, preferably right after a board wipe. Fortunately, Temur in Standard has quite a few options for that: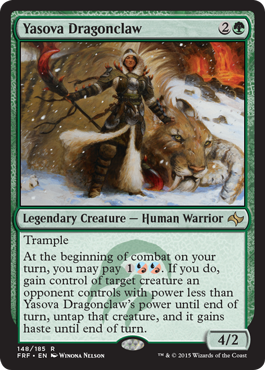 These are creatures that, while powerful, don't have a lot of resilience—another area where Flamewake Phoenix shines. Each of these is pretty weak to removal (unless you have quite a lot of mana to keep up for the Knuckleblade) but hits very hard. Similarly, they are weak against mass removal, which is where the Phoenix most excels. It's easy to play a Phoenix on turn three, then a Knuckleblade on turn four. If your opponent casts an End Hostilities, you can spend your turn five either playing Stormbreath and getting the Phoenix back the next turn, or playing Knuckleblade, giving it haste, and still attacking with the Phoenix and hitting for 6. The more Phoenixes in your graveyard, the more impactful these turns will be.
Now, if playing with creatures that are naturally huge isn't your thing, there are still plenty of ways to take advantage of the Phoenix in Standard, such as using Theros-block cards to get your other creatures up and above the 4-power threshold.
Given the high number of haste creatures in Standard, these combined with the Phoenix can give your red deck more than enough ways to fight through the big green decks and a few Siege Rhinos.
Phoenix Uses
While the current mono-red deck in Standard is a blitz deck, I think there's room for something that is a little higher up on the curve. Flamewake Phoenix may not provide the kind of burst damage that Goblin Rabblemaster has, but it makes up for it by being much more resilient against the majority of the removal that is seeing play in Standard: Thoughtseize, Hero's Downfall, and Murderous Cut. While it can't block the Rabblemaster, if you and your red opponent are trading removal spells for creatures, you can actually end up ahead with the Phoenix.