R all along, as its effect just isn't worth two mana, especially in a color that is supposedly
good
at destroying artifacts. We may never actually make a one-mana vanilla
Shatter
, though, because the card
Shatter
still does a fine job of being a baseline effect with a snappy name that we can use in Core Sets every time. But that doesn't preclude us from making other cards with the insight that
Shatter
is a fair card at R. Granted, even with that bit of knowledge,
Shattering Spree
seems undercosted compared to
Train of Thought
and
Pyromatics
(as "draw a card" and "deal one damage" are also one-mana effects).
The card is intentionally powerful to be sure. Artifact destruction seemed like a place where we could offer a replicate card to older formats (like Extended and Vintage) without making a card that would turn Standard on its ear. All that said, Shattering Spree is not "strictly better" than other playable Red artifact destruction, even though it may be the more correct choice most of the time.
Why did you make some of them [Nephilim] 2/2? How awful.

--phodos
The Nephilim started out pretty darned ridiculous. One iteration that I can remember included an 8/8 with protection from white for UBRG. After all, casting a creature with four colors has to be difficult, right?
In any block other than Ravnica, I imagine we could have gotten away with making the Nephilim a lot more powerful, but they fell victim of being in an environment that enables them far too easily. Between Birds of Paradise, Farseek, Sakura-Tribe Elder, and any number of Signets and dual lands, playing a four-color card on turn 3 is easier than it has ever been in Standard, so we had to account for that.
Development's two goals for the cycle were (a) they had to cost "CDEF," as anything else would not be cool. A mana cost of WUBR is much more attractive than 3WUBR or WWUUBBRR. And (b) the abilities needed to be the cool part, not the size. After all, if all you're after is fat, you can get it elsewhere. So once we had costs and abilities we liked, we set out to tweak power and toughness to where the cards were interesting but not absurd. Ideally, the Nephilim would be an interesting and fun diversion that might show up in tournaments occasionally. (We'd like to keep the focus on the guilds, after all.) So are their stats underwhelming? Yeah, I can see that. But casting them is super easy, and their abilities are all potentially really powerful. I wouldn't write them off just yet.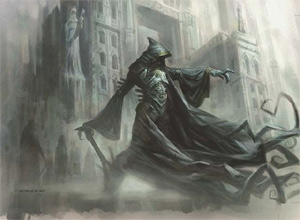 Sometimes the simplest option conveys the message the best.
Out of all of the possible White/Black options for the guildmage, why did you choose one as predictable and easy as how it is now?

--Ed
Sometimes the simplest option conveys the message the best. Black-White has a theme of "bleeding" your opponent to death, as evidenced on cards like Pillory of the Sleepless, Blind Hunter, Mourning Thrull, and Agent of Masks. The Guildmage gave us another way to hammer home that theme, just as the Gruul Guildmage forces damage through and the Izzet Guildmage enables instants and sorceries.
1) Why is Order of the Stars a defender, rather than costing a bit more and enabling it to attack? I doubt 1W for a 1/1 with protection from the color of your choice is broken.

2) Why was Repeal printed? Bounce is usually used by spending some mana to make your opponent spend more. (e.g. Boomeranging a 3cc creature means that that you spent 2 mana to make them spend 3. You spent less than them.)

3) Several mechanics seemed as if they were not fully explored. Are you actually planning on revisiting these mechanics, or are they to be left unexplored? (I still want an ability with convoke, a land with transmute, and now I want fancy replicate costs, similar to the Horobi's Whisper cycle from back in BoK and haunt effects similar to auras (haunted creature gets +1/+1).)

--nepence
(1) Development is not a matter of finding the broken execution of each card and then pulling back one notch. Sure, one day we might be able to print a 1/1 pro-color-of-your-choice creature for 1W. That card would be darned good—
Beloved Chaplain
has seen tournament play, and your suggestion is probably significantly better than that in a large majority of situations.
Order of the Stars
was designed to be a defensive card, and it does a fine job of that.
(2) Bounce normally costs you a card for a bit of tempo—and that's ok judging by this rule you seem to have created about what makes bounce playable. But Repeal is a different animal completely, as the cost of the card no longer exists. Is it still good? Absolutely. I expect it to be played pretty darned heavily in Standard and Block, and maybe in other formats as well. Hopefully it'll make you rethink your rules.
(3) We intentionally didn't mine all of these mechanics in this block because we didn't have to. With fewer than fifteen cards with each keyword, we felt we could do lots of "baseline effects" that were all still interesting, saving the really big tweaks for the day we revisit them.