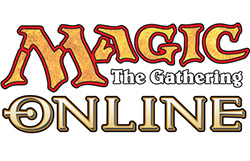 The Magic 2015 Core Set is coming to Magic Online! Much like a new year, a new core set is cause for celebration. But what's the best way to ring in the new Magic 2015 Core Set? Host a whole bunch of Prerelease and Release events? Sure, right, but what else? How about creating new events and holding the biggest giveaway Magic Online has ever seen?
After the scheduled downtime on July 23, if players have logged into Magic Online since April 2008, they'll find 35 Phantom Points and one each of the five M15 Prerelease Entry Objects added to their accounts. This happens to cover one of the entry options for our two new events, the Prerelease Friendly Sealed and the Prerelease Competitive Sealed!
Magic 2015 Core Set Entry Objects and Promo Cards
Playing in a Magic 2015 Core Set Prerelease Event requires one of five "Hunt" entry objects as well as either 35 Phantom Points, or 20 Event Tickets!
"Hunt" Entry ObjectPrerelease Promo Card
Hunt with Valor
Resolute Archangel
Hunt with Guile
Mercurial Pretender
Hunt with Ambition
Indulgent Tormentor
Hunt with Ferocity
Siege Dragon
Hunt with Strength
Phytotitan
Join the new Friendly Sealed Event if you're looking to experiment with the new set, have fun, and have a better chance at walking away with a booster pack or two. If it's fierce competition and a steeper prize payout you're after, the Competitive Sealed Event will be more your speed.
Haven't played Magic Online in a while? Well, as long as "a while" is post-April 2008, then you'll have the means to enter a Prerelease event and get reacquainted as soon as you load up the client. Even if you're a Magic Online regular, it'll give you a chance to familiarize yourself with the new client and the new set!
So, if you like Magic and free stuff, head over to the Magic 2015 Core Set Prerelease and Release article for the full details.