Mariah Boehm's brownies were the talk of the rehab wing last week. She made them during her allotted occupational therapy time, and that night she meticulously circled the ward, offering one to each of the other kids in the rehab wing of the hospital. Even the nurses grabbed a few.
Through her own pain and difficult recovery, Mariah is making sure she gives something back to those around her. And the Magic community she's always been a part of is doing the same.
It's called Team Panda, something you've likely seen mentioned over the last few weeks. It formed after Mariah, the 17-year-old daughter of longtime and well-respected east-coast Magic regular Tony Pagliocco, was struck by a car in a hit-and-run accident while walking home from school last month. She suffered breaks in her legs and vertebrae and sustained traumatic damage to her spinal cord. She's unable to walk and her family is facing a long and uphill road as they adjust to medical bills and the costs of finding wheelchair-accessible housing.
As the news broke across the Magic community, it didn't take long for Team Panda — named after Tony's nickname for his daughter, "my little panda," — to form. Magic players from across the country wanted to find a way to help in any way they could, and that's exactly what they've done. The community has rallied behind a fund to help cover the family's medical costs, but they haven't stopped there.
Several prominent members of the community have campaigned to raise awareness for the cause, from small things like creating the #TeamPanda tag for use in social media to wearing panda-themed gear at tournaments to donating winnings to the cause.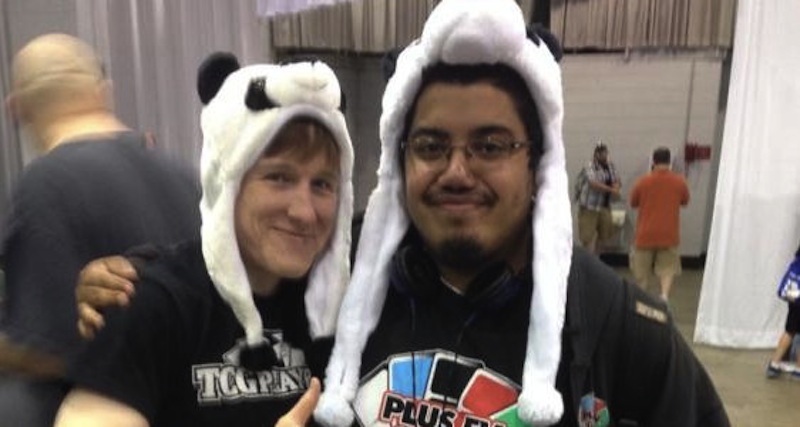 Well-known pros Craig Wescoe and Christian Calcano were spotted wearing #TeamPanda gear at Grand Prix Chicago last week to help raise awareness for the cause.
Tournaments have popped up all over the country to support Mariah, from local game stores to the national stage. And Grand Prix Washington D.C. tournament organizer Tom Shea has taken things to the next level. He's organized a charity event dubbed "Magic for Mariah," a Sealed Deck tournament that will be played at 4 p.m. Sunday in D.C. and every Grand Prix he runs for the foreseeable future.
"Tony has played Magic forever, and I met him in Massachusetts back in 1998," Shea said. "He's one of the single nicest guys I've ever met and Mariah is an extremely nice and positive person with an indomitable spirit. She's going to overcome this."
One thing is assured: she has the unflinching support of the tight-knit group that is the Magic community. In addition to the Sealed Deck tournament at Grand Prix Boston on July 25-27, there will be a silent auction comprised of donated items including things like an uncut foil sheet of a recent set or other rare cards. And where some can't give money, they're offering what they do have. Erin Campbell has donated a guest spot on her popular interview-style podcast The Deck Tease, and renowned Magic artist rk post has donated original artwork to the auction.
Also available will be a special printing of four original playmats created by post, Steve Argyle and others. Shea said all four will be available on Gamermats.com within the week and all the proceeds will go to supporting Mariah and her family.
"I talk to many people who are always asking how Mariah is doing, if she needs anything, or if they can help — and I think to myself, 'This is a person who has their own life, their own issues, their own things to do, and they are taking time out of all of that to ask how they can help my daughter,'" Pagliocco said in a recent blog post updating Mariah's progress. "It genuinely warms my heart. This whole ordeal has reshaped a lot of how I looked at things in life and I know it has Mariah.
"People are showing support, they're showing the love, and they're keeping Mariah in their prayers. It's amazing, truly amazing."