Although the actual Grand Prix doesn't begin until Saturday morning, there is a lot going on in the halls the night before. Side events are running, vendors are making sales and Grand Prix hungry players are battling it out for byes in Grand Prix Trials.
The Grand Prix here in Atlanta also saw the premier for a Mega Trial Sealed on Friday night. The event is a 5-round sealed deck tournament with the opportunity to win both byes and VIP-packages for the Grand Prix. The premier Mega Trial had an impressive 169 players, much to event manager Jason Long's delight. "169 players was far more than we expected, but the event ran great, and it looked like the players really appreciated it," he says.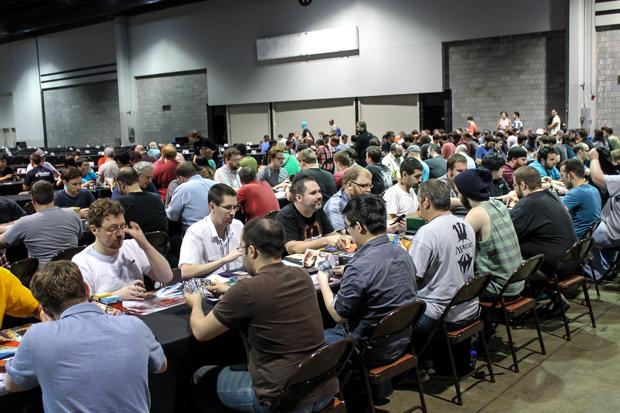 169 players entered Friday's Mega Trial for a chance at free VIP and some Grand Prix main event byes.
Unlike a regular Grand Prix Trial, players weren't eliminated after a loss, as prizes were given out based on match wins after the swiss. Where even a 4-1 record awarded 36 packs. Zan Syed, Rick Carr, Lucas Michaels and Ross Labny put up undefeated records, earning 2 byes for the Grand Prix, free VIP-upgrades and 18 boosters each. Right below them in the standings were Grand Prix Grinder Christian Calcano and 15th ranked pro Lee Shi Tian.
Event Manager Jason Long pointed out the fact that you aren't eliminated after a loss, and the chance to play in a large warm-up tournament for the Grand Prix were key factors in the events popularity. He also ensures the concept will be continued at coming Grand Prix.
"We're organizing Grand Prix Chicago in a couple of weeks, and I'm sure the event will be as big, if not even bigger there," he says.