In just over two short weeks, the historic $1 million Mythic Invitational will take place at PAX East and in front of thousands of fans on twitch.tv/magic, and we're pulling out all the stops—including bringing eight Challengers from the Mythic ranks of MTG Arena to compete head to head against some of the most well-known players in the world!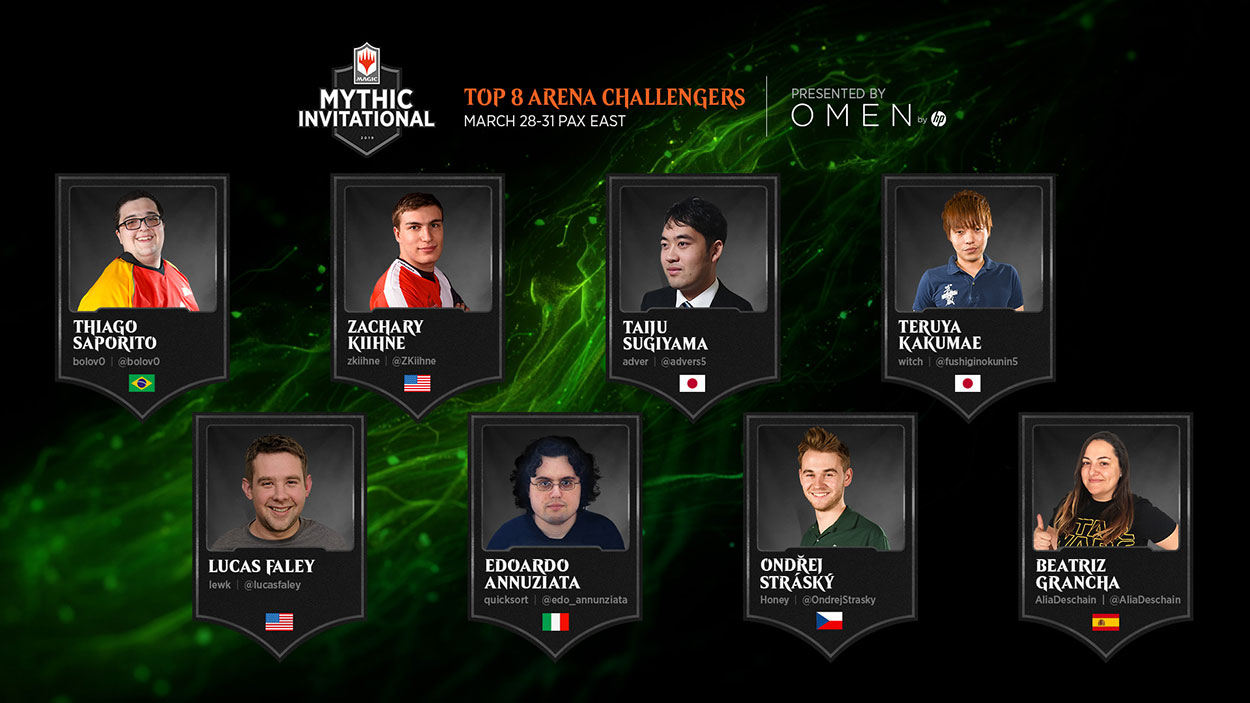 The eight Challengers joining the 56 players we already announced are:
Beatriz "AliaDeschain" Grancha
Ondřej "Honey" Stráský
Edoardo "quicksort" Annunziata
Lewk "lewk" Faley
Teruya "witch" Kakumae
Taiju "adver" Sugiyama
Zachary "zkiihne" Kiihne
Thiago "bolov0" Saporito
Click each name below to learn more about these skilled Challengers!
We're excited to kick off our high-level Magic: The Gathering Arena play featuring 64 of the best players in the world, popular streamers, gamers, and personalities all competing for their share of $1 million and a $250,000 first prize.
Our coverage team for the event will be announced soon, and you'll be able to follow all the action live from PAX East March 28–31. We'll be streaming on twitch.tv/magic beginning at 10 a.m. ET on Thursday morning, but if you don't speak English, or you'd like to hear things from a different angle, we've got another option for you as well.
Co-Streaming
We're trying something new with the Mythic invitational on Twitch. Streamers will be able to co-stream the official Mythic Invitational feed on their own Twitch channel between March 28–31!
Following Twitch's Content Sharing Guidelines, you can co-stream the PAX East Mythic Invitational from twitch.tv/magic using OBS or XSplit. This allows anyone on Twitch to be able to cover the event in their voice and with their community. To be clear, co-streamed content is not endorsed by Wizards. And we expect anyone who participates in co-streaming to follow Wizards' Fan Content Policy. If all goes well with this test, we hope to do this at future competitive events!
Our hope is that this open policy encourages more regionalized viewing options and gives creators the ability to convey information to their community in their voice. We do plan to work with select regional creators to make sure they are set up for success to co-stream to their local communities, with commentary in their own languages.
While we hope twitch.tv/magic is your go-to place to tune in to the Mythic Invitational, more viewing options on Twitch is always better. We look forward to seeing how creators take advantage of this feature.