Welcome back to Perilous Research, DailyMTG.com's exclusive Magic Online column. This weekend, Magic players around the world will head to their local game stores to participate in the Khans of Tarkir Prerelease. Khans of Tarkir promises to be one of the most exciting Magic sets ever and Prereleases give us the opportunity to be among the first to play with the new and exciting cards. Today, we'll be discussing a powerful new deck for Standard with Khans of Tarkir in preparation for the upcoming format.
Earlier this week, on ChannelFireball.com, I discussed an aggressive black strategy for the new Standard that takes advantage of powerful new cards like Bloodsoaked Champion. This strategy has been discussed ad nauseam over the last few days, but a lot of players have questioned the viability of Warriors as a subtheme to the aggressive black strategy. Today, I'd like to discuss the different ways we can go about building a Warrior deck for the upcoming Standard format.
The most obvious route for the Warrior deck is straight white-black. By playing two colors, we get to reliably cast Chief of the Edge and Chief of the Scale on the second turn while still being able to cast our one-drops on the first turn. Also, by keeping the deck straight white-black, we massively increase the power of Athreos, God of Passage. Athreos is one of the more powerful cards in the new Standard format thanks to its newfound devotees in Khans of Tarkir. We can experiment with a third color later, but the two-color version of the deck should give us the cleanest and most consistent game plan available.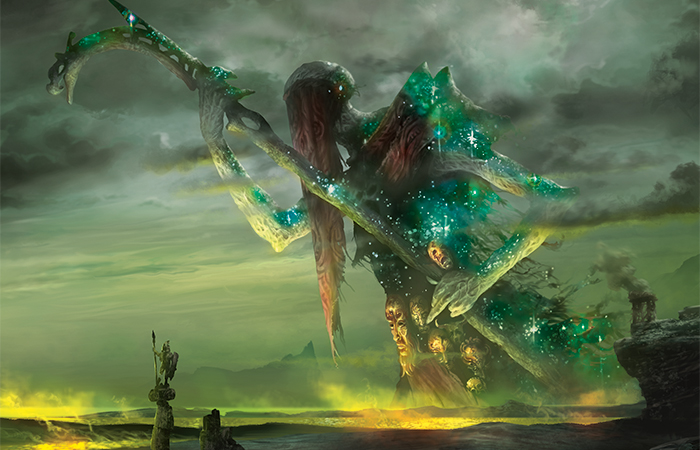 Athreos, God of Passage | Art by Ryan Barger
We want our Warrior deck to be as aggressive as possible. Cards like Chief of the Edge encourage us to attack our opponent's life total. The first thing we'll need is some one-drops.
Tormented Hero is an obvious inclusion. We get a 2-power creature for one mana that can occasionally pick up some upside if we're able to target it with something.
Bloodsoaked Champion is a winner. It's a 2-power creature for one mana that keeps on coming, even when the opponent is able to get it off the table. Draws that involve multiple copies of Bloodsoaked Champion will be especially frustrating for opponents armed with spot removal instead of big blockers.
Gnarled Scarhide may not be a Warrior, but it's still a 2-power creature for one mana and sometimes we'll get additional value by using the bestow ability to essentially give it haste. Bestowing on Tormented Hero lets us drain the opponent for 1, and using it on Bloodsoaked Champion makes a large body the opponent will often be forced to use a card on even though we'll get both cards refunded.
I thought about Soldier of the Pantheon, and it's definitely the best one-mana creature in Standard. Unfortunately, we won't be playing enough white lands that come into play untapped to make it a serious consideration as a turn-one play. Once we start looking at two-mana cards, we have a lot of powerful options to choose from.
Chief of the Edge and Chief of the Scale are both efficiently costed creatures that happen to make a huge portion of the deck's creature base better. Chief of the Edge is an obvious four-of in any aggressive white-black deck as a 3-power creature for two mana that often gets in for a point or three the turn it comes down. Chief of the Scale gives the deck a lot of resilience to cards like Drown in Sorrow, makes blocking much less profitable for the opponent, and powers up the devotion we'll need to turn on Athreos, God of Passage.
Mardu Skullhunter seems like a winner to me. We'll always be swinging, and this guy gets us a card while also giving us a 2-power Warrior. We can pump this up, it contributes to our devotion, and we'll never be down on cards in the process. We can think of it as the Warrior's Silvergill Adept.