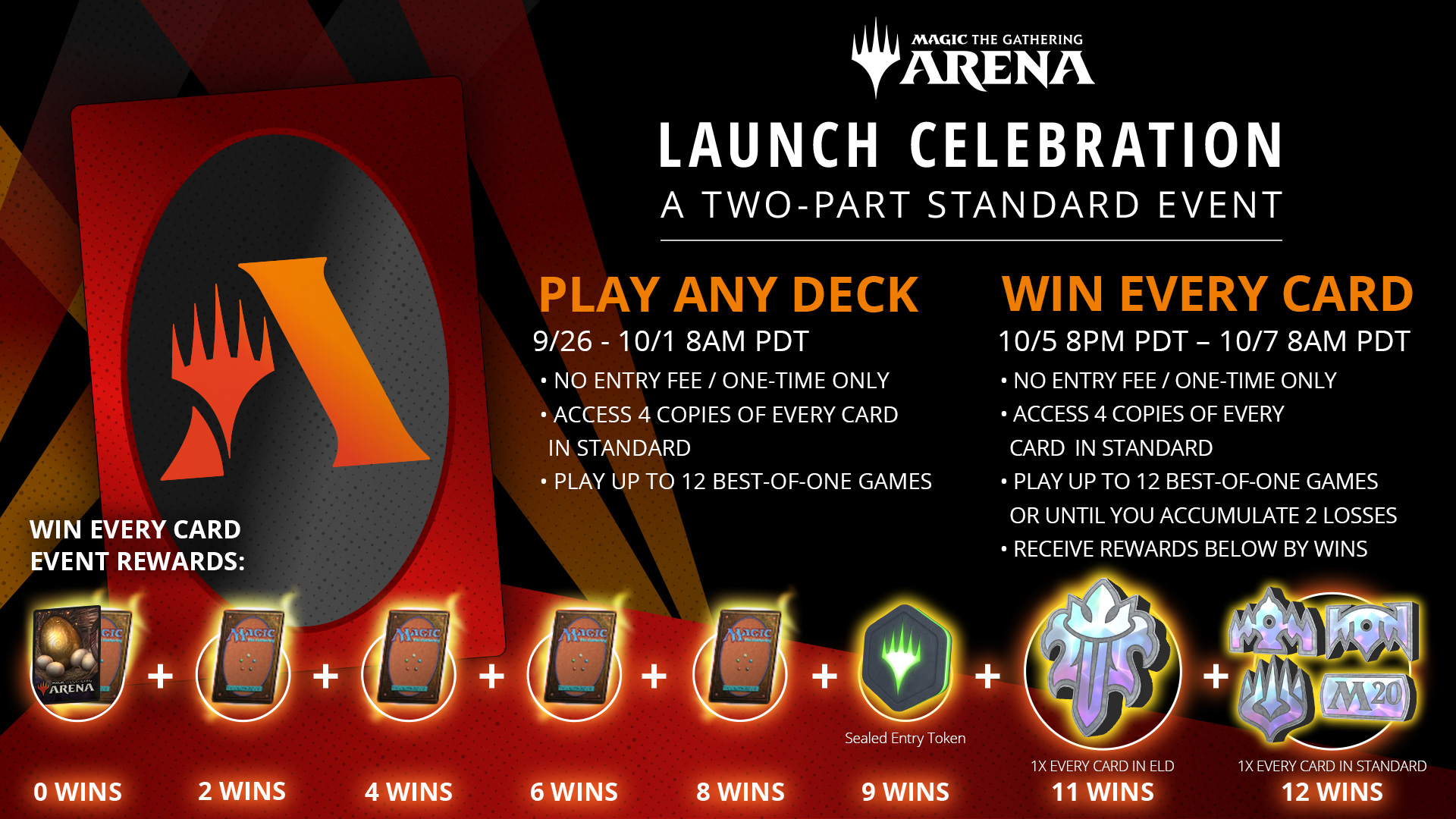 TIPS AND TRICKS
Remember! You can use any card that is considered Standard-legal on MTG Arena—this includes cards from the Throne of Eldraine Planeswalker and Brawl decks as well as buy-a-box promos!
You can create as many decks as you like, and you can make changes—or swap them completely—in-between matches. (Psst! We also increased the maximum number of decks you can have at any given time to 75!)
It's best to create your decks through the in-game event page so it'll properly show you having access to playsets of every card in Standard. You can still build (and save) decks through the game's Decks page, but you'll be warned if you use cards that aren't in your collection. Don't worry, you'll still be able to submit them as decks to play in the event!
Want to learn more about the newest cardset, Throne of Eldraine? You can take in the sights by heading over to our card image gallary, allow us to regal you with tales of the new mechanics, or do a little bit of tome raiding through the full Throne of Eldraine set release notes.
PLAY ANY DECK – STANDARD
Event Details: We'll provide access to playsets (four copies) of every card in Standard, which you can use to build and play any deck in Standard. You can build as many decks as you like, and you can change them between matches.
Event Dates: September 26 at 8 a.m. PT (3 p.m. UTC) to October 1 at 8 a.m. PT (3 p.m. UTC)
Entry Fee: None, but you can only participate once.
Format: Standard Best-of-One
Event Record: Up to 12 games (win or lose)
Decklists
If you've brewed up something sweet, spicy, or satisifyingly silly—we've got room for more! Send your decklists to @MTG_Arena, and we'll pick a few to add to the menu.
For those of you unsure where to start, we've put together a few decklists to help give you a taste of the new set and the new Standard enviroment. Try them out, add your own flavor, or bake from scratch!

Get ???????? Decklist for Arena Import
Get If They Die, They Die Decklist for Arena Import
Get Green Around the Gills Decklist for Arena Import
Get Living Twice Decklist for Arena Import