The Pro Tour Qualifier season for Pro Tour Khans of Tarkir is under way. This is your chance to test your Modern skills, because invitations and tickets to Pro Tour Khans of Tarkir go to PTQ winners!
Look through the events below for Top 8 Modern decklists.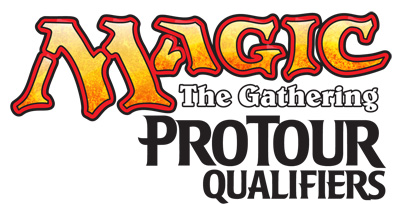 Decklists will be updated weekly during the PTQ season. The new season runs June 7, 2014 - August 24, 2014. For more information about the PTQ season, click here.
June 7: Mount Pearl, Newfoundland and Labrador: Wayne Felix (Attendance: 90)
June 7: North Canton, : Kevin Gerhart (Attendance: 132)
June 7: Portland, Oregon: Brian Weller-Gordon (Attendance: 214)
June 8: Austin, Texas: Woodrow Bogucki (Attendance: 220)
June 8: Villa Park, Illinois: Michael Bernat (Attendance: 203)
June 14: Montreal, Quebec: Ben Moir (Attendance: 137)
June 14: Syracuse, New York: Adam Barnello (Attendance: 154)
June 15: S. Attleboro, Massachusetts: Julian Wildes (Attendance: 210)
June 28: Boston, MA: Ryan Botting (Attendance: 202)
June 28: Little Rock, AR: Chris Dearing (Attendance: 168)
June 28: Richmond, Kentucky: Jack Fogle (Attendance: 139)
June 29: Indianapolis, Indiana: Spencer Garnier (Attendance: 148)
July 5: Maitland, Florida: Bryon King (Attendance: 218)
July 5: Monroeville, PA: Robert Victory (Attendance: 166)
July 5: Seattle, WA: Wilson Mok (Attendance: 236)
July 6: Toledo, OH: Omar B. (Attendance: 180)
July 6: Wilmington, DE: Connor Rice (Attendance: 174)
July 26: Bountiful, UT: Alexander Kerr (Attendance: 147)
July 26: St. Louis, MO: Nick Seifert (Attendance: 120)
August 9: Glen Burnie, MD: Ralph Betesh (Attendance: 176)
August 9: Memphis, TN: Kevin Koepke (Attendance: 141)
August 9: Tulsa, OK: Nolan, Chaney (Attendance: 160)
August 9: Hollywood, FL: Adam Fox (Attendance: 132)
August 16: Toronto, ON: Shogo Yamasaki (Attendance: 321)
August 16: Fargo, ND: Konnor Peterson (Attendance: 101)
August 16: Seattle, WA: Percy Fang (Attendance: 178)
August 23: Boise, ID: Miguel Gatica (Attendance: 74)
August 23: Garden City, MI: Max McVety (Attendance: 175)
August 23: Lubbock, TX: David Daniel (Attendance: 100)
August 23: Springfield, MO: Sam Berkenbile (Attendance: 120)
August 23: San Diego, CA: Arturo Alvarado Picazo (Attendance: 182)
August 24: Bozeman, MT: John Sittner (Attendance: 72)