Former World Champion (14) Makihito Mihara is possibly the most accomplished player in the room today. He has enjoyed a decent season, even if he professes that he isn't doing as well as he wants to be.
Currently sitting at 31 Pro Points, he is all locked up for Gold next year but surely he can't be happy with "just" that. He is Hall of Famer calibre after all, and nothing less than Platinum is befitting of his status.
A couple of years back, he failed to make the ballot, possibly because his resume was not as impressive as the eventual inductees (Paulo Vitor Dama de Rosa, Masashi Oiso and Kenji Tsumura) but since then, he has added two more Pro Tour Top 8s in Year 2013 alone. This bumped him up to five Pro Tour Top 8s, a feat only 23 other players have matched or surpassed, and almost all of them are Hall of Famers already. Suddenly, seven Grand Prix Top 8s and two wins seems like icing on the cake. Let's just say it wouldn't surprise anyone if he was a hot favorite.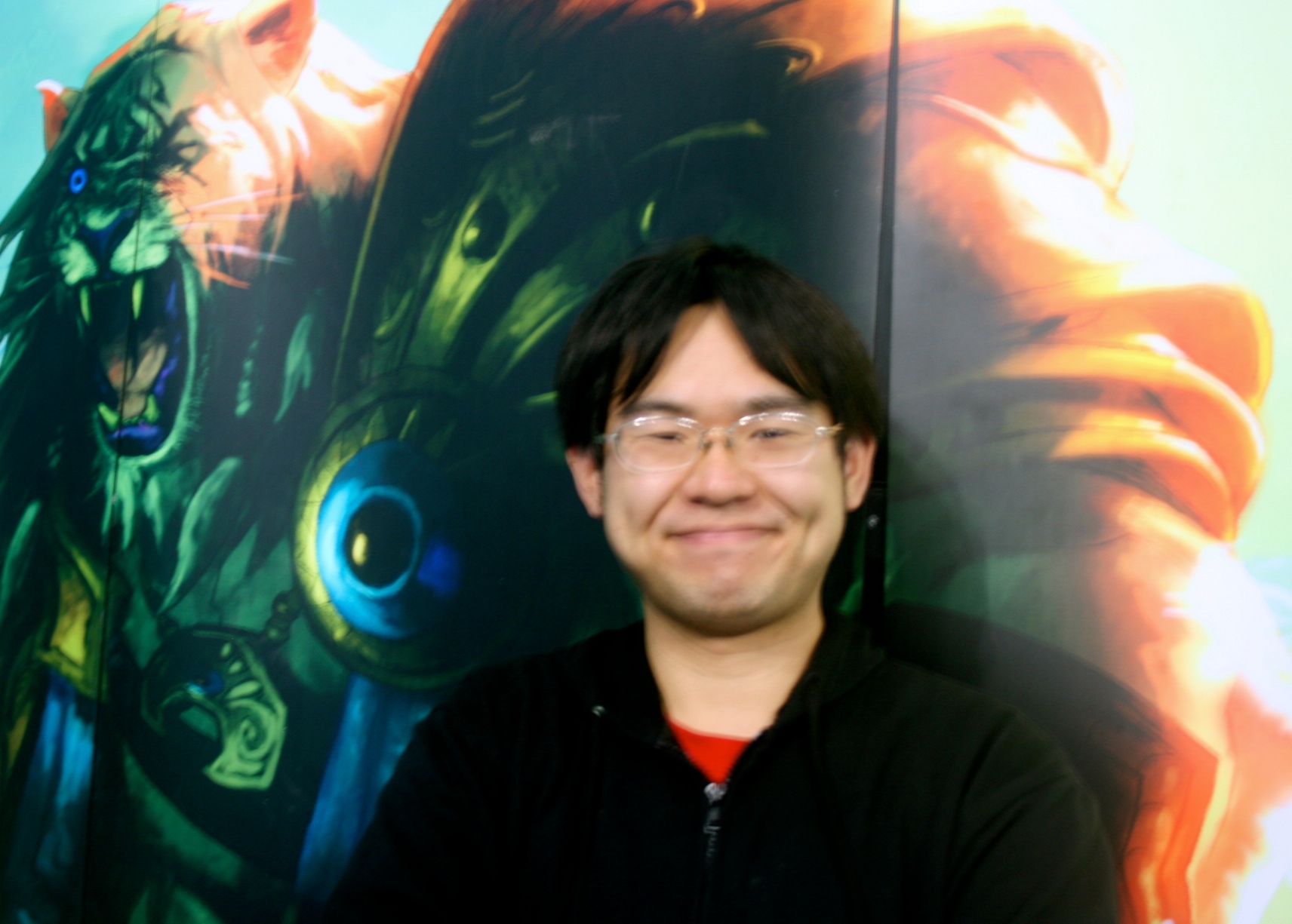 Makihito Mihara speaks about his plans for the remaining half of the season.
Right now, he has his eyes set on renewing his Platinum membership, but time is not in his favor. "I got married last year and my job is keeping me busy. At the moment, I can only attend Grand Prix Nagoya and Grand Prix Taipei before the season ends. I just don't have time to travel more this year."
Doing some simple math would suggest that he is assured 37 Pro Points (6 from the minimum of two Pro Tours). That would require him to pick up an additional 8 Points from the final five events which he intends to attend, including this one.
That averages a Top 75 finish in both Pro Tours and an average of Top 32 in both Grand Prix. While I casually suggest that it shouldn't be a problem for a player his stature, he humbly professes that it is not as easy as one might think.
A nifty combo granted by Born of the Gods, which Mihara was happy to abuse.
Currently at a 6-1 score, he seems to be doing rather well with his Esper Midrange deck, the very same one that helped him break into the Top 8 of Magic: The Gathering's first ever Super Sunday Series. Incidentally, he qualified for the event by winning the Super Sunday at Grand Prix Beijing last year.
Let's hope that Beijing will be kind to him once again, and grant him the much required Pro Points he needs. Good like Mihara-san!