Coming off Grand Prix Beijing, Mono-Black Devotion was among the most popular archetypes in Standard. It was the most played deck on Day 2, and tied for making Top 8 there as well. Boros Burn was the other high-placing deck of the weekend since it was one of the ways to handle the black menace, but Esper Control-playing Yuuya Watanabe demonstrated what Staff of the Death Magus could do against the faster deck. With that technology available, Mono-Black Devotion was still among the best positioned for Phoenix, with a cadre of popular options behind it: Mono-Blue Devotion, White Weenie, "Monster" decks of Jund and Red-Green varieties, Blue Devotion with a black or more often white splash, and White-Black Midrange and Control.
Five rounds into the showdown at Phoenix, this is what was among the top twenty-five tables:
| | |
| --- | --- |
| Archetype | Count |
| Esper Control | 11 |
| Mono-Black Devotion | 6 |
| Red-Green Midrange | 5 |
| Boros Burn | 5 |
| Mono-Blue Devotion | 4 |
| White-Black Midrange | 3 |
| Mono-Red Aggro | 3 |
| Jund Monsters | 3 |
| Black-Red Aggro | 2 |
| Azorius Control | 2 |
| White-Black-Red Aggro | 1 |
| White Weenie | 1 |
| Mono-Green Devotion | 1 |
| Jund Dredge | 1 |
| Big Naya | 1 |
| Bant Control | 1 |
Or, summarized by percentages: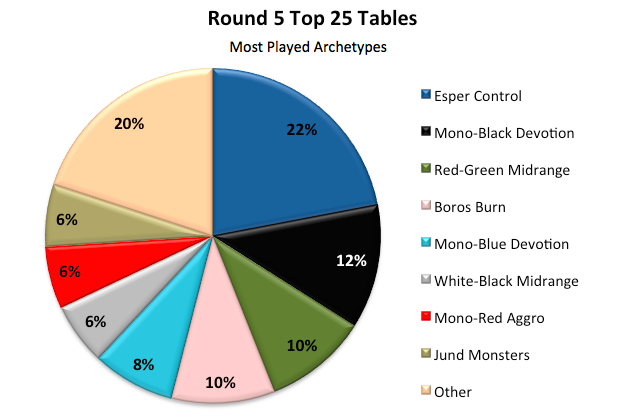 While it's just a taste of the data – there were many more going into the round with a 4-0 record – it does point in the directions we expected. Esper Control and Mono-Black Devotion account for a third of the decks across the top tables, with Red-Green Midrange (Monsters) and Boros Burn close behind to round out the top half. Mostly other aggressive decks with a splash of Azorius Control filled things out.
Was this really what everyone was expecting? We caught up with currently 10th-ranked and 2013 Player of the Year Josh Utter-Leyton for his thoughts. Coming into Phoenix, Utter-Leyton expected "Esper Control and Mono-Black Devotion being the big two – more popular than everything else by a fair margin. The next most popular in order: Blue Devotion, Monsters with or without splashing black, and Burn decks."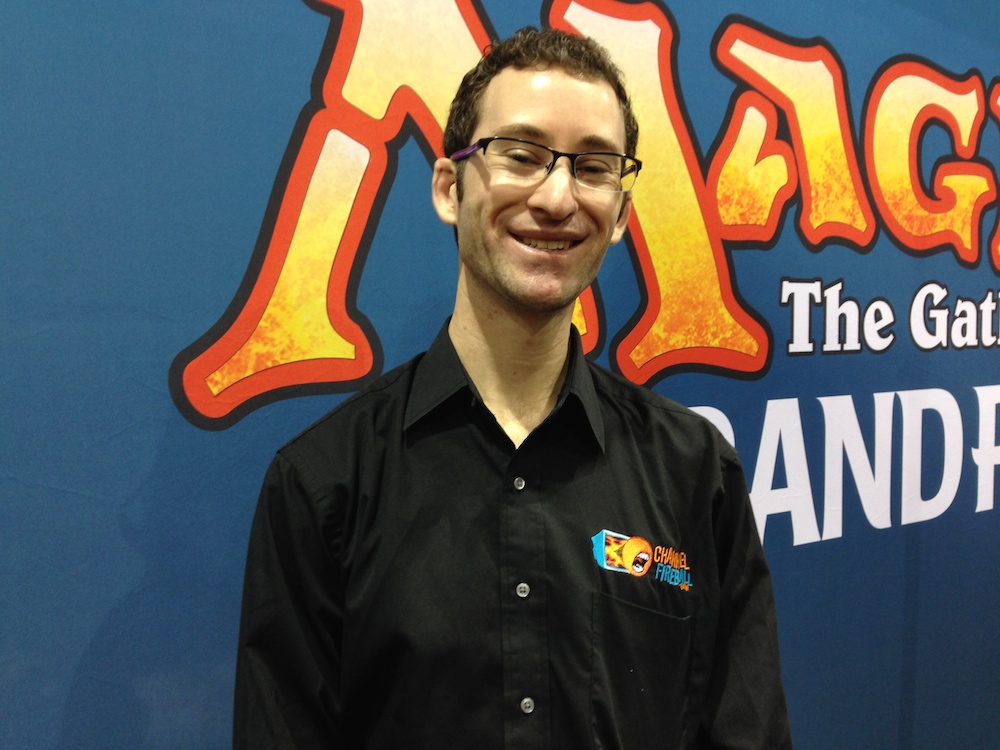 2013 Player of the Year Josh Utter-Leyton is known for his knack at understanding Constructed formats.
We gave Utter-Leyton a chance to look at what we pulled from the top tables. "That was pretty much exactly what I said, right?" Utter-Leyton laughed at the eerie prescience. With Red-Green Midrange pushing larger than expected, why would someone choose that deck over one of the other options? "If Esper Control's the deck to beat," Utter-Leyton explained, "Monsters is good against it. Something like Mono-Blue isn't."
It's a little early for predictions, but we'll follow up with another look in two rounds to see evolution at work. What do you expect we'll find?