I just spent a weekend inside the Music City Center in Nashville, TN, talking about one of my favorite formats of all time—Team Sealed. During the stream for the event we would periodically show a graphic about the upcoming Worlds Week in Nice, France. I was struck by two things each time we would show it. The first was how insane the pool of players competing in the World Championship is and what a display of high-level Magic we are looking forward to. The second was an expletive-laden internal monologue about how quickly that event will be upon us.
The second is of little concern to you since it mostly regards laundry, dry cleaning, haircuts, and other items on my to-do list, but the first should be very much inside the overlap-y part of the Venn diagram that illustrates "Magic being streamed live" and "things that keep you glued to your computer and/or handheld device." It is going to be Magic played at the highest level by the game's very best players.
Half of last year's sixteen-person field is returning to try and take down the most illustrious title in all of Magic—World Champion. Among them is Shahar Shenhar, the person who currently holds that title. Shenhar is coming off of a 2nd-place finish at Grand Prix Nashville with two players also heading to the World Championship: Tom Martell and Paulo Vitor Damo da Rosa. Shenhar was relieved by his finish at the GP after admittedly taking his foot off the accelerator this past season.
2013 World Champion Shahar Shenhar
"I want to win again!" declared the reigning World Champion, who just turned 21 this past weekend. "I struggled a bit with motivation this past year after Wizards granted me with Platinum and a Worlds slot, but I definitely got it back just in time for Worlds."
Shenhar will have two tournaments to grapple with that week, as he will also be captaining the Israeli National Team in the World Magic Cup. Operationally, he is paying more attention to the nutrients he puts into his body during an event and making sure he gets enough rest—something that can be a challenge at his age. Shenhar will be testing with some of his ChannelFireball cohorts, which is something he looks forward to as much as the event itself.
"The best time that I have each year is PT testing, and this year it was definitely PT Khans of Tarkir testing," Shenhar said, when asked about the highlights from the past year. "All the meals that LSV cooked for us really got our day going the right way. I am teaming with Josh [Utter-Leyton], Tom [Martell], Willy [Edel], and PV. We are going to Strasburg together after a week of testing in New York, between New Jersey and Ottawa."
Shenhar describes winning the event last year as a dream come true. And he is not quite ready to wake up from that dream but is quick to temper expectations, knowing that he will be playing against a field of the game's best opponents distilled down to 23 challengers over the course of the season.
"I don't wanna get ahead of myself here—prefer taking it one step/round at a time and see what happens," said the champion. "In the end, if my testing process is good, I'm gonna be happy regardless of record,"
One of the players who will be looking to best him is Reid Duke, who will be playing in this event for the third year in a row. He finished in last place during the Player's Championship and rebounded last year to finish 2nd to Shenhar in the World Championship last season. The only room for improvement that Duke has left is to be crowned the World Champion.
Reid Duke, playing in the 2013 World Championship Finals
"I played the finals of the World Championship, made my first Pro Tour Top 8, and made a run at the player of the year title," said Duke. "Unfortunately, I lost every time. I consider last year my dress rehearsal. All I can hope is to be in the same spots again this year. And that this time I'll be strong enough to change the outcomes. World Champion is one of the most prestigious titles in Magic. It's something that I've dreamed of and worked toward for many, many years. Moreover, this tournament has taken on a special emotional weight for me after finishing in dead-last place in 2012 and being the runner-up in 2013. I'm determined to prove that I'm undaunted. And that I have what it takes to actually be the champion."
Duke will be preparing for the event with his same practice squad from last season, but with one key difference that he thinks can only make him stronger.
"I'll be preparing with William Jensen and Owen Turtenwald," said the third keeper of The Peach Garden Oath. "They were my primary testing partners last year, but the big difference is that they're now qualified for the event as well. Now all three of us are maximally invested in the tournament. The key to my success last year was balance and time management. With four formats, it's easy to get bogged down on one thing and let your preparation with everyone else suffer because of it. I'd like to repeat the same process this year, being prepared to make my best possible run at all four formats."
"If a soccer player wants to win the World Cup...if an actor wants an Oscar...Magic players want to be the World Champion," said Brazilian Willy Edel, who will also be representing his nation in the World Magic Cup. "It is the biggest thing I can achieve in the game I love. And I've been playing for the biggest part of my life. It's not a Magic-only achievement, it's something I will be proud to tell/show my son and all my friends forever."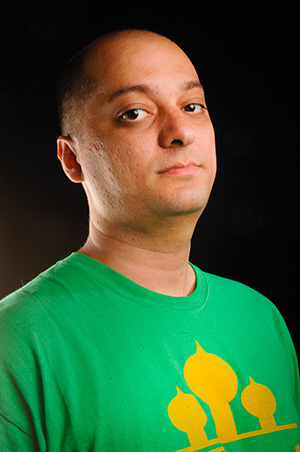 Willy Edel
Edel did not fully appreciate the opportunity last year and was extremely grateful for the chance at a do-over.
"Last year, for some reason, I felt that being there was enough," said Edel, who is testing with his countrymen Paulo Vitor Damo da Rosa and the mostly ChannelFireball squad that Shenhar mentioned earlier. "I was so glad to be there that maybe I played too relaxed and a little loose sometimes. In a GP, or even in a PT, you can win without being 100%. I learned the hard way that when you are playing only the cream of the crop, you have no chance unless you are at 110%. This is a mistake I won't ever repeat."
While all the players Edel and Shenhar will be working with for Worlds are ChannelFireball members, they are not all from the same ChannelFireball team. Tom Martell usually prepares for major events with his Pantheon teammates but, with so many players from that team qualified, they broke up into smaller groups—like the Peach Garden Oath splinter cell that Duke mentioned earlier.
"Last year, with the smaller tournament, there was a lot of pressure around team sizes, so Shahar and I found ourselves as the odd men out," explained Martell about how he came to cross the aisle to ChannelFireball's original team. "This year, Pantheon had to split up as we have seven qualified people, so I fell in with Wrapter (Josh Utter-Leyton), as he lives ten minutes from me. I'm really excited to be working with him and the rest of the CFB crew."
Martell admitted that he was not properly prepared for the event last year in much the same way Edel referenced.
"I viewed just making it as a pretty great reward and I think that took the edge off of it for me," said Martell. "This year, I want to win and I'm going to put a lot more time in. I love playing against the best players, so this tournament is really exciting for me."
Tom Martell
Martell knows that the pull of real life's gravity is decaying his orbit around the competitive scene. He is already a Pro Tour and Grand Prix champion, but he wants to be able to look back at his career and be able to call himself World Champion.
"Everyone understands what 'world champion' means. It's a much more accessible title than 'PT Champion'," he explained. "As I get older, I see Father Time ticking away and it gets harder each year to spend enough time on Magic. I don't know how many more shots I'm going to get."
Josh Utter-Leyton would have had a pretty good year even without winning the Pro Tour Magic 2015 CFB Basketball Championship.
Utter-Leyton joked about his season highlights in between his World Championship appearances. "Shahar under the hoop is just like Shahar on a URW deck, unbeatable. I wasn't an offensive powerhouse, since our game plan was throw the ball to Shahar under the basket, but I played some serious defense, shutting down Luis—mostly by drowning him."
"Making Top 8 of Pro Tour Journey into Nyx was also obviously a highlight for me. I'm not sure how much longer I'm going to be travelling a bunch for Grand Prix, but I love Pro Tours and want to be able to continue playing in them. So Hall of Fame is something that's very much on my mind, and that fifth Top 8 was something I was very much chasing," admitted Utter-Leyton, who has the requisite stats for induction but not the tenure. He does not even come onto the ballot until 2017.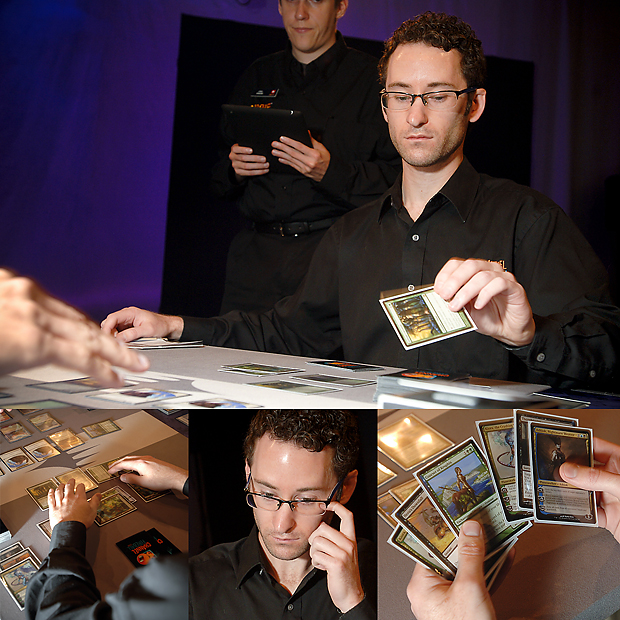 Josh Utter-Leyton at Pro Tour Journey into Nyx
Utter-Leyton is known as one of the most dedicated playtesters in advance of an event in the game. His teammates will often describe his regimen as waking up, playtesting, and eventually going to sleep. There is little mention of anything else. Despite that dedication, Utter-Leyton felt there was a need for even more preparation this year.
"A big takeaway was how hard it is to prepare for four different formats, so I started preparing much earlier and with much more dedication this year," he explained. "Great players are good at identifying the strongest strategies in a format, and last year really showed how exploitable that is. Kibler was able to prey on URW Control and a specific brand of Jund in Standard, and Reid crushed Modern with a deck that matched up well against fair decks without the proper sideboard cards."
"The World Championship is the best Magic tournament that could possibly exist and I'm so happy that I get to be a part of it. It's the thing I most look forward to in the year, like Christmas as a kid. While I would love to win the tournament, being there competing...I feel like I've already won. The most important part of a win to me would be locking up an invite to the next Worlds. Winning Worlds would be a hell of a birthday present to myself, though!"
Lee Shi Tian has been one of the most exciting players on the Pro Tour for the past few seasons, with three Top 8 finishes—including one at the most recent Pro Tour in Hawaii. He has shone a light on the APAC Magic community and given them a tool to continue to improve with Team MTGMintCard. Working with World Magic Cup Champion Tzu Ching Kuo, the team has been taking in the best and brightest new players from that part of the Grand Prix circuit and helping them prepare for the next level of play.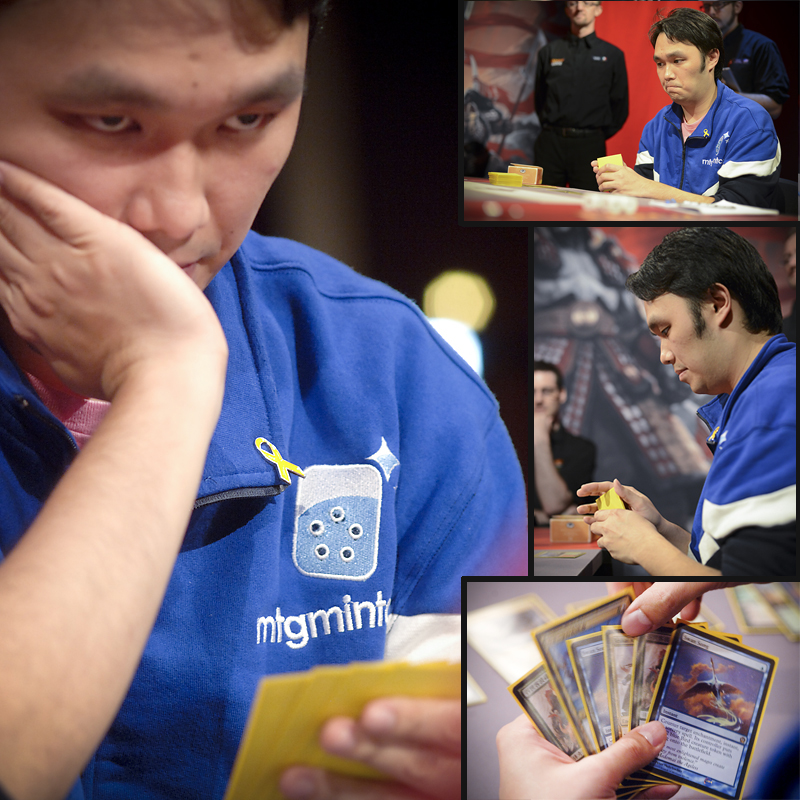 Shi Tian at Pro Tour Khans of Tarkir
Shi Tian likened the atmosphere of the entire tournament to playing on Sunday at a Pro Tour—a stage he feels he has not performed especially well on despite three engagements.
"The atmosphere for this tournament is much more pressure than I thought," said the Pro Tour Khans of Tarkir Top 8 competitor, who is also preparing for the World Magic Cup as best he can despite tumult at home in Hong Kong. "I need to improve how I perform under these conditions. I feel like I never did well in Day Three of a Pro Tour. But now I have more experience and I believe I can make a breakthrough in this area."
"With Nam Sung Wook as the only other APAC player qualified in the event, the testing is not going to be like what we did for the Pro Tour. We do exchange ideas, but are not meeting up to test," said Shi Tian. "At this point, I mainly playtest with the Hong Kong team in my local store. We failed to make Day Two in the World Magic Cup for the last two years and the team is eager to do so. Yet the situation in Hong Kong is actually not going well at this moment. Things are distracted and I cannot say I spend all of my time in preparing for this tournament."
It has been an emotionally turbulent time for Shi Tian, which makes his recent accomplishments all the more stunning. A World Championship title would lend validity to his efforts to be a professional gamer for skeptics at home.
"Hong Kong is a business-based city and gaming does not get much recognition at all. Having a World Champion in the most developed card game should bring attention to the public," he concluded.
October Player of the Month (#MTGPoM): Ari Lax vs. the Field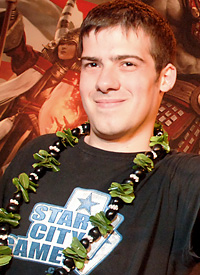 Ari Lax not only broke away from the ignominious pack of the players with the most Pro Points to never Top 8 a Pro Tour, but he went all the way through to the winner's circle at Pro Tour Khans of Tarkir this past month. His Abzan Planeswalkers build dispatched a pretty stacked Top 8. It is always difficult to unseat a Pro Tour champion from winning player of the month honors but it has happened before. Talk to me on Twitter and Facebook using the #MTGPoM hashtag and tell me why you think Lax should (or should not) win player of the month for October. Feel free to write in any candidate you think had a better Magic month. Here are a handful of candidates for you to chew on:
Yu Yin started the month off with his victory at Grand Prix Shanghai while Eugene Hwang was winning Grand Prix Orlando. Next up was the Pro Tour and you can make a case for Lee Shi Tian or any other member of the Top 8, although historically it would take a GP Top 8 during the same month to get into that discussion. Grand Prix that closed out the month featured wins by Daniel Scheid in Los Angeles and Matej Zatlkaj in Stockholm. Maybe you want to nominate an Eternal player?
We have definitely had upsets in Pro Tour months before, but not without you getting on social media and making your case. You can direct your replies to @Top8Games or @MagicProTour to get into the discussion. We will reveal the winner next week.