December 5, 6
1 a.m. PT/4 a.m. ET—2014 World Magic Cup
December 7
12 a.m. PT/3 a.m. ET—2014 Worlds Week Playoffs
This is the big week. On Tuesday and Wednesday, we witnessed the first two days of competition at the 2014 World Championship. In case you missed it (and if you did, FOR SHAME!), the Top 4 features the following:
The 2012 World Champion (Yuuya Watanabe)
The 2013 World Champion (Shahar Shenhar)
The finalist from the 2007 World Championship event (Patrick Chapin)
The quiet player from Japan who has made his expertise known (Kentaro Yamamoto)
These four players will have their playoff matches on Sunday. But before that…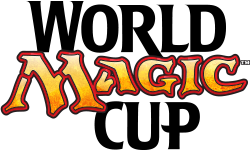 The 2014 World Magic Cup has already kicked off. Head on over to Twitch.tv to tune into coverage of the first day of this exciting event!
If you want to catch the whole thing in its entirety, a replay of Day One will take place 30 minutes after the end of Day One. Day Two of the World Magic Cup will resume tomorrow at 1 a.m. PT/4 a.m. ET/9 a.m. GMT/10 a.m. local time (CET), with the remaining six rounds.
And of course, on Sunday, the conclusion to both events will take place. First, we'll round up the 2014 World Magic Cup Top 8, and then the semifinals and finals of the World Championship will follow. Join Rich Hagon, Brian David-Marshall, Marshall Sutcliffe, Randy Buehler, Rashad Miller, and Ben Stark as they bring you live video coverage for the next three days! Playoff day starts on December 7 at 12 a.m. PT/3 a.m. ET/8 a.m. GMT/9 a.m. local time (CET).