In the pro play coverage game we deal in Top 8 performances when discussing a player's career. When voters are casting their Pro Tour Hall of Fame ballots each year the first thing they do is go to the Pro Tour Top 8: Lifetime page. It is no coincidence that all the players with eight or more PT Top 8 finishes were all first-ballot Hall of Famers. We argue about the merits of Patrick Chapin's Juniors Pro Tour Top 8 and whether or not it should count toward his career Top 8 stats vs. Justin Gary's multiple Top 8 finishes at US Nationals. Everything comes down to Top 8 performance when trying to sum up a player's career.
And yet to get onto the Hall of Fame ballot no Top 8 finishes are needed. Players become eligible when at least ten years have passed since their first Pro Tour appearance and they have accumulated 100 lifetime Pro Points. Of course, they do hand out Pro Points for finishes outside of the Top 8—and for doing well in Grand Prix, Nationals, and World Team Championships too—and as it turns out there are more than a few players who are either Hall of Fame–eligible or will be when their career reaches the ten-year mark.

"The best player without a Pro Tour Top 8" is always a popular topic and one that has come up several times in the past two weeks in the wake of some strong finishes by players contending for that title. You can make the argument in a lot of different ways, but the easiest way to cull a list is to go down the lifetime Pro Points page and take everyone with 100 points or more who does not have a Top 8 and start there.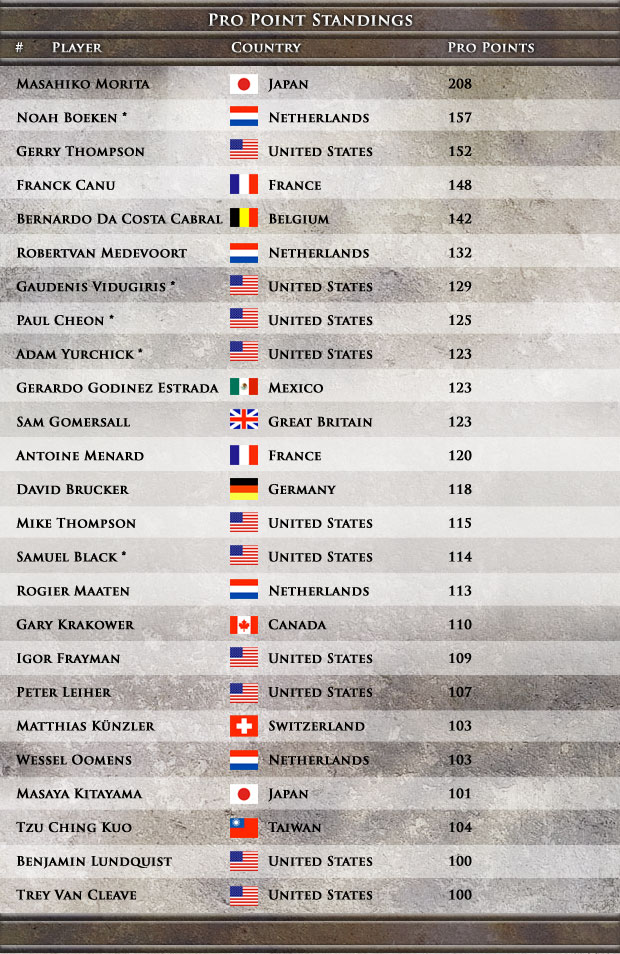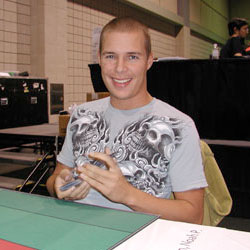 The five players with asterisks all added a chunk of points to their lifetime totals since the start of the season with three of them finishing in the Top 32 of Pro Tour Paris. Noah Boeken is an old-school Magic Pro who went on to become an international poker star. He got an invite to Pro Tour Amsterdam, which he parlayed into a Top 16 finish and an invite to Pro Tour Paris—and yet another Top 16 finish.
I asked Noah about his close calls to breaking into the Top 8 and he was able to vividly recall pairings from all the way back to the 1997 season in Chicago.
"I lost three rounds in a row to Adrian Sayers, Max Suver, and Olle Råde—who all made Top 8. Next at Pro Tour Mainz I came in 30th," said the Dutch Magic player, who admitted that he was surprised to not get a PT Top 8 during the first leg of his career. "In the meantime I went on to win two Grand Prix, European Championships in 2000, and the Team Masters Series in Japan with Team ABU. Then last year I came in 14th in Amsterdam and now 11th in Paris."
With such close calls in his last two Pro Tours I wondered if Noah felt the pressure as he was coming down the stretch to cross his name off the list.
"Back in the day that would maybe been on my mind when I was still playing the game day in, day out," said Boeken of his younger, more excitable self. "I really just try to play my best and enjoy the games as much as I can—which I do. Of course, I'm still really competitive and want to win, but if I don't it's not as big of a deal as back in the day."
Noah was hoping he would be able to figure out a way to play at Pro Tour Nagoya. His Top 50 finish earned him another invite, and he is getting close to be back on the gravy train after all these years.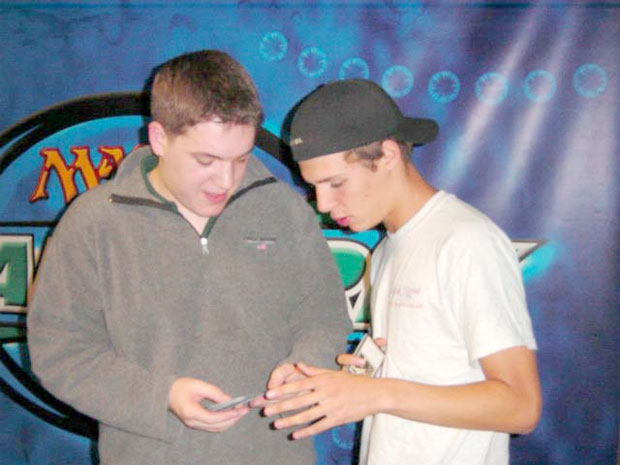 With experience going back to the mid-nineties I asked Noah to compare the pro players from the old school to the current crop of players who were home-schooled on Magic Online.
"Honestly before I came back I thought it would be super-hard nowadays, but it's kind of similar to back in the day. You have like ten or twenty superstars, then a big pack of people that can do real well, and then the rest of the pack that has a smaller chance of doing real well," assessed Boeken. "MTGO is great, of course, to practice but having 'live experience' is also nice, and in the end Magic is still the same game as sixteen years ago—you still both start at 20 life!"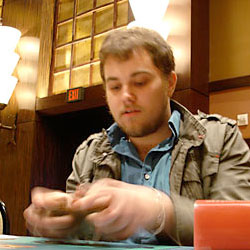 Another player in the Top 16 of Pro Tour Paris was Adam Yurchick. Adam is one of a small handful of players currently Hall of Fame eligible for the 2014 ballot with 123 lifetime points. That total could easily be much higher if not for falling outside the PT Hollywood Top 8 by mere decimal points.
"I cut through the tournament to be 9-2, but picked up a quick loss against eventual Top 8er Jan Ruess, beat Nicolay Potovin, and then lost in a nail-biting three games against Nico Bohny, who also made Top 8," recalled Yurchick, who played green-black Elves in the Standard tournament. "This put me to 10-4 and, I assumed, out of contention. I won the next two, finishing with a feature match against the relatively unknown—but not to me—Martin Juza. I won but finished in 9th place on tiebreakers, while PV slipped into the 8th spot at 12-4."
At Worlds in Rome, Yurchick went into Day Three needing to run the tables to have a shot at making the Top 8. Playing a three-color Thopter Foundry control deck, he won his first three rounds before running afoul of eventual Top 8 competitor Manuel Bucher. Adam could vividly recall the details of that match.
"We played a great three games. It went down to the last turn, and I think if I would have used a Mana Leak the turn before last to tap down his mana I would have won the match," mused Adam about his second close call. "Had I won I would have needed to win one more match and hopefully draw in, but as it played out I ended up just making money. I guess the third would be making Top 16 in Paris a few weeks ago. I had to win out in Day 2 to Top 8, but I lost my first draft round in short order. I won the next seven, but it was not quite enough."
With six years of Pro Tour experience under his belt, Adam was unfazed by the thought that there might any additional pressure on him should be find himself one match away from finally stepping on the Sunday stage at a Pro Tour.
"Finishes outside the Top 8, but in the money, are the bread and butter of a pro's year," said Adam. "These give the pro points and money that keep a player going and are critical for the end-of-the-year totals."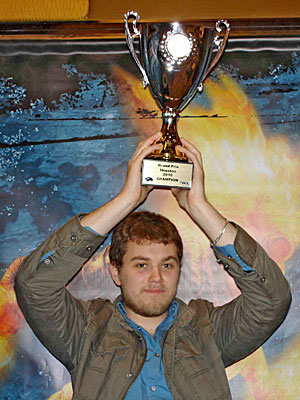 Instead he was taking a cold hard look at his game and thinking about how he could use his prep time more efficiently.
"My main goal for this season is to work hard on my Limited game," said Adam, possibly thinking about the draft loss down the stretch of Paris. "I need to realize that I've really mastered Constructed, so it's not worth my time playing tons, and that Limited is holding me back. I need to put a lot more work into Limited formats, especially when a new set is released. I tend to do well only when I have a really strong grasp on the format. So plenty of drafts in my future."
"I'd least like to play against Paulo Vitor Damo da Rosa," said Adam, when asked who he would least like to play against with a Pro Tour Top 8 on the line. "He's simply the best, especially when it really matters. Nassif is probably second, although that would be a fun match. I would say Saito, Yuuya, or Shuuhei, but I've assembled quite a good record against Japanese pros and I think I have a good handle on their game. I also enjoy playing against them the most."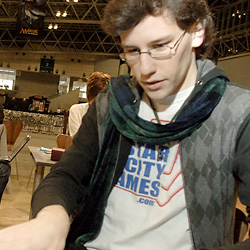 Another player with a strong showing in Paris was Sam Black. It seems like only yesterday that Sam was preying on the public events during the World Championships in New York City—winning a car, among other prizes. A year later he was part of the winning US national team at Worlds in Memphis and he has been a fixture on the Pro Tour ever since. Sam has picked up a triple-digit point total in just three full seasons of playing on the Tour.
"I've never really been in sight of the top, which is to say I've never been in a situation where I'm in if I 3-0 or something," said Sam when I asked him about the pressure to secure a Top 8 berth. "My best finish, Kyoto, I ended by going 5-0 in Standard. Worlds last year was looking pretty good going into the last day, but that fell apart quickly."
Sam is able to remain calm while playing in tournaments thanks to his early competitive experience, and he expects that his shot at a Top 8 will come in time. Was winning on camera during the Team Worlds Finals what gives him that confidence?
"Gaining tournament experience and getting more comfortable playing is extremely important, but for me I've been playing for so long and working up to it slowly, that playing the Finals of Team Worlds isn't what I credit specifically," explained Sam, the consummate gamer. "Oddly enough, Dreamblade [a collectible miniatures game produced by Wizards of the Coast from 2006 to 2007] is really where I feel like I learned to get completely comfortable in the final rounds of a tournament, and to get used to expecting to win and having others expect me to win."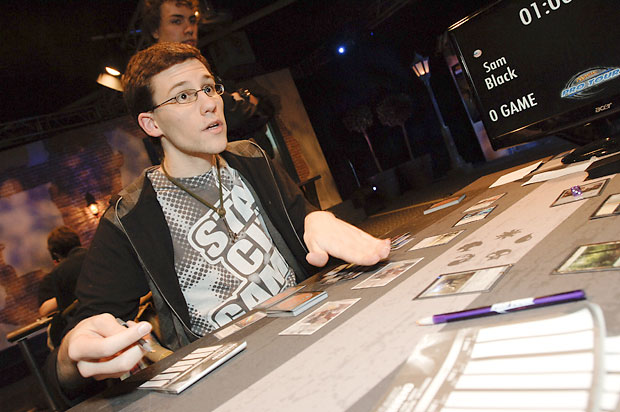 I asked each player that I spoke with about who they would least like to face in a win-and-in match for the Top 8 of a Pro Tour and Sam gave a characteristically idiosyncratic answer:
"I wouldn't choose the person I think is best or most likely to beat me, because I'd be happy for them if they made Top 8. The answer is one of the people I like least, because if I lost, I'd both be sad that they made it and that I didn't, and specifically sad that I let them."
One of the players often seen spending time with Sam Black at events is Grand Prix Denver winner Gaudenis Vidugiris. Gaudenis is one of only two players already eligible for Hall of Fame induction in the 2016 Class of the Pro Tour Hall of Fame and can be found at the top tables of seemingly every Pro Tour.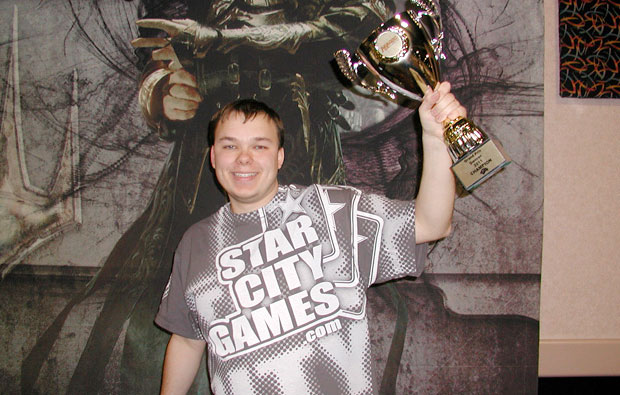 "In San Juan, Amsterdam, and San Diego I had a really good Constructed decks," said Gaudenis of his close calls at the Pro Tour Top 8, "but went 2-4, 3-3, and 2-4 in drafts, and finished 13th, 26th, and 28th, respectively, and finished 18th in Honolulu despite losing two 75-card mirrors." (Interestingly, although he's been let down by 40-card decks at the Pro Tour, with his win in Denver, Gaudenis has now won two Limited GPs.)
For Gaudenis, strong money finishes are what allow him to keep at the Pro Tour while he waits for the Top 8 that he has shown himself more than capable of nabbing.
"They are huge in that they keep you going both monetarily and confidence-wise," explained the Pro Tour mainstay. "You end up paying for your trip and feeling like maybe next time you will actually get there, which makes the next trip sound a lot more appealing."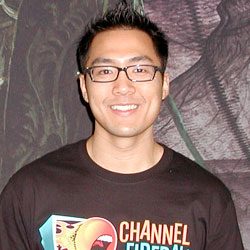 The inspiration for this column came when I was watching Gaudenis square off against Sam Black's Memphis teammate Paul Cheon in the semifinals of Grand Prix Denver. Cheon was once the constant travel companion of Luis Scott-Vargas, and at the end of 2008 the two players seemed poised to conquer the world, with Luis winning Pro Tour Berlin and Paul winning the Teams portion of Worlds (along with Sam Black and Michael Jacob). Paul retired from the game almost immediately after Worlds in Memphis but went out as one of the most exciting players in the game—and he showed everyone that he still knew his way around the red zone in Denver this weekend.
"In Pro Tour Geneva, I went into the last round needing to 3-0 to Top 8 but ended up 1-2ing and Top 32ed," said Cheon of his brushes with a Top 8 finish. "In PT Kuala Lumpur I started off 8-0 and then the wheels came off. I ended the tournament 2-5 and made Top 32. I Top 16ed Worlds in Paris but was out of contention to Top 8 and won the last few matches to lock up the Top 16. I started off 7-0 in PT Valencia and then finished 1-5-1 or something terrible to that effect. All in all, I feel like there were definitely chances for me to Top 8 but I ended up coming short. But hey, here's to looking ahead!"
"Going into the 2008 season, I had my eyes set on Top 8ing a Pro Tour, but unfortunately I could not get there," said Cheon when asked if he feels there is something missing in regards to his Magic career. "Fortunately, LSV managed to win a Pro Tour that year and just to see him get there was one of the happiest and most memorable Pro Tour moments of my life."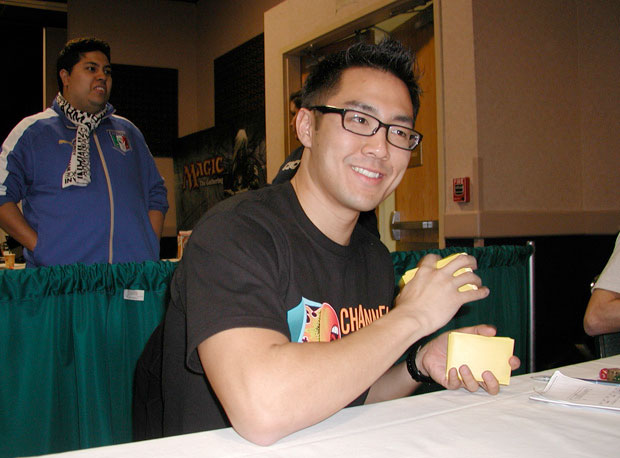 "A Top 8 would be nice, though, and I even get the occasional jabs where I work since almost everybody there has at least one Pro Tour Top 8 to their name," laughed Cheon. who works with the likes of Jelger Wiegersma and Marco Blume.
With a Top 8 finish at the Grand Prix qualifying him to play in Nagoya, Cheon will get another crack at adding Top 8 to his resume this spring.
"It will all come down to my schedule," said Cheon about whether or not he was going to avail himself of the invite. "Part of the experience for me would be to enjoy the company of the people that I will get to hang out with while I'm there. I was 50/50 on going if I qualified but a good friend of mine, Rick Chong, traveled to the Grand Prix with me and Top 16ed, so I would say that I'm definitely going barring a schedule conflict with work."
If he does go, Cheon will be looking for more than another strong money finish in Nagoya.
"As much as I would like to say that they are important and consistency is important, I feel most people remember the wins and the Top 8s. Amongst the pros, everybody knows the guy who grinds it out and consistently does well at tournaments, but for the general public, it's all about the Top 8s and the wins," said Cheon. "Nobody asks how many Top 32s you have. There's just something about the Top 8 that has much more prestige attached to it."
Wizards has released the dates for Regional Qualifiers for US and Canadian Nationals. Players can go to one of 21 events—17 in the US and 4 in Canada—that will offer eight slots each to Nationals. These Standard events will be run by Professional Tournament Organizers—the same folks who run PTQs and Grand Prix—and held on Saturday, April 16th.
In an exciting development there will also be another 200+ slots given away over the next two weekends at local WPN locations. There will be 165 stores in the United States and another 45 in Canada running one-slot qualifying tournaments on April 23, 24, and 30, and May 1, 2011. The specific stores running these events have not been selected yet, but this is a big change for players looking to get their shot at getting on the Road to Worlds. The first step on that road could very well be at your local shop now! For more details you can read the official announcement here.