In This Issue
Prerelease Exploits | Sophomore Report Card | The Top 5 National Championship Races
---
Prerelease Exploits
I may very well be ruined for drafting Dragons of Tarkir thanks to my Prerelease experience. It seems almost impossible that I will ever have a deck that brings me as much joy as the one I built this past Saturday. I did not even go 4–0 with the deck, losing one match fair and square to a Dromoka player with double strike and trample shenanigans, but aesthetically the deck was everything I wanted to do while playing a Limited game of Magic.
My Prerelease was at The Compleat Strategist in New York City, the store where I purchased a pair of Unlimited Starter Decks—my first ever Magic cards—more than twenty years ago. The crowd there is like a 1990s Neutral Ground reunion with players—and even Head Judge Eric Smith—that I have known forever. The fact that it is around the corner from Bonchon Chicken plays more than a small role in our Prerelease selection, as a big plate of spicy wings has become the post-Prerelease standard for us.
My initial plan for choosing a color pair was to align myself with Ojutai, but in the end I changed my mind and picked Silumgar as midnight reports of crazy exploits (quite literally) littered my newsfeed the morning of the tournament. I was hoping to see a Silumgar Sorcerer and maybe a good creature to exploit like a Youthful Scholar but with the help of the seeded pack I had more cards than I could possibly pack into one 40-card deck. Rather than list the whole pool, I am going to present my deck and the on-color cards in my sideboard.
Without a doubt the best individual cards in my deck were Silumgar's Sorcerer and Rakshasa Gravecaller, and having two of each is why I feel ruined for this draft format because getting two each of the premium uncommons is rarer than…well, rare in draft. There were a couple of really hard cuts in building this and the first was a mistake. I was bedazzled by Dragons and should have cut the Acid-Spewer Dragon for the second Ojutai Interceptor. The last two cards I cut were the pair of Silumgar Butchers. I just did not want that many cards at five mana and I have zero regrets about the decision. I only sided them in once and they seemed a little clumsy.
Highlights included any time I got to sacrifice Youthful Scholar—yet another premium uncommon—to either Silumgar Sorcerer or the Gravecaller. The point of no return from my ruination came when I cast Deathbringer Regent on a board with Youthful Scholar and Dutiful Attendant and a swarm of creatures on my opponent's side of the board. I got to draw two cards—one of which was a Sorcerer—and return my Youthful Scholar with the Dutiful Attendant. In another game I had the opportunity to exploit Dutiful Attendants to Silumgar Sorcerer, returning a Silumgar Sorcerer from my graveyard. It was the proverbial Magical Christmas Land of a Limited deck that I will sadly be chasing to little success for as long as this draft format is around.
Assuming you were going to be blue-black with my card pool, what would you have done differently?
---
Sophomore Report Card
Rookie of the Year Raymond Perez, Jr. had the opportunity to play in the World Championship earlier this year by virtue of his title. He also was granted Gold status in the Pro Players Club as part of a change in the Rookie of the Year rewards. That came as quite a weight off of Perez's mind as he had come up two points short of earning Gold the traditional way during his rookie campaign. The purpose of the change is to give the reigning rookie a full year to play on the Pro Tour without having to worry about where their next qualification is coming from. It is rare for the rookie winner to have Gold or Platinum that first season.
Raymond Perez, Jr., 2014 Rookie of the Year
"I was excited that I would not have to play in any more PTQs that season as well as having some of the pressure taken off from having to do well at the coming PT," said Perez of finding out that he was qualified for all the Pro Tours this season. "I think it's a great tool to have Gold any year and to start with that regardless after achieving Rookie of the Year is a great boon."
Perez will be playing in Pro Tour Dragons of Tarkir with Team Hot Sauce Games which includes Adam Jansen, Ben Moir, and Tyler Blum. Playtesting is going to be a high wire act for the rookie as he has to balance it against a 50-hour per week job.
"I plan to do drafts when they go live on Magic Online and I also plan to playtest as much as I can in the house a week prior to the PT," said Perez of his preparation process. That process began by playing in as many Prereleases as he could this past weekend, including a Two-Headed Giant event. "My first impressions of the cards were great. Megamorph was a fun mechanic and exploit was more powerful than I thought it would be in the beginning."
In the current Rookie of the Year race, Justin Cohen is currently holding on to a solid lead based on his finals appearance at Pro Tour Fate Reforged, but there are a handful of players—Eugene Hwang, Ben Weitz, Ian Farnung, and Tyler Hill—all within ten points of his lead.
"The best advice I could give anyone going for the Rookie of the Year title would be to stay focused and try to do well at every tournament you attend," urged Perez. "Almost every tournament I played in when I was in the race I was over prepped for. I wanted to take advantage of every tournament to try and get further ahead so making sure you aren't throwing away any chance is vital."
Despite the demands of his job, you will see plenty of Perez throughout the rest of the season as he tries to get himself from his current total of 11 points to something with a more metallic finish.
"I plan to try and attend at least ten or so more GPs this year as well as make the most of these next two PTs. Hitting Gold again would be ideal and is definitely within my range. I will be taking my own advice in making sure I am prepped for any future tournament to give myself the best chances of reaching my goal!"
---
The Top 5 National Championship Races
With the third Pro Tour of the season on the immediate horizon, it seemed like a fine time to check in on the races for National Championship titles. The player with the most Pro Points in each qualified country will become the National Champion, and with that, they get to lead their country's team at the World Magic Cup. Pro Tours are the largest Pro Point payouts throughout the Magic year and a solid result at Pro Tour Dragons of Tarkir can be just what it takes for a player to earn a seat in Barcelona, where they will represent their country at the highest level of the game.
#5 - Student vs. Master in Brazil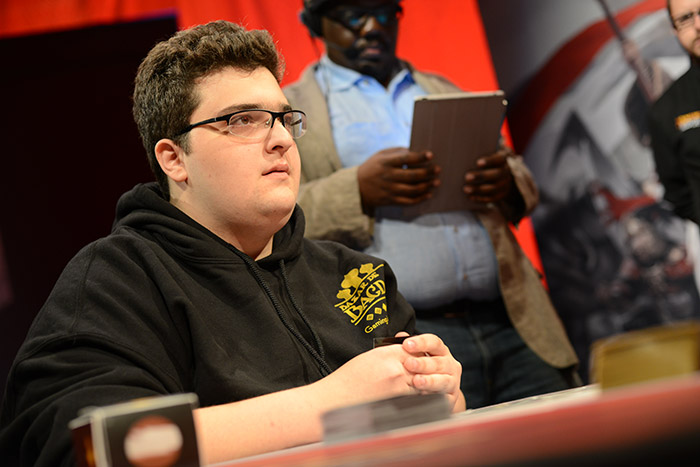 Thiago Saporito
Currently leading the standings from Brazil is Thiago Saporito, who has been mentored in the ways of competitive Magic by his next closest pursuant, Willy Edel. Saporito has had a busy year so far. He joined last year's National Champion on the World Magic Cup team by way of the qualifier tournaments and they managed to get through to Sunday. It was the second Sunday of Saporito's career as he had made the Top 8 of Pro Tour Khans of Tarkir earlier in the season. Edel is coming off a Grand Prix Top 8 in Memphis and, if he continues to travel outside of South America for events, he will have ample opportunities to make up the 2-point difference between himself and Saporito.
#4 - Czech Mates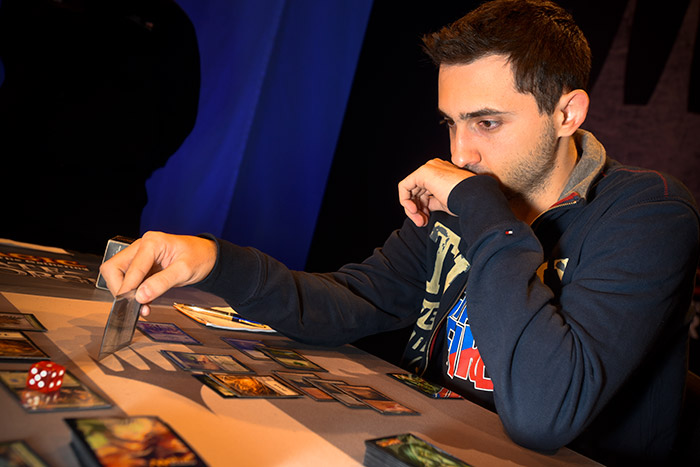 Martin Jůza
Three generations of players from the Czech Republic will all be jockeying throughout the remainder of the season. Martin Jůza leads the pack with 32 points, but he has Stanislav Cifka and Ondrej Strasky both sitting on 27 points right behind him. A pair of recent Grand Prix Top 8s—giving him a staggering 22 for his career so far—have helped his point total, but both of the people chasing him have displayed the ability to tear off a huge chunk of points at any given Pro Tour. There will not be any deck advantage to be had, though, as all three players are members of Team Well Played and will be working together for the remaining Pro Tours this season.
#3 - Can Anyone Catch Watanabe in Japan?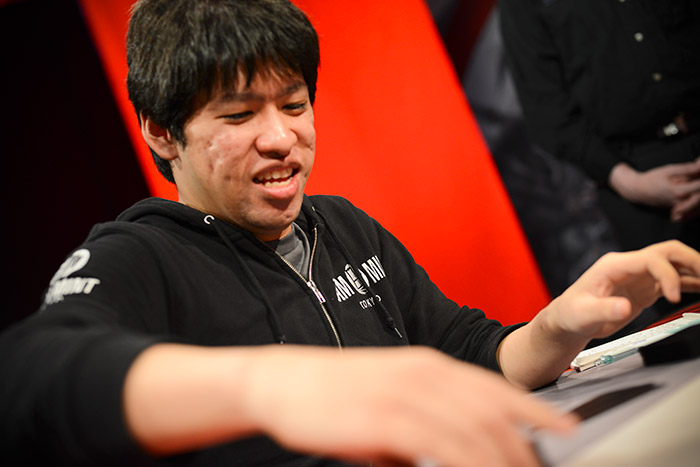 Yuuya Watanabe
I had the opportunity to interview Shota Yasooka for Pro Tour Fate Reforged. Among the topics we covered, I asked him about up and coming Japanese players that we should keep an eye out for. He named Teruya Kakumae, who had made quite an impression on him en route to winning Grand Prix Kobe in 2014 playing the Burn deck that has since become a format staple in Modern.
Kakumae just won another Grand Prix in Auckland. He currently leads the Grand Prix points race for a seat at the World Championship and closed in to within 9 points of frontrunner Yuuya Watanabe, coming off his 22nd Grand Prix Top 8 that same weekend. Don't sleep on Kentaro Yamamoto and Yuuki Ichikawa—both 11 points off the lead—who have both demonstrated their ability to thrive at the highest levels of the game.
#2 - Oh, Canada!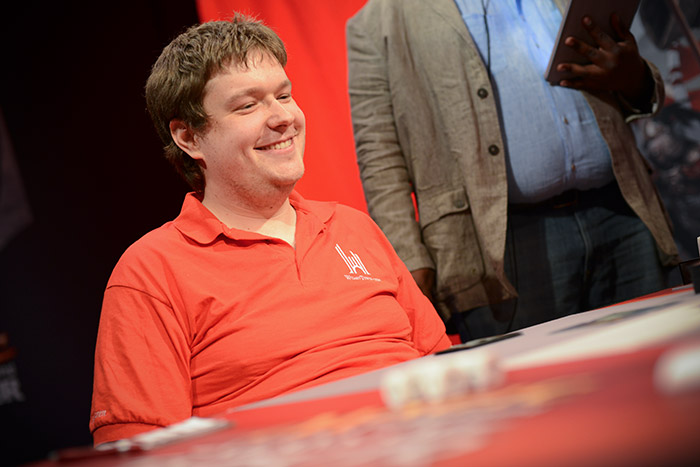 Shaun McLaren
Shaun McLaren is sitting on 44 points and just has to show up in Brussels and Vancouver to lock up Platinum. He reached the finals of Pro Tour Khans of Tarkir for his second Pro Tour Top 8 in a handful of attempts. Just 3 points behind him is young Jacob Wilson who needs to find a solitary extra point to lock up Platinum—something he has expressed a glimmer of pessimism about in interviews—coming off the second Pro Tour Top 8 of his career. Wilson is well aware of the opportunity to be the National Champion and will be fighting for it at every available event between now and the end of the year.
Wilson recently joined The Pantheon, which regularly has one of the best decks in the room. Even if Wilson wants to be pessimistic about his opportunities for points, I am willing to hoist a half full glass to his chances.
#1 - Triple Platinum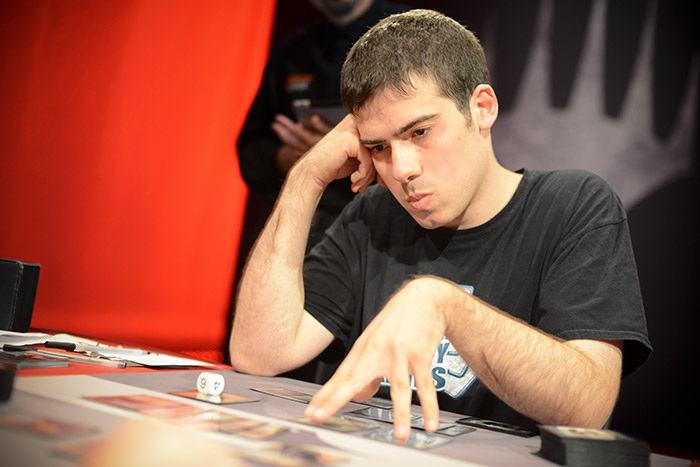 Ari Lax
While Hong Kong's Lee Shi Tian sits atop the Player of the Year race with Platinum locked for a long while, the next three spots in the race all hail from the United States and are clustered within 2 points from top to bottom. Ari Lax and his Pro Tour Khans of Tarkir trophy sit on top with 51 points. Lax plays with Team TCGPlayer and each of the next two competitors are on different teams, which makes the race just a little more compelling for me.
ChannelFireball stalwart Eric Froehlich has a Grand Prix win and another Pro Tour Top 8, propelling him to 50 points and another Platinum season. Pantheon member Owen Turtenwald is in third with a somehow quiet 49 points. A fourth team—the recently sponsored Team Ultra PRO—is represented at 42 points by Samuel Black.
I cannot wait to watch these Platinum Pros and their respective teams as they grapple with the new Standard format, and a whole new Booster Draft format in Brussels in just two weeks.