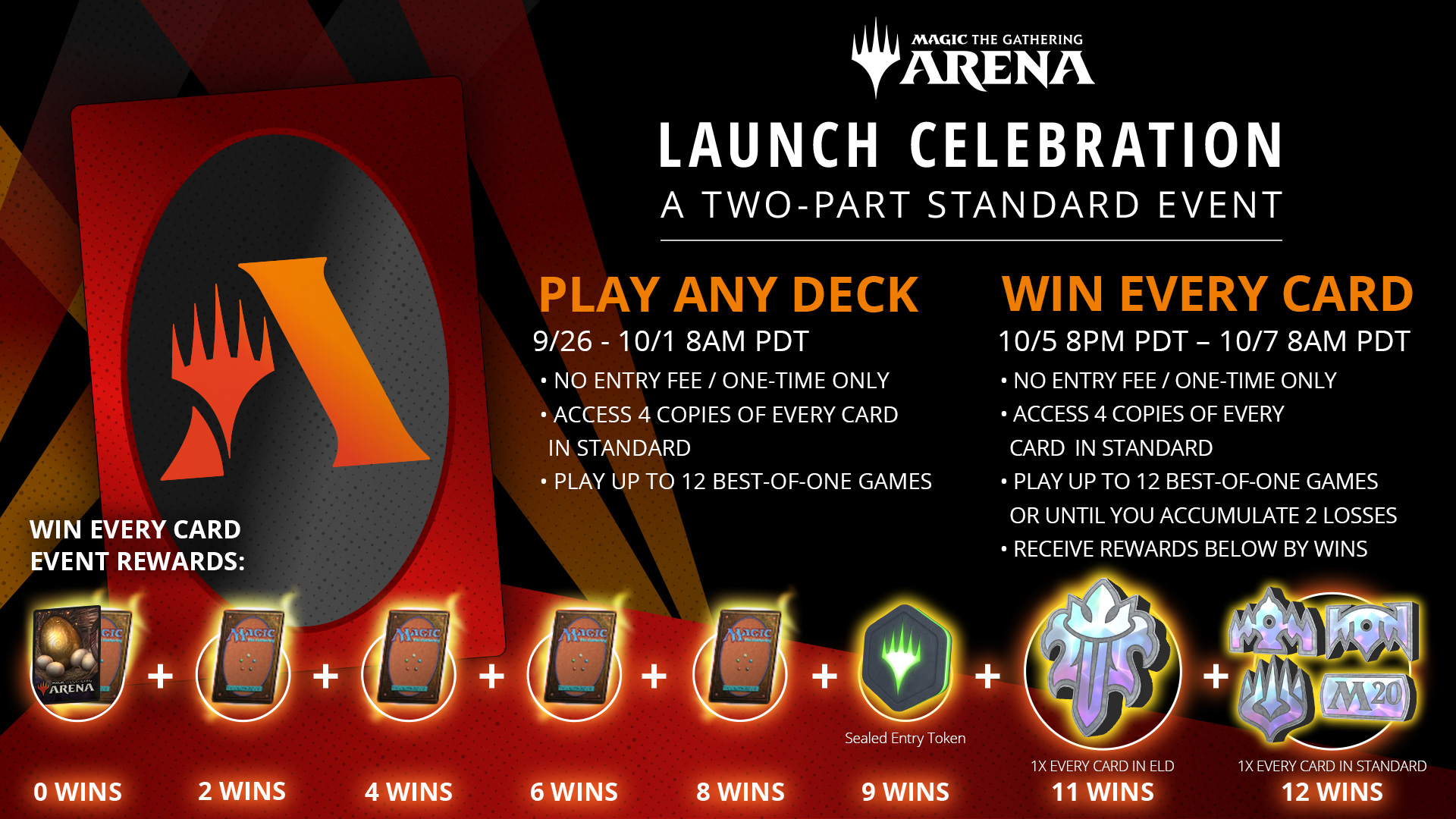 Event Details: We'll provide access to playsets (four copies) of every card in Standard, which you can use to build and play any deck in Standard. You can build as many decks as you like, and you can change them between matches.
Event Date: October 5 at 8 p.m. PT (3 a.m. UTC) to October 7 at 8 a.m. PT (3 p.m. UTC)
Entry Fee: None, but you can only play once!
Format: Standard Best-of-One
Event Record: 12 wins or 2 losses (whichever comes first)
Event Rewards: You will earn rewards based on your total number of wins, as outlined below. Please note that rewards do not stack (i.e. each bullet point lists the total rewards you will receive):
Remember! You can only play in this event once!
You use any card that is considered Standard-legal on MTG Arena—this includes cards from the Throne of Eldraine Planeswalker and Brawl decks as well as buy-a-box promos!
You can create as many decks as you like, and you can make changes—or swap them completely—in-between matches. (Psst! We also increased the maximum number of decks you can have at any given time to 75!)
It's best to create your decks through the in-game event page so it'll properly show you having access to playsets of every card in Standard. You can still build (and save) decks through the game's Decks page, but you'll be warned if you use cards that aren't in your collection. Don't worry, you'll still be able to submit them as decks to play in the event!
If a card allows you choose a card you from outside the game (e.g. Fae Of Wishes, Vivien, Arkbow Ranger, Karn, the Great Creator) you can only chose cards that are in your sideboard.
Want to learn more about the newest cardset, Throne of Eldraine? You can take in the sights by heading over to our card image gallary, allow us to regal you with tales of the new mechanics, or do a little bit of tome raiding through the full Throne of Eldraine set release notes.
Note: These decklists are examples of some of the popular deck archetypes we've seen since the release of Throne of Eldraine on MTG Arena. We encourage you to make changes, or come up with your own deck ideas!
Golgari Mid-Range
Izzet Spells
Orzhov Knights
Food Fight