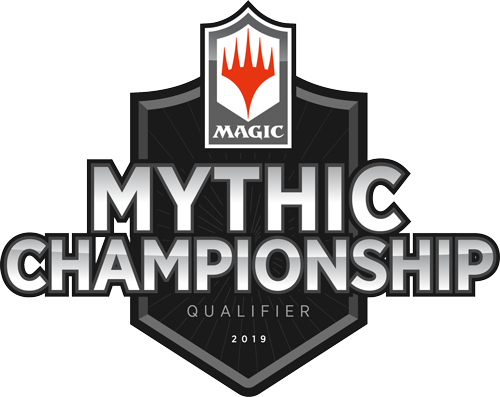 Magic Tabletop MCQ VI Information
Bring your top strategies with you to a Mythic Championship Qualifier (MCQ), and you may emerge from the event with an invitation to the Mythic Championship VI 2019 in Richmond!
MCQs for Mythic Championship VI 2019 in Richmond take place between August 3, 2019 and September 22, 2019.
The format for this MCQ season is Modern Constructed.
This round of MCQs is open to all players. Pre-registration for this round will start on July 1, 2019. As events have an event capacity between 129 - 226, please ensure you pre-register and claim your spot(s) early.
Eligibility
The following players may not compete in MCQ for Mythic Championship VI 2019 in Richmond, USA:
Players that are already qualified for Mythic Championship VI 2019 in Richmond, USA.
Note: Players with only a Pro Tour Players Club Silver invitation to Mythic Championship VI 2019 in Richmond will not officially receive those invitation until November 8, 2019.
If you have any questions as to your eligibility to play in a particular MCQ, please email your inquiry to esports@wizards.com.
Complete information about invitations to Mythic Championships can be found in the Magic: The Gathering Invitation Policy.
Promo Card
All participants in a MCQ receive an exclusive Arcbound Ravager participation card.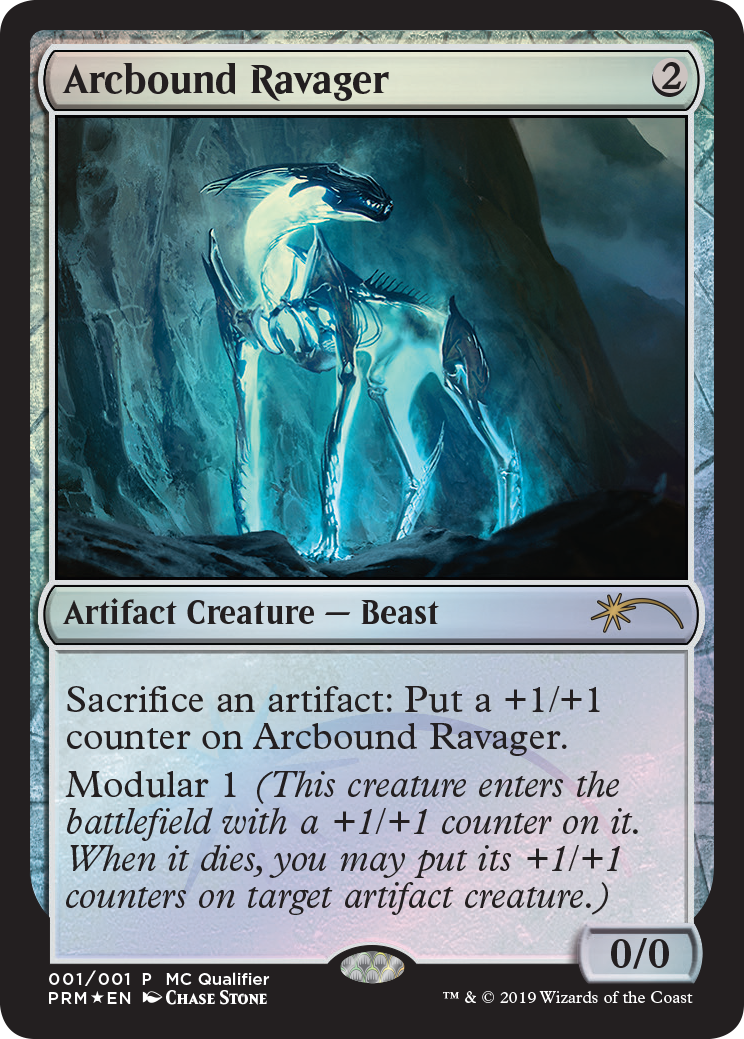 General Information
Tournament Structure
The structure for MCQs is modified Swiss-style.
Tournament Length and Advancement
Swiss rounds will be 50 minutes in length.
Single-elimination playoff matches will have no time limit.
Number of Swiss rounds based on attendance according to the following chart:
| Attendance | Swiss rounds | Playoff |
| --- | --- | --- |
| 8 | 3 Rounds (Single Elimination) | n/a |
| 9—16 | 4 Rounds | Top 8 |
| 17—32 | 5 Rounds | Top 8 |
| 33—64 | 6 Rounds | Top 8 |
| 65—128 | 7 Rounds | Top 8 |
| 129-226 | 8 Rounds | Top 8 |
Note: MCQs held by WPN stores are limited to a maximum of 226 players.
Format
Modern Constructed.
Decklists are required.
Planeswalker Point Multiplier 5X.
Playoff
Playoff matches, will be best two of three.
Playoff matches will be single-elimination.
While there are no time limits in the playoff rounds, players are expected to play at a reasonable pace and finish their matches within 60 minutes.
Standings after the Swiss rounds will be used to determine final order in the standings for losing players in the quarterfinal and semifinal playoff rounds.
For the first game of each match in the playoff, the player who finished higher in the Swiss rounds chooses either to play first or to play second. For subsequent games in each playoff match, the usual Play/Draw rule applies (loser of the previous game decides whether to play first in the next game).
The Magic: The Gathering Tournament Rules and the Magic: The Gathering Infraction Procedure Guide are in effect for this event unless specifically overruled by information in this Fact Sheet.
Players are responsible for bringing their own method of tracking life totals and appropriate counters or tokens.
Entry Fee
Entry fees for MCQs vary from organizer to organizer. Contact the tournament organizer of the MCQ you are planning to attend for exact information.
Prizes
The top finishing player at each MCQ will receive an invitation to Mythic Championship VI 2019 in. Richmond, USA.
Reminder: Invitations to Mythic Championships no longer come with travel paid for by Wizards of the Coast. You are responsible for your own travel arrangements to the Mythic Championship.
Other prizes are determined by the organizer of each event. Contact the organizer for additional details.
Players who have general questions about the Magic: The Gathering trading card game, Wizards of the Coast LLC, the Wizards Play Network, or any Magic: The Gathering Organized Play program should contact Wizards of the Coast as follows:
Tell Us About Your MCQ!
Your input is critical to help us improve the quality of our events! We therefore want to give you the opportunity to let us know about your Mythic Championship Qualifier experience. Please click here and provide us with the date and location of the event(s) you participated in and a brief description of your experience.
Your feedback is very valuable. Thank you in advance for your time!
Locations
***Pre-register for your MCQ now to secure your spot.
Below is a list of locations that will host the MCQs between August 3, 2019 and September 22, 2019.
Updated: September 5, 2019
| | | | | | | | |
| --- | --- | --- | --- | --- | --- | --- | --- |
| Date | Capacity | Location | City | Region | Country | Email | Website |
| 2019-09-07 | 150 | Outpost Gent | Gent | | Belgium | Email | Website |
| 2019-09-07 | 226 | UG Cardshop | Belo Horizonte | Minas Gerais | Brazil | Email | Website |
| 2019-09-07 | 226 | Fletcher Hotel Nieuwegein | Nieuwegein | Utrecht | Netherlands | Email | Website |
| 2019-09-14 | 226 | Crowne Plaza | Porto | Porto | Portugal | Email | Website |
| 2019-09-07 | 138 | Cool Stuff Games - Jacksonville | Jacksonville | Florida | United States | Email | Website |
| 2019-09-07 | 140 | Dream Wizards | Rockville | Maryland | United States | Email | Website |
| 2019-09-07 | 226 | Montasy Comics NYC | New York | New York | United States | Email | Website |
| 2019-09-07 | 136 | Dragon's Lair Comics and Fantasy - Austin | Austin | Texas | United States | Email | Website |
| 2019-09-08 | 226 | Radisson Blu Hotel | Stansted | | England | Email | Website |
| 2019-09-08 | 226 | Espace Chevreul | Nanterre | Paris | France | Email | Website |
| 2019-09-08 | 226 | Bologna Fiere - Palazzo della Cultura e dei Congressi | Bologna | Emilia-Romagna | Italy | Email | Website |
| 2019-09-08 | 226 | Sangate Hotel Airport | Warszawa | Mazowieckie | Poland | Email | Website |
| 2019-09-08 | 226 | HOTEL VP JARDÍN METROPOLITANO | Madrid | Madrid | Spain | Email | Website |
| 2019-09-08 | 226 | Los Angeles Convention Center | Los Angeles | California | United States | Email | Website |
| 2019-09-14 | 200 | Salon Basaldua | Buenos Aires | Ciudad Autónoma de Buenos Aires | Argentina | Email | |
| 2019-09-14 | 226 | Centro De Convenções Frei Caneca | Sau Paulo | São Paulo | Brazil | Email | Website |
| 2019-09-14 | 226 | Face To Face Games - Toronto | Toronto | Ontario | Canada | Email | Website |
| 2019-09-14 | 226 | 東別院会館 | 名古屋市 | Aichi-ken | Japan | Email | Website |
| 2019-09-14 | 226 | Izmaylovo Beta | Moscow | Moskva | Russian Federation | Email | Website |
| 2019-09-14 | 226 | Estación de Autobuses Barcelona Nord | Barcelona | Barcelona | Spain | Email | Website |
| 2019-09-14 | 226 | Great Escape Games | Sacramento | California | United States | Email | Website |
| 2019-09-14 | 200 | Legendary Games - Lexington | Lexington | Kentucky | United States | Email | Website |
| 2019-09-14 | 226 | Columbia Knights of Columbus | Columbia | Missouri | United States | Email | |
| 2019-09-14 | 226 | Atomic Empire | Durham | North Carolina | United States | Email | Website |
| 2019-09-14 | 226 | Mr Nice Guy Games | Monroeville | Pennsylvania | United States | Email | Website |
| 2019-09-14 | 226 | Hilton San Antonio Airport | San Antonio | Texas | United States | Email | Website |
| 2019-09-14 | 226 | Lynnwood Convention Center | Lynnwood | Washington | United States | Email | Website |
| 2019-09-14 | 225 | Green Bay Distillery | Green Bay | Wisconsin | United States | Email | Website |
| 2019-09-15 | 226 | Double Jeux | Portet sur Garonne | Haute-Garonne | France | Email | Website |
| 2019-09-15 | 226 | 岩手県産業会館 | 盛岡市 | Iwate-ken | Japan | Email | Website |
| 2019-09-15 | 226 | ドラゴンスター日本橋2号店 | 大阪市 | Osaka-fu | Japan | Email | Website |
| 2019-09-15 | 226 | Hotel Plaza Diana | Guadalajara | Jalisco | Mexico | Email | Website |
| 2019-09-15 | 200 | The Wizard's Chest | Denver | Colorado | United States | Email | Website |
| 2019-09-15 | 140 | Game Time | Indianapolis | Indiana | United States | Email | Website |
| 2019-09-15 | 226 | Game Cafe | Independence | Missouri | United States | Email | Website |
| 2019-09-15 | 150 | Little Shop of Magic | Las Vegas | Nevada | United States | Email | Website |
| 2019-09-15 | 226 | Brothers Grim Games and Collectibles | Selden | New York | United States | Email | Website |
| 2019-09-21 | 226 | Petersham Town Hall | Petersham | New South Wales | Australia | Email | Website |
| 2019-09-21 | 226 | Palais des Congres de Montreal | Montreal | Quebec | Canada | Email | Website |
| 2019-09-21 | 226 | Hotel Occidental Vigo | Vigo | Pontevedra | Spain | Email | Website |
| 2019-09-21 | 226 | Game Kastle - Mountain View | Mountain View | California | United States | Email | Website |
| 2019-09-21 | 226 | Pastimes | Niles | Illinois | United States | Email | Website |
| 2019-09-21 | 226 | Pandemonium | Garden City | Michigan | United States | Email | Website |
| 2019-09-21 | 226 | Kirwan's Game Store | Catskill | New York | United States | Email | Website |
| 2019-09-21 | 160 | DZ Comics | Moore | Oklahoma | United States | Email | Website |
| 2019-09-21 | 200 | Game Grid - Lehi | Lehi | Utah | United States | Email | Website |
| 2019-09-21 | 226 | Firestorm Games | Cardiff | | Wales | Email | Website |
| 2019-09-22 | 226 | Petersham Town Hall | Petersham | New South Wales | Australia | Email | Website |
| 2019-09-22 | 226 | Centro Universitário Celso Lisboa | Rio de Janeiro | Rio de Janeiro | Brazil | Email | Website |
| 2019-09-22 | 226 | Les Esselières, Espace événementiel | Villejuif | Val-de-Marne | France | Email | Website |
| 2019-09-22 | 226 | Ramada Hotel Napoli | Napoli | Napoli | Italy | Email | Website |
| 2019-09-22 | 138 | CARD GAME SHOP ばぶるす | 福岡市 | Fukuoka-ken | Japan | Email | Website |
| 2019-09-22 | 226 | 伊勢崎市民プラザ | 高崎市 | Gunma-ken | Japan | Email | Website |
| 2019-09-22 | 160 | Merlyns | Spokane | Washington | United States | Email | Website |
| 2019-09-22 | 226 | Firestorm Games | Cardiff | | Wales | Email | Website |