What makes a World Championship special? What's happened in the twenty years it has been an event? It's far beyond the scope of any one article to cover it all, but if there's one expert that can pull some of the best bits together, it's Magic's Lead Designer Mark Rosewater. Throughout the run of World Championship events for Magic, Rosewater has personally attended all but one of them.
He's also someone that understands the fundamental nature that make Magic so great.
"One of the things we discovered is that there are different prizes someone can win, and one that's popular are titles. One that's really potent and powerful is 'World Champion.' We wanted to make sure there was a World Champion every year. The current World Championship is a little different from those in years past, but it's still the best players playing for it. It's older than the Pro Tour, and it plays a big role in the story of Magic's past, demonstrating how worldwide the game is. We started with just four countries and now you can see it's seventy-two countries."
So what is the history of the World Championship? As one of its most ardent fans, Rosewater had an oral history at the ready.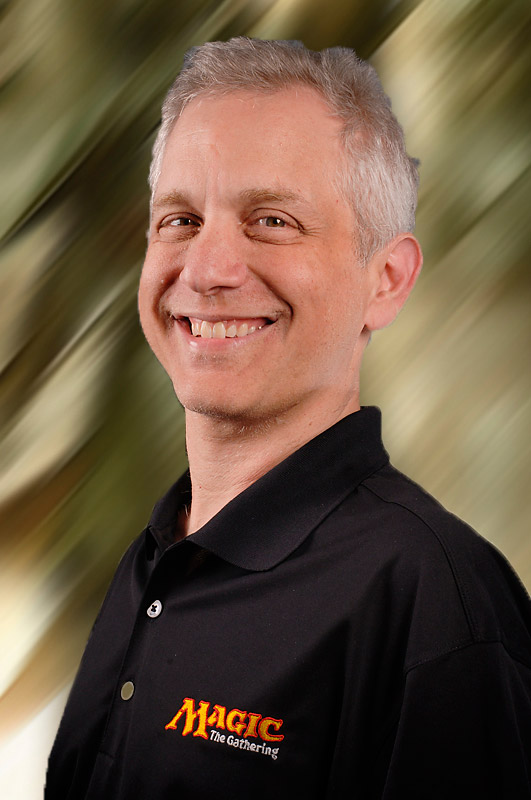 Magic Lead Designer Mark Rosewater has been to all but one Magic World Championship. His tenure in the game makes him a valuable source of historical recollection.
"What happened was the game came out in 1993," he began. "In 1994 we decided we should do some World Championship. We ran it at Gen Con that year, and anyone could play in it. I played in it. It was flights based, single-elimination but you could play in multiple flights. Those flights led to a Top 64 that was also single elimination."
"It came down to the Zac Dolan, from the USA, and Bertrand Lestreé of France," Rosewater continued. "And Zac Dolan won. Bertrand, on paper, was probably the better player and had the better deck, but Dolan had a better deck than people gave credit for. The next year Wizards decided they wanted Worlds to be its own thing. We set it up in Seattle since it was convenient and we ran it at a hotel near the airport. That year we finally had teams come, and each of the countries had their own Nationals at that time. I was trying to convince them to have a team championship and they didn't want that, but I was able to track it. The US was the 'first' winner. In fact, the US did so well that the team's average record was the cutoff for Top 8."
"However," Rosewater said, "in the finals it was Switzerland's Alexander Blumke and he played France's Marc Hernandez. Blumke won. In 1996, instead of a hotel we held it at the Renton headquarters. We shut down the offices and everything. At that one, Tom Chanpheng won but it was also the first time we ran the team tournament. The US won again, and started a dominant run through 2001 with one exception I'll get to next."
"In 1997 it was still in Seattle. At the time we had a retail store so it was in the basement of ours in the center in downtown Seattle. That was the first year we were filmed by ESPN. There, Jakub Slemr from the Czech Republic won it. This time, Canada beat Sweden to win the team tournament as the US had an awful event. In 1998, Brian Seldon won as the US team returned to form, and that was the national team Jon Finkel was on. It's also interesting to note that the Americans won every Pro Tour that year. In fact, the Top 8 at Worlds was all Americans except for one French guy you might know, Raphaël Lévy."
"1999 was the first year we left the US and it was held in Yokohama, Japan," Rosewater said. "It was won by a brash newcomer named Kai Budde. The story I tell about that is that it was two red decks in the finals. Even showing every minute of footage we had we didn't have a half hour of film, and we had to show some of the semifinals. Germany won the individual event, but the US with Zvi Mowshowitz won the team event. 2000 was held in Brussels, Belgium. It was was by a not-so-brash newcomer Jon Finkel over Bob Maher, playing identical decks. Finkel was also on the winning US team, which also included Aaron Forsythe. It's the only time a individual champion was also on the team that won. It's also interesting that many of Magic's developers have been on Worlds teams: Aaron Forsythe, Eugene Harvey, Matt Place."
"2001 we went to Toronto, Canada," Rosewater said. "Dutchman Tom van de Logt won as the US team won again. In 2002 we were in Australia where Carlos Romão won. It was the only time we've held a Worlds in Australia, and he's the only South American to win it. Here also the US finally didn't win: The German team did with Kai Budde on it. Finkel and Budde are the only two to have won both individual and team World Championships, but Finkel is the only one to have done it the same year."
From here, Rosewater slipped into pithier bits about the last ten years of World Championships:
"2003, it was Berlin, Germany. There are only a handful of World Champions that were the nationality of the country where they won it, and Daniel Zink is one. The US won another team event here."
"2004 was the first time in San Franciso, and Netherland's Julien Nuijten was just 15 years old when he won. He's the youngest World Champion ever. The German team, this time without Budde, won,"
"2005 was in Yokohama, Japan and Katsuhiro Mori won – the fourth time a player of the host nation's nationality won. Japan also won the team event, one of the few times that ever happened, though Mori wasn't on the team. 2005 was also the year we began inductions for the Pro Tour Hall of Fame."
"2006 was in Paris, France, and Japan's Makihito Mihara won. One of the stories from that event is that Mihara was playing another future Hall of Famer, Gabriel Nassif, in the semifinals and it looked like Nassif might win in his hometown, but Mihara had exactly what he needed to win. He needed a really specific series of cards to do what he did. Netherland's team won, and it included Julien Nuijten and Kamiel Cornelissen."
"2007 was in New York City, New York, where Israel's Uri Peleg defeated Patrick Chapin, becoming the the first of two champions from Israel. Switzerland won Teams that year."
2008 was Memphis, Tennessee, where Antti Malin from Finland won. What makes Worlds in Memphis so memorable is that we used to hold player dinners. We had dinner in Graceland and toured it afterward. The US team, with Samuel Black, won there."
"2009 in Rome, Italy was the one I missed. Portugal's André Coimbra and team China won."
"2010, at Chiba, Japan, Guillaume Matignon beat fellow Frenchman Guillaume Wafo-Tapa for the title. Winning that forced a Player of Year face-off at the next Pro Tour where, famously, Brad Nelson won. Ivan Floch with Team Slovak Republic won the team event."
"2011 in San Francisco, California was the last style of the 'old Worlds' before the revamp. Jun'ya Iyanaga won and Team Japan, with Makihito Mihara, also won."
"For 2012 we were back in Seattle where Yuuya Watanabe won, and the teams portion—the World Magic Cup—was at Gen Con again. There, Chinese Taipei took home the trophy.
"2013 was in Amsterdam where Shahar Shenhar won, and the French team with Raphaël Lévy won."
If that's a daunting list of facts, don't be fooled: each of them played a role in making Magic the game it is today. As Rosewater said in closing about it all, "A lot of countries have had the title. Five continents have held the title. There's a lot of history there."
This Sunday, another team and another player will make Magic history once more.