It was a normal evening of Friday Night Magic.
Players shuffling decks, shaking hands, and hoping for the best from the top of their library. Newbies learning the ropes and grizzled veterans showing them how. Sarkhan and soldiers littered the tables while in another room the Commander games were just getting good.
Then, it all stopped. The room grew quiet.
Team Malaysia was on stream.
"They actually completed paused FNM back home when we got a feature match so they could watch," Joe Soh said. "We definitely didn't expect that."
Maybe they should have. After all, that's what happens when your country finishes Day One of the World Magic Cup at the top of the standings.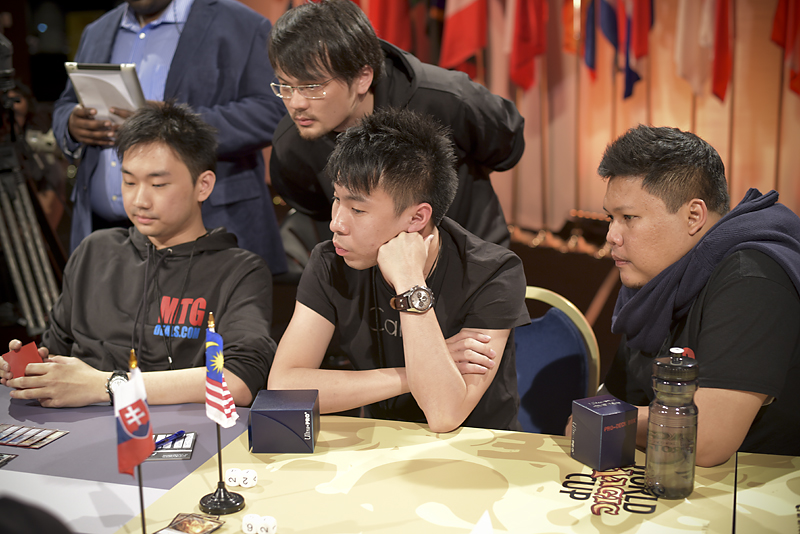 Team Malaysia defeated the juggernaut Team Slovakia to be the sole undefeated team of Day One.
There is no lack of big names at the World Magic Cup. Some teams have an overabundance of elite players, Grand Prix warriors, Pro Tour champions and Hall of Famers. All it takes is a quick glance over the team sheet to peg those countries—Sweden, Canada, the United States, and Brazil come immediately to mind—as favorites to find themselves atop the standings.
Malaysia is not one of those. Sure, the Malaysians have an impressive resume in their own right—captain Raymond Tan won Grand Prix Kitakyushu in 2013 and finished 29th at Pro Tour Born of the Gods while competitor Joe Soh has played in 15 Pro Tours—but they aren't one of the flashier teams in attendance here in Nice. The other two members, Liang Choong Poh and Johan Jamal Yacob, have never made it to the Pro Tour.
Nor has any member of the team competed at the World Magic Cup before. Joe Soh made the Malaysian national team in 2003 and 2009 but hadn't competed since. Malaysia has found success in the past two World Magic Cups, posting back-to-black Top 32 performances, but this year the team was starting completely fresh.
"None of us knew exactly what to expect, but we wanted to at least match last year's finish," Johan Jamal Yacob explained. "We have a lot of support back home, and we wanted to do our best for them."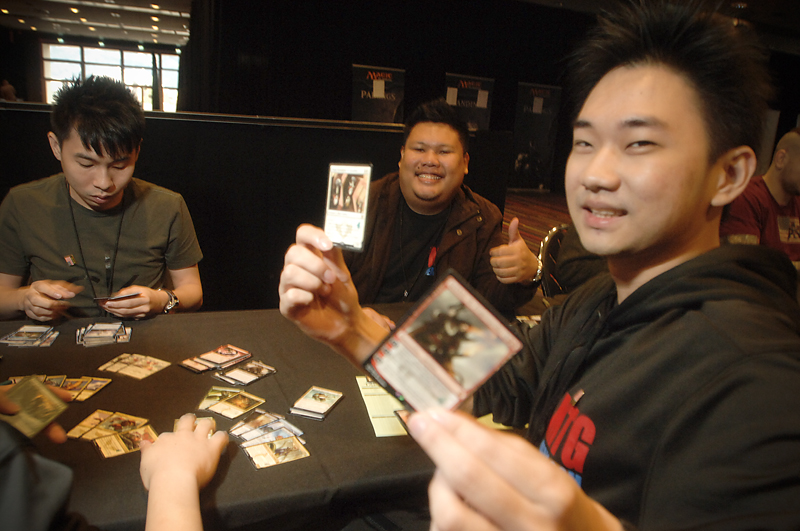 Team Malaysia assembles their deck for Day Two's Team Sealed rounds.
Their best proved to be plenty good enough on Friday. A strong Team Sealed pool got things off on the right foot, and the 3-0 start had the team's Day Two hopes high. But waiting in Round 4 was their toughest test yet. Brazil, led by the legendary pro Willy Edel and Pro Tour Khans of Tarkir Top 8 competitor Thiago Saporito, was the next stop.
It didn't matter. Malaysia couldn't be stopped.
"That's when it became real," Yacob said. "After that we said 'everything from here is just a bonus.'"
That "bonus" worked out to be a 6-0-1 finish and the top overall seed heading into Day Two of the tournament. And now that a repeat of last year's finish is guaranteed, the team has set their sights a little higher.
"We've already done better than expected, and now we want to be back here on Sunday," Yacob said. "A Top 8 would mean so much for our country."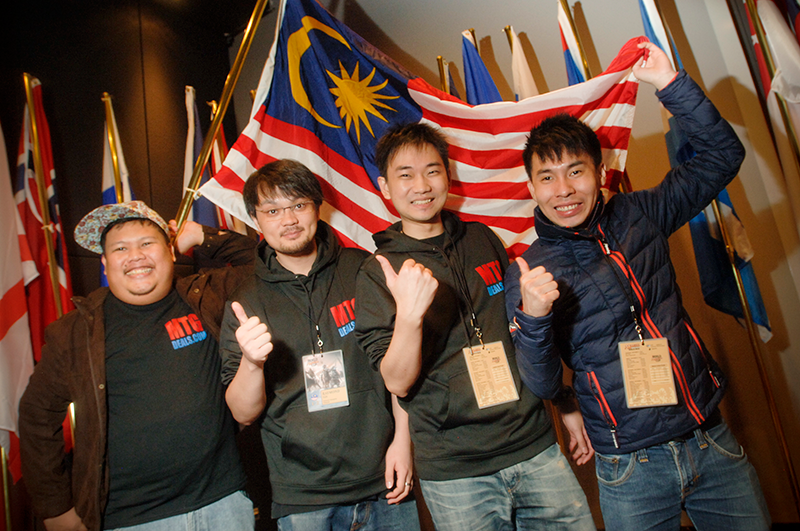 Team Malaysia, captained by Raymond Tan