While some teams around the world bring Pro Tour champions, Pro Tour Hall of Fame members, or even a World Champion, others are just beginning to embark on carving their name into the history of Magic.
One team, the quartet from Colombia, were each at their first—perhaps of many—appearances in the World Magic Cup. How does it feel to be playing in it? The players from Colombia were unanimous in thought.
"It's pretty cool," said Sebastian Varela.
"It's awesome," agreed Jose Andres Ortiz.
"It's really great. I have a play mat that I have players sign, then I get to play with them," Varela said.
"It's some kind of dream; I didn't expect to be here," Ortiz continued.
"For me it's a dream come true," Jairo Alberto Parra Bedoya explained. "I come from a small town in my country. I got to travel and play with some of the best players in the world." He motioned to the Czech Republic team nearby. "[Stanslav] Cifka is here. All the people in my town are cheering me on. It's something I've dreamed plenty of times and to see it happen really is a dream come true. For them at home it's exciting to see someone from there playing."
Every team's situations is unique. For Colombia, getting together was a difficult prospect. "In our country it's complicated and we can't travel from place to place easily," explained Parra Bedoya.
Team Colombia sported a team full of fresh faces excited to be here this weekend.
"We mostly just Facebook chat," Ortiz continued.
"We kept in contact. When there are the qualifiers we already know each other and see each other," said Parra Bedoya.
So what has been the best moment about coming to Nice to represent Colombia? "There's not that many competitive players, at least at this level," Varela said, waving towards a group of World Magic Cup competitors watching the feature match. "It's great to see players on this level and at least interact with them."
"It's great to travel here with Cardozo. We've been friends for a long time," Parra Bedoya said.
Daniel Cardozo, the team captain for Colombia, had let his teammates talk so far had to step in to agree. "I think we met like four years ago." Whenever the met, the grin and camaraderie in the moment was mutual.
What does it truly mean for Colombia today? "We advanced today when we won!" Parra Bedoya said.
"It's the first time anyone form Colombia has gotten to the second step," Varela said. "We're all very excited."
"We're going to do out best to win." The nods Ortiz drew when he said that is the statement is a sign of things to come.
Of course, Colombia wasn't the only team of fresh faces in Nice for world-level Magic. Paraguay was another contingent of first-timers that came ready to take on the world. Through to the final round, Paraguay played with the dream of making Day Two. It was only there that the tides changed.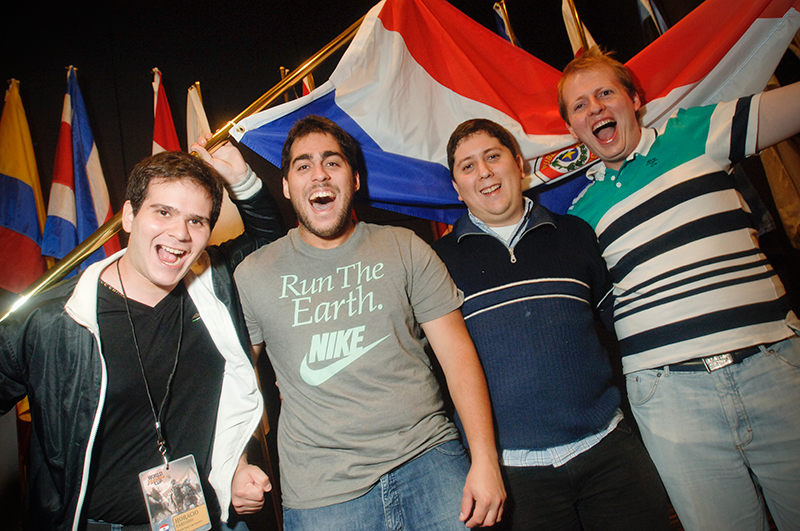 Team Paraguay made their World Magic Cup debut as a country this weekend.
"It was like I had my worse match and he had his worst match up too," Horacio Cartasso said, pointing over to team captain Oscar Mathias Bachmann. They were paired against team Dominican Republic where both teams had to win and return for Day Two, or lose and have the hopes of a World Magic Cup win dashed. It won't be until next year that Paraguay can try again.
The loss wasn't a tough as it may seem. "It was very friendly at the table because we were all from Latin America. It was quite fun," Eduardo Filippi said.
"It was laid back," Patrick Wiens added. "I had a fun time."
So just how excited was team Paraguay for the World Magic Cup? "Super excited," Bachmann said.
"I guess the moon is close," Wiens shared on the scale of not-at-all to the-moon-or-beyond.
"The whole trip has been very exciting for us," said Filippi.
"We were hoping to make Day Two. We got pretty close. I can't complain," Bachmann said before jumping to another highlight. "Actually, we got to play the pros, the people we know. That was pretty cool."
"Hey, you played Shaun McLaren!" Wiens pointed.
"I beat Shaun McLaren. I lost against Owen [Turtenwald] in Round 3," Bachmann said. "That's pretty good I guess."
So what work and meetings went into preparing for the World Magic Cup? "In our country we live very close together," Cartasso explained. "We had the opportunity to meet and test."
"We were all the from the same city," Wiens said.
"There's only one Advanced store," Bachmann said, referring to the status of the store from running events. "We're all coming here and playing."
What's been the most special for them coming to Nice? "Knowing all the known people," said Wiens, referring to the top pros and others watched the world over. "You go through the hall and see Randy Buehler."
"He's a big Randy Buehler fan," Bachmann explained.
"I'm sure he has a big fan base," Filippi agreed. While all friends through and through, Wiens seemed embarrassed to have gushed about one of his favorites of the game.
"We took a photo with the Brazilian team. We also got to play in Strasbourg last weekend in a really big event," Cartasso added, moving his hands as wide as possible. "It was a lot of fun."
"We only get like one big event a year," Wiens said. "Here, in Europe, you get to chain them. We got to chain them together."
So are their friends and family rooting for them at home? Everyone jumped to agree. Bachmann spoke first. "We have a lot of friends. Family don't always know how to check the results and everything."
"Some friends outside of Magic found us on the internet and they were rooting for us," said Wiens. "It was fun. You don't get to play the World Magic Cup every day."
"That was pretty great," Bachmann agreed.
While the time of Team Paraguay: World Magic Cup champions would have to wait, they did have a few final thoughts on the weekend.
"I wanted to give a big shout-out to our store owner Sebastian Cabral," Filippi shared. "He's the one who made this all this possible. It's the first big store in Paraguay, and he's doing a lot by himself."
There was a chorus of nodding and "For sure, for sure."
"These three are also like the first Paraguayan judges," Cartasso said, waving to the three teammates around him. "They all took the Level 1 exam together."
"Next year we'll win our qualifiers or send a new team," Wiens agreed.
"I also want to thank my mom," Cartasso said. "She was really supportive. I would be here if it wasn't for her."
Some dreams can still happen for the team. They'll return tomorrow to hunt down and meet Randy Buehler and watch the remaining teams compete for Top 8, just like the rest of us.