It was David and Goliath in Round 2, with Team South Africa playing the plucky underdog to Team Slovak Republic's terrifying juggernaut.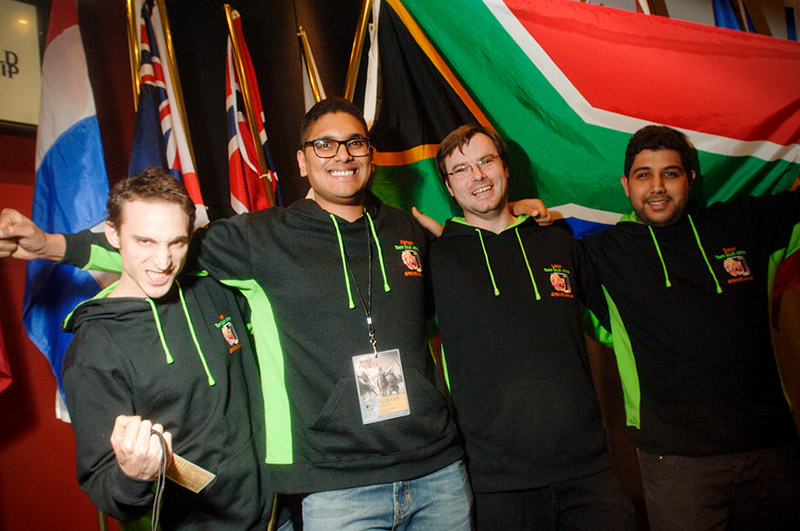 Team South Africa
A Seat: Sinan Effendi
B Seat: Keraan Chetty
C Seat: Neil Stacey
"Coach": Leon Schlechter
Last year Team South Africa continued a history of over-performing by putting up their fifth Top 16 finish. With an inexperienced team this year, however, they'll be hard-pressed to make it six. Captain Keraan Chetty will need to lead by example. He's been here before as a member of the 2012 team, and this year put up his first Grand Prix Top 8 at Moscow.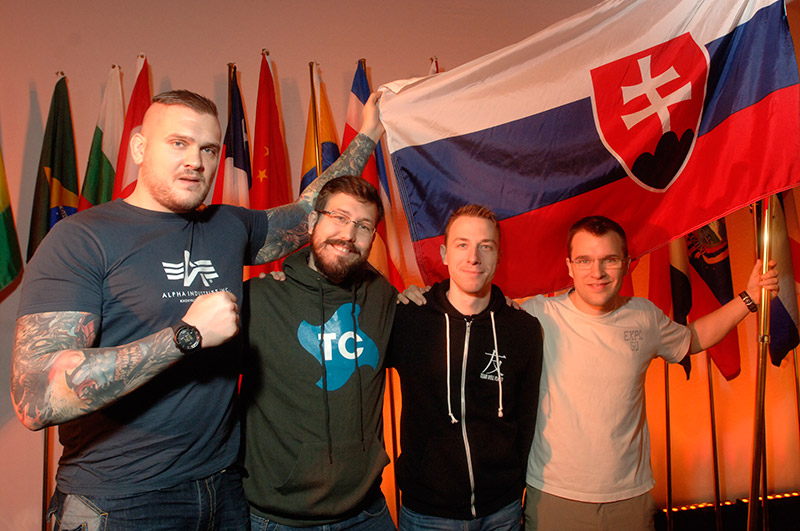 Team Slovak Republic
A Seat: Jan Tomcani
B Seat: Matej Zatlkaj
C Seat: Michal Guldan
"Coach": Ivan Floch
If the World Magic Cup had an end boss, it would be this team. The trio of Floch, Zatlkaj and Tomcani boast five Pro Tour Top 8s between them, including Floch's win at Pro Tour Magic 2015. Guldan is the wild card here, an on-again, off-again player with little professional-level experience.
The Games
Guldan got off to a blazing start against Stacey, who stalled on just three Mountains but managed to put up resistance with Hordeling Outburst and Bloodfire Expert.
In the middle, Zatlkaj was bringing the pain with a start of Icefeather Aven into Bellowing Saddlebrute. Chetty built up a ground force but his life total was dropping quickly.
Over in the A Seat, Tomcani had pinned his hopes to a 3/4 Abzan Falconer from his Jeskai deck, sailing over the ground-based army of Effendi.
Zatlkaj continued his attack, sacrificing creatures to push through damage. Chetty did his best to make it cloes, but a pair of removal spells from Zatlkaj gave the first game win to Team Slovak Republic.
B: Zatlkaj 1 - Chetty 0
And just as quickly, Guldan and Stacey were shuffling for game two. Guldan had him on the ropes the entire game, it seemed, but Stacey pulled a staggering sudden reversal. Act of Treason, Jeering Instigator, and Dragon-Style Twins teamed up to deal 19 damage - exactly lethal.
"Be sure to mention that bluff attack with the token in the beginning," said Stacey with a grin. After trading two Outburst tokens for Valley Dasher he'd managed to sneak a point in with the third, and it made all the difference.
C: Stacey 1 - Guldan 0
Chetty flipped the script on Zatlkaj in their second game, opening with turn-two Icefeather Aven, turn-three Alpine Grizzly. Zatlkaj had Monastery Flock to deal with the Grizzly, but Chetty added another evasive attacker: Mystic of the Hidden Way.
Stacey started with a mulligan and couldn't seem to stop taking them. Guldan had a full grip and a mix of lands and spells. It didn't take long to bring their match to 1-1, and it looked like Zatlkaj and Chetty would join them.
C: Stacey 1 - Guldan 1
However, Zatlkaj had other plans. He tapped five and dropped a devastating Death Frenzy that wiped Chetty's whole board. Chetty had nothing in the tank, and Zatlkaj had no trouble converting the position into a win.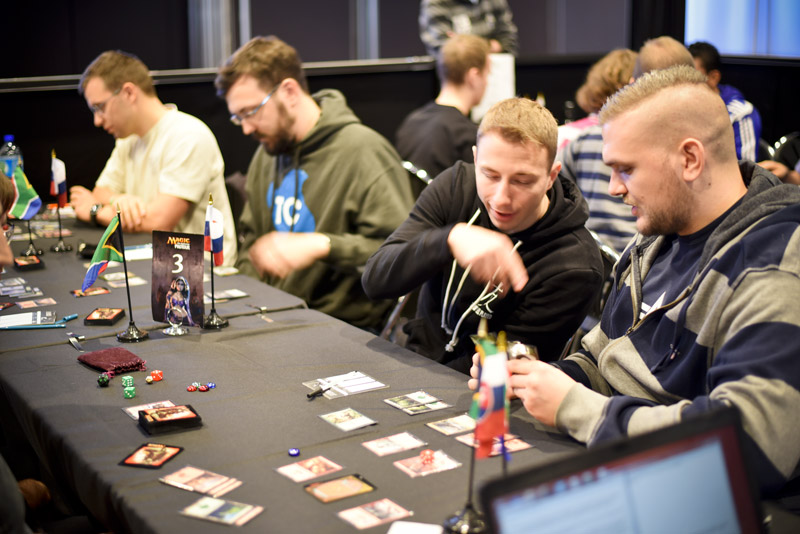 Zatlkaj's win earned Team Slovakia the lead over South Africa in their Round 2 team match.
Slovak Republic 1 - South Africa 0
Now things resembled a two-headed giant match. With Floch and Zatlkaj free to focus on a match apiece it looked like a huge edge for Team Slovak Republic. Meanwhile, Tomcani's Abzan Falconer had gone the distance in a close game.
A: Tomcani 1 - Effendi 0
In C, Guldan had assembled a beatdown draw of Valley Dasher, Heir of the Wilds and a morph against Stacey's Bloodfire Expert. Stacey hoped that Dragon-Style Twins would prove to be a stop sign, but Tomcani tapped five to combine Awaken the Bear and Savage Punch to send the Twins packing, and delivered a bone-crunching attack that left Stacey at just 3 life. He desperately needed to draw a creature, but his deck served up a useless Barrage of Boulders instead. Shaking his head slightly, he extended the hand in defeat.
Slovak Republic 2 - South Africa 0
Unfortunately for Effendi, who was just putting the finishing touches on a Game 2 win that featured Abzan Battle Priest, Mer-Ek Nightblade and Abzan Ascendancy, there would be no deciding Game 3. The two teams wished each other good luck for the remainder of the day. Sometimes there is no Cinderella finish, just the favorites reminding us why they are the favorites. I, for one, welcome our new Slovak overlords.