Capdevila is an old-hand at Magic, a two time Chile national champion in '03 and '05 and subsequently a World Flagbearer those years. Capdevila also attended 3 Pro Tours in his Magic career. Ortiz, however, is relatively new to Magic, having played for four years, attending 3 GPs recently Top 8'ing World Magic Cup Qualifier.
Game 1
After an early traded of Timberpack Wolf from Capdevila and Nantuko Husk from Ortiz, the game quickly evolved into a battle of the 2/3s. Ortiz raised an undead army of Shambling Ghouls, while Capdevila managed a lone Ramroller.
Ortiz used Nissa's Pilgrimage to ramp up to six lands. Capdevila, however, was trapped on three lands. When Ortiz brought a Skysnare Spider out of the forests to support his zombie troops, Capdevila could see the writing on Charlotte's Web. A turn later, still stuck for mana, Capdevila scooped it up.
Capdevila 0 - Ortiz 1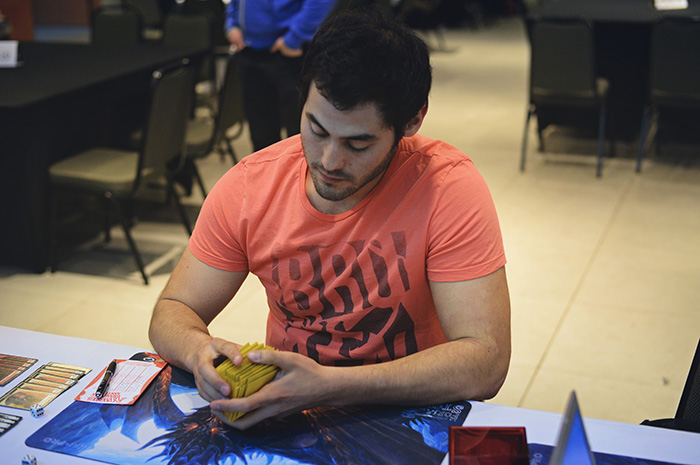 Jose Luis Capdevila hits a string of bad luck during Round 13.
Game 2
Capdevila struck further bad luck with a mulligan to five. Clearly upset, he regained his composure, kept his new hand, and played a first turn Evolving Wilds, fetching a Forest.
The two made the same trade as first game, a Timberpack Wolf for a Nantuko Husk. For the next two rounds Capdevila nuked whatever Ortiz played with double Lightning Javelin, using the scry ability to smooth his draws and minimise the effect of his mulligan.
Ortiz was not to be slowed down. Again, he found his Skysnare Spider, this time following it up with a Priest of the Blood Rite and its pet Demon. Capdevila couldn't find an answer for the two big finishers and was finished.
Capdevila 0 - Ortiz 2