Sealed is often the least-explored format. Draft really gets peoples' goat, and after the prerelease Sealed events, it's common for limited lovers to focus on the drafting at the expense of the six-pack format. But when it comes to the Grand Prix, you don't get to draft unless you win at least seven rounds in Sealed. So you have to know it well.
And the Battle for Zendikar Sealed format is complex and unforgiving. When half of the best decks in the format are more than two colors, builds get variable. There are tons of ways to put the cards together, and deciding which mix-and-match is optimal can be tough.
Below is a sample Sealed pool that various pros will be looking at later in the day. For ease, after the full pool is each color broken out individually. Think how you would build the pool, then see how it matches up with the pros' builds later on.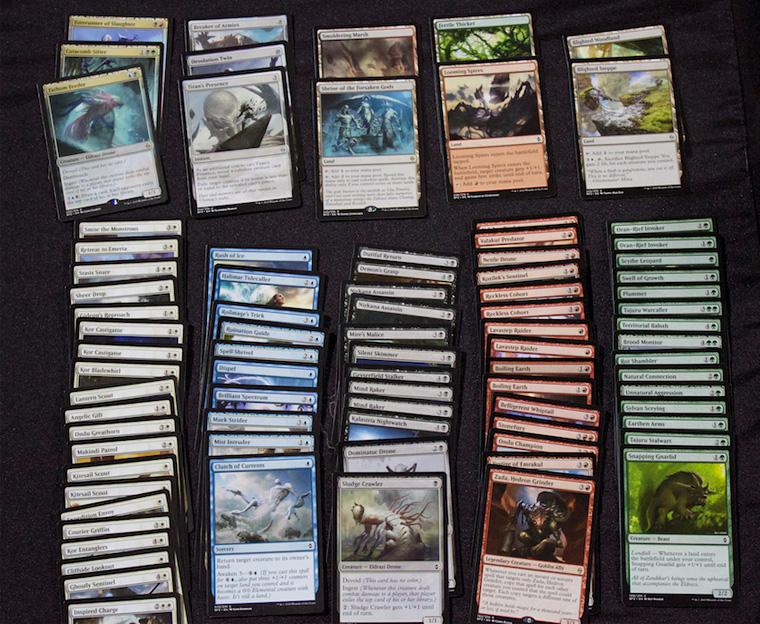 The clock is ticking; your White is good, but where do you go from there?
There are some strong ally synergies, but nothing over-the-top awesome. That Zada, Hedron Grinder pulls you into red, but is it the best secondary color? Should it be your third? What about those gold cards, and the lands?
Unlike some formats, these Sealed pools rarely build themselves. Whatchu goin' do?