Out of the 1,265 players who had entered Grand Prix Barcelona in total, six of them managed to survive the first day's nine grueling rounds with pristine records of 9-0. Congratulations for that achievement go to: Marcus Angelin, Michal Lipinski, Kazuma Matsumoto, Miguel Castro, Paulo Pinto, and Louis Snazle, pictured below, left to right: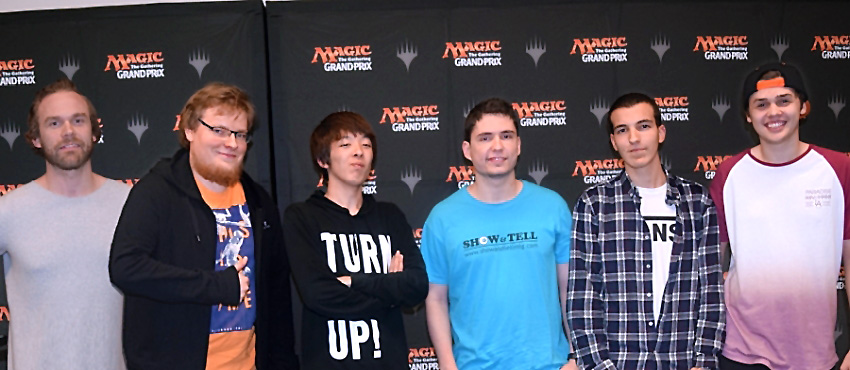 The decks they made such a good use of were: one Temur Tower version with a sweet sideboard heavy on creatures, one Four-Color Copy Cat with main-deck Skysovereign, Consul Flagship as another trump against Mardu, and four of the ubiquitous Mardu decks. But even those featured a little tech here and there. Michal Lipinski, for instance, swore by his three main-deck Aethersphere Harvesters, while Paulo Pinto identified his two copies of Archangel Avacyn, with a third in the sideboard, as the most important factor in his success.
Louis Snazle, meanwhile, admitted that he was only running three copies of Gideon, Ally of Zendikar because he couldn't obtain a fourth when he built his deck at the last minute.