Pascal Maynard has been on quite the tear recently. Earlier this year, Maynard managed to Top 8 three different Grand Prix events in a row. Now, Maynard trails Alexander Hayne in the race for the Canadian National Championship and this Top 8 puts him in a nice position to make Platinum if he's able to put up some reasonable numbers at Pro Tour Magic Origins.
His opponent, Facundo Conde, doesn't have much in the way of finishes yet, but, with a Top 8 at last year's WMCQ for Argentina and another Top 8 here this weekend, it's clear that Conde has a bright future ahead of him.
Maynard and Conde traded removal spells with creatures and picked apart each other's hands with Thoughtseize. The trading continued, but Maynard was able to draw extra cards with Abzan charm and find threats on the top of his library while Conde drew a string of lands.
Eventually, Maynard's threats overwhelmed Conde's removal and he was able to secure the first game.
Maynard 1 - Conde 0
The second game played out similarly to the first in the early turns. Conde was able to sneak in a Monstrous activation with his Fleecemane Lion and it would prove to be a hurdle for Maynard over the remainder of the game. Eventually, it got to a point where both players had Elspeth in play. Maynard was setting up to ultimate Elspeth, Sun's Champion and Conde was forced to use Ugin, the Spirit Dragon to exile the board.
Maynard still had plenty of gas in his tank, though. Siege Rhino and Courser of Kruphix came down and the game looked to be very tight.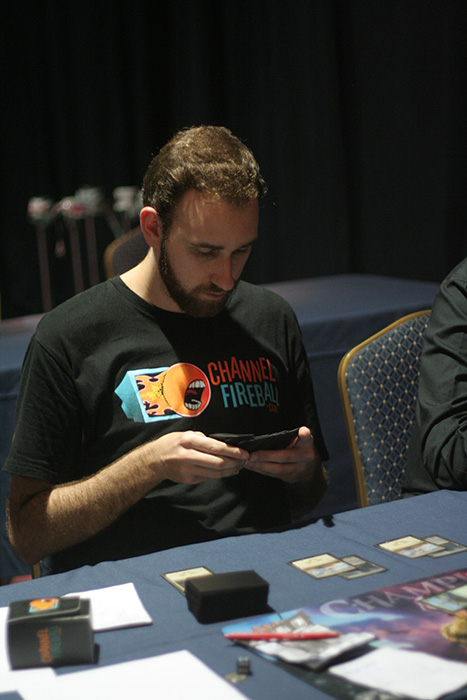 Maynard was confident. Conde had another Siege Rhino, but Dromoka's Command and Abzan Charm represented enough damage to seal the deal. After pondering the possibilities, Maynard went for the kill and Conde extended his hand in defeat.
Maynard 2 - Conde 0
Pascal Maynard defeats Facundo Conde to advance to the semifinals!