Usually the undefeated lists are a perfunctory exercise. We all want the lists, we get them, and that's that. But Team Sealed is different. Half of the fun of Team Sealed is figuring out what you would build if you had this configuration of cards.
So below are both the 9-0 finishers' pools, divided into colors, then the three main decks the teams registered. If you don't get to play Team Sealed often, this a great opportunity to take some time with the pools first, look at how you would've built it on your own (or better, with two friends) then compare it to the teams that won with it.
Extra bonus: If you are doing this exercise with friends, think about which person would be the best with which deck. Some might call this too "high-level," but it's an integral part of the Team Sealed strategy.
First up is the lesser-known squad of Marc O'Connor, Dustin Taylor, and O'Donnell. They've treated this tournament with seriousness. They love the format, and among the three of them have done over ten practice drafts.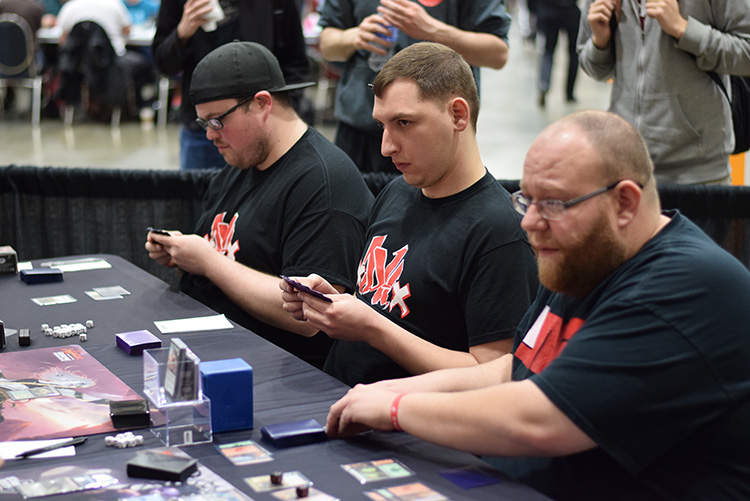 Devon O'Donnell, Dustin Taylor, and Marc O'Conner
They were finished building this pool yesterday with about 30 minutes left in round. Which is pretty absurd. Here's the pool:
Ok, there are some clearly powerful cards, including strong multi-colored and colorless cards, but the spread could be tricky. Often teams want to front-load all the colorless lands in one deck. Would the decks pan out that way?
After you've put together a build, take a look at the final lists:
Taylor got the lion's share of the colorless, like Matter Reshaper and Spatial Contortion and the colorless for Stalking Drones. But it was O'Connor who took the Endbringer and the Black-based colorless cards.
The two said there was a very good reason for that. "I needed something to finish the game," O'Connor said.
"And I needed early game," Taylor finished. He added, "When you're in Blue, there are so many colorless benefits, you're probably going colorless anyway." He said that colorless powers up your green two-drops—specifically Stalking Drone.
How did your builds compare to this one?
Next up are the heavy hitters: Fourth-ranked Paul Rietzl, Dave Williams, and Matt Sperling. These guys are just itching for their third Team Top 4, and with the 9-0 yesterday, they're over halfway there.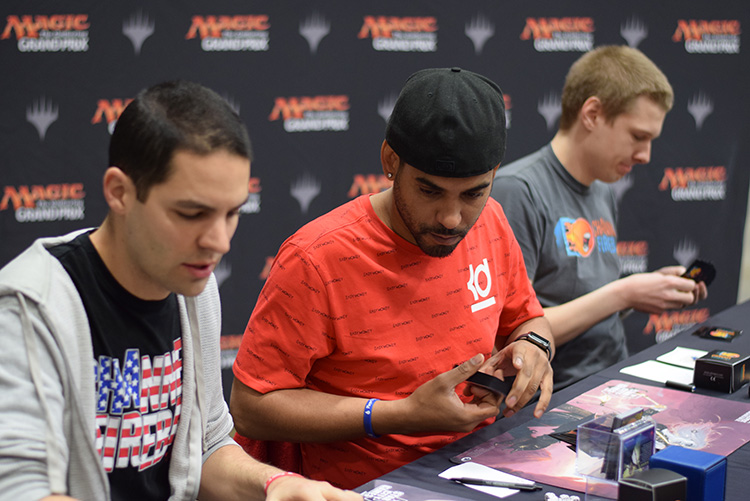 Matt Sperling, Dave Williams, and (4) Paul Rietzl
"This is about on par with expectations for the pool we opened," Dave Williams said. Though he's always been known as a bit of braggadocio, do you agree? Is this pool as powerful as Williams' claim?