By Asako Seo, translated by Ben Swartz
At last, Grand Prix Kōbe 2014 has started. Let's make our way to the tournament venue.
The venue is at the Kōbe International Exhibition hall. The Port Liner Monorail's Shimin Hiroba station is nearby. The monorail connects from downtown Kōbe passes through the venue and terminates at Kōbe Airport.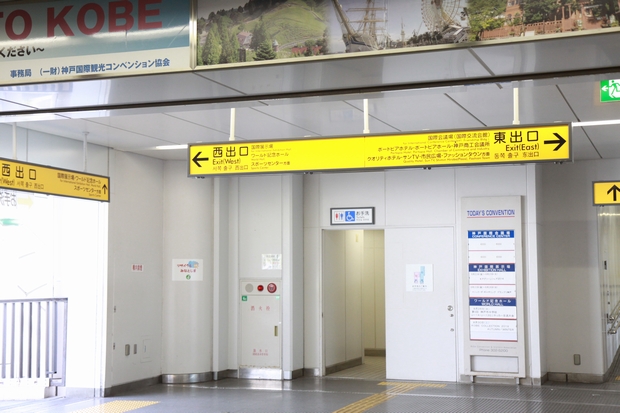 Once through the ticket gates, let's head to the left.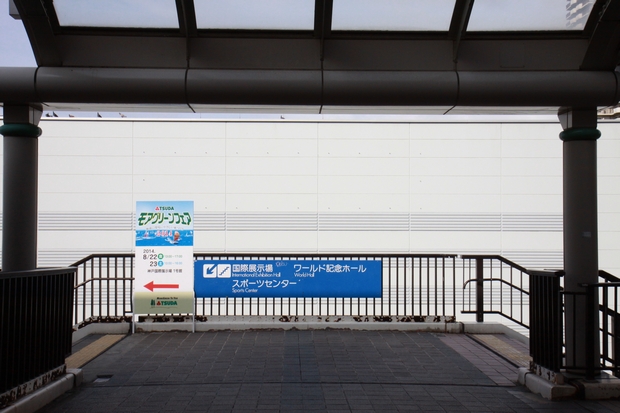 Immediately there is a staircase that will take us down to the venue.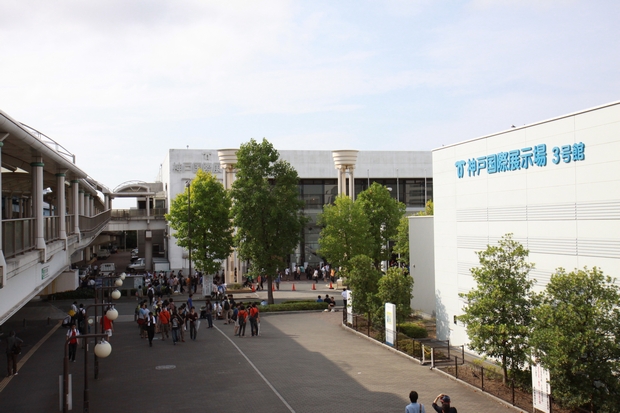 From here you can see the entrance to the venue.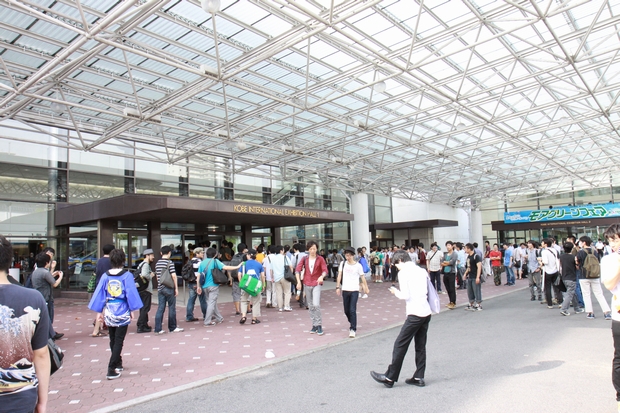 On the left-hand side is the Kōbe Interantional Exhibition Hall's entrance. Quite of few people are trying to enter this morning.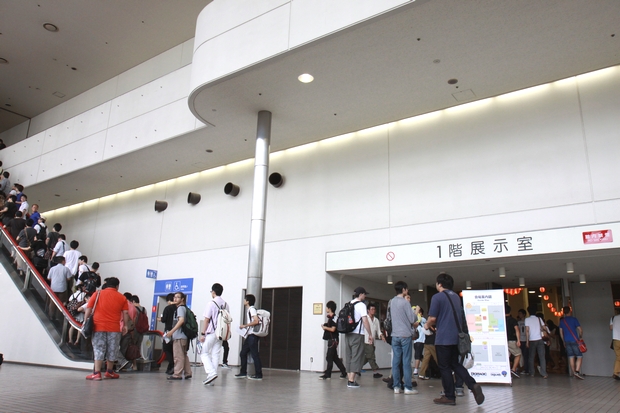 The hall on the first floor houses side events, the artist area, and shops. On the left side there is an escalator that will take us to the second floor, where the main event hall is.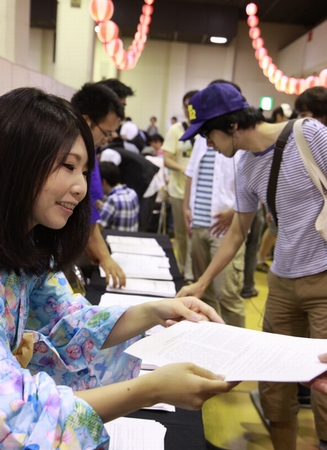 Let's first check out the first floor. At the registration desk, officials wearing summer kimono will collect signup forms.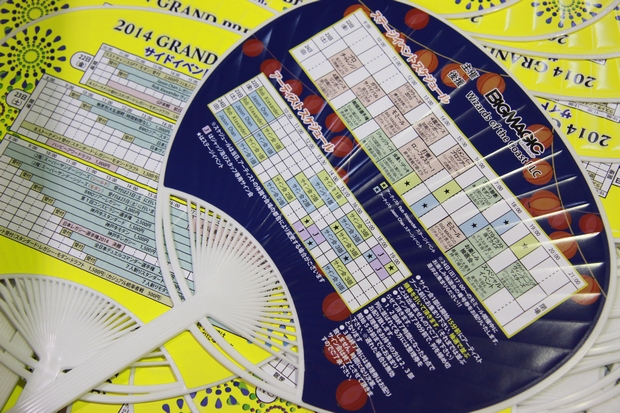 Fans are given out that have schedules of the weekend's activities printed on them.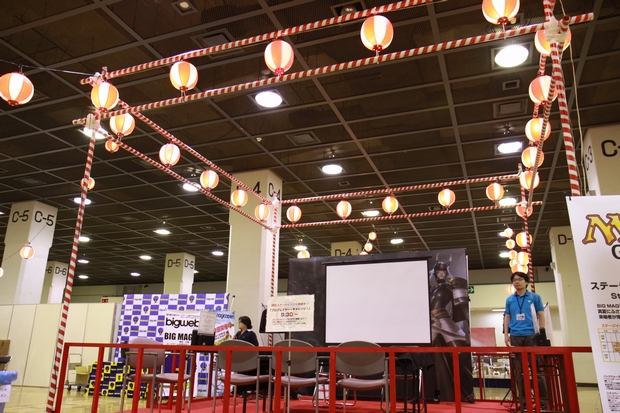 In the middle of the first floor sits the stage, surrounded by festival lanterns. Various fun events will take place here throughout the weekend.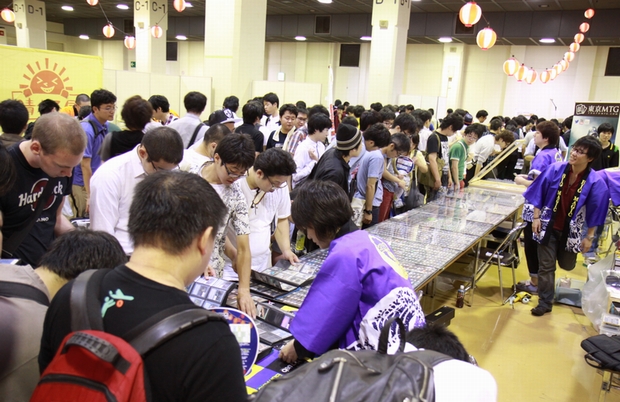 Shops display their wares while players gather around. Business is prospering.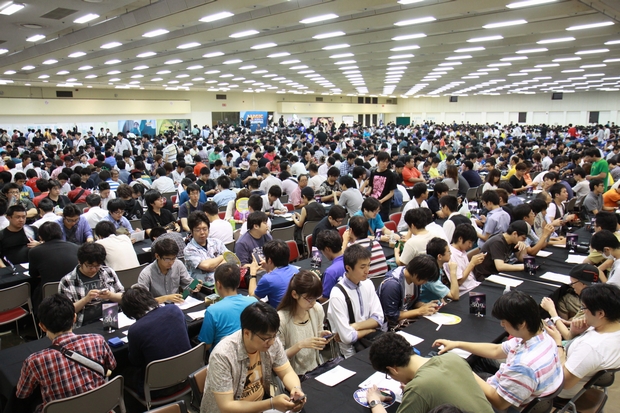 On the second floor sits Grand Prix Kōbe's main event area. The tournament has been split into two sides--blue and black.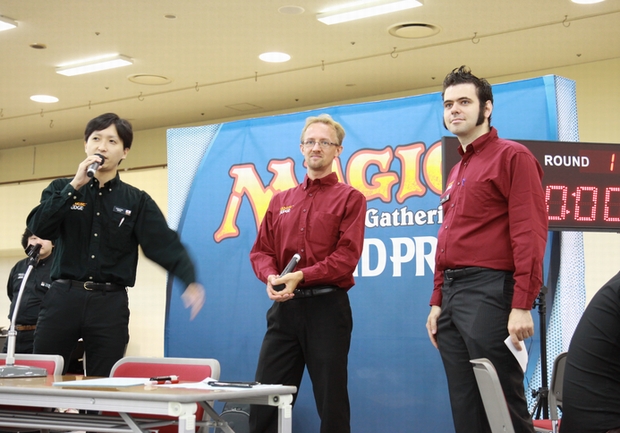 Here the head judges make their opening announcements. This time the two head judges are Level 5 Riccardo Tessitori (center) and Level 4 Daniel Kitachewsky (right).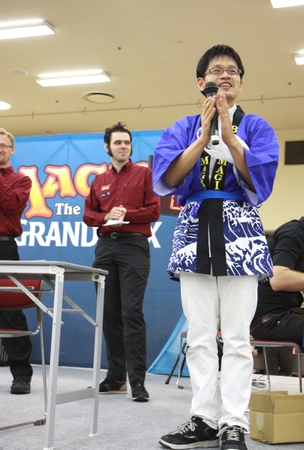 Grand Prix Kōbe is being run by BIG MAGIC. Here, Big Magic's Mr. Itou welcomes and thanks all the players for attending. After this round one will begin.
Stay tuned throughout the weekend for coverage of Grand Prix Kōbe!