So we're down to the final match. Martin Dang has eschewed the Khan's wedge structure to go with a nice Grixis deck. Nikolas Labahn is running Abzan colors, but his deck has a Temur-y bear theme with 3 Alpine Grizzly and 3 Savage Punch.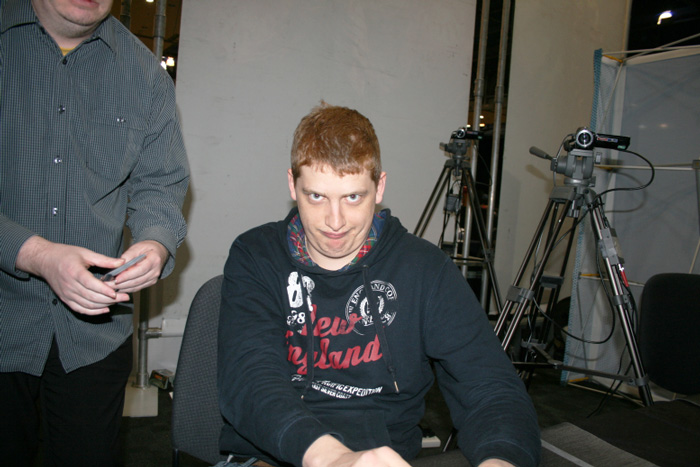 Nikolas Labahn
Game 1 saw a very strong draw from Dang. He curved out with Jeskai Sage, a morph and then Orc Sureshot. The Sureshot hit the mark the next turn as Dang was able to cast both a Jeskai Sage and another morph in the same turn to remove Labahn's Grizzly. This left Labahn facing down five creatures with just a solitary Alpine Grizzly for company. That wasn't enough and that was the end of a very quick first game.
Dang 1-0 Labahn
Sometimes final matches are epic battles. Other times they're damp squibs as one player's deck malfunctions badly. Sadly for Labahn, already a game down, his deck chose an unfortunate time to be miserly on lands.

Martin Dang
He missed his third land drop with a rueful shake of his head. That handed the initiative to Dang and meant he already had a Jeskai Sage and morph on the table by the time Labahn summoned a morph of his own. Dang followed with a steady stream of morphs. One of those turned out to be a Glacial Stalker, which was bigger than the poor Frontier Mastodon that found itself in the way of it. Labahn continued to ruefully shake his head as his deck refused to cough up a fourth land.
Martin Dang defeats Nikolas Labahn 2-0
Not a classic, but I doubt Martin Dang will complain as he now gets to go home with a nice trophy and a big check as the champion of Grand Prix Liverpool 2015!