Magic returned to the ACC on the King's Dock in Liverpool for the second year in a row. In 2017 it was all about the Dinosaurs and Pirates of Ixalan limited. For the 2018 Grand Prix, the most recent set was Guilds of Ravnica, but this was of less relevance as the format was Team Unified Modern. Team Unified Modern has three-player teams all playing Modern, with the stipulation that no cards other than basic lands are shared between the three decks. For formats with smaller card pools (such as the Team Unified Standard used at the World Magic Cup on the following weekend) this can force some difficult choices. Given the Modern format has a lot of viable decks, this constraint was a minor inconvenience at most.
The conventional wisdom going into the event was that most teams would have an Ancient Stirrings deck, a Faithless Looting deck and a Noble Hierarch deck, but that those decks could vary considerably. Both Tron and the KCI combo deck made use of Ancient Stirrings for example. And with the current Modern meta as broad as it was, players didn't have to follow conventional wisdom at all. Plenty turned up to battle with their favourite pet deck. Modern just wouldn't be Modern if a random Mill deck or Bogles deck didn't show up in the feature match area at some point.
Grand Prix Liverpool was also extremely popular. We had a total of 504 teams, meaning 1512 players were battling it out to be crowned team champions. Those teams weren't the only Magic players here at the weekend. This weekend also marked the release of Ultimate Masters, and that had enticed some players to Merseyside to draft up a storm. On Saturday the main hall was completely filled and further space was made available upstairs to cope with the demand.
Seeing a hall completely filled with people playing Magic is always a lovely sight.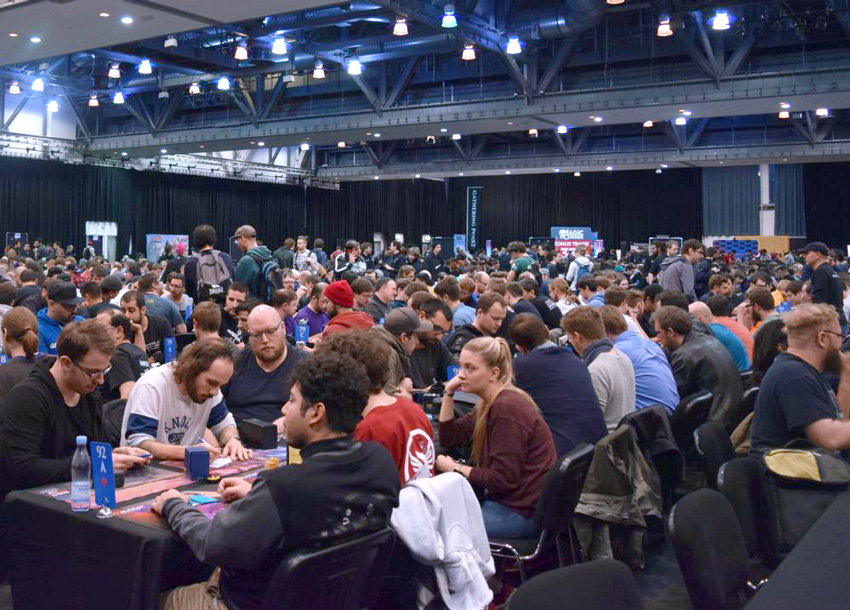 Perilous Journeys
Grand Prix Liverpool had a more international flavour this year. With the World Magic Cup taking place in Barcelona on the following weekend, some players chose to come from further afield to double up on both events.
The craziest travel story probably belonged to the New Zealand team captain, Jason Chung. His 37-hour flight landed on Saturday morning and the final leg of his journey, an uber, was scheduled to get him to the venue at 8:56. Given that Round 1 was scheduled to start at 9am on the dot, that was cutting it awfully fine. I certainly wouldn't risk that margin with UK transport!
As it was, he arrived in time... to lose his match, as he put it, "on his own accord."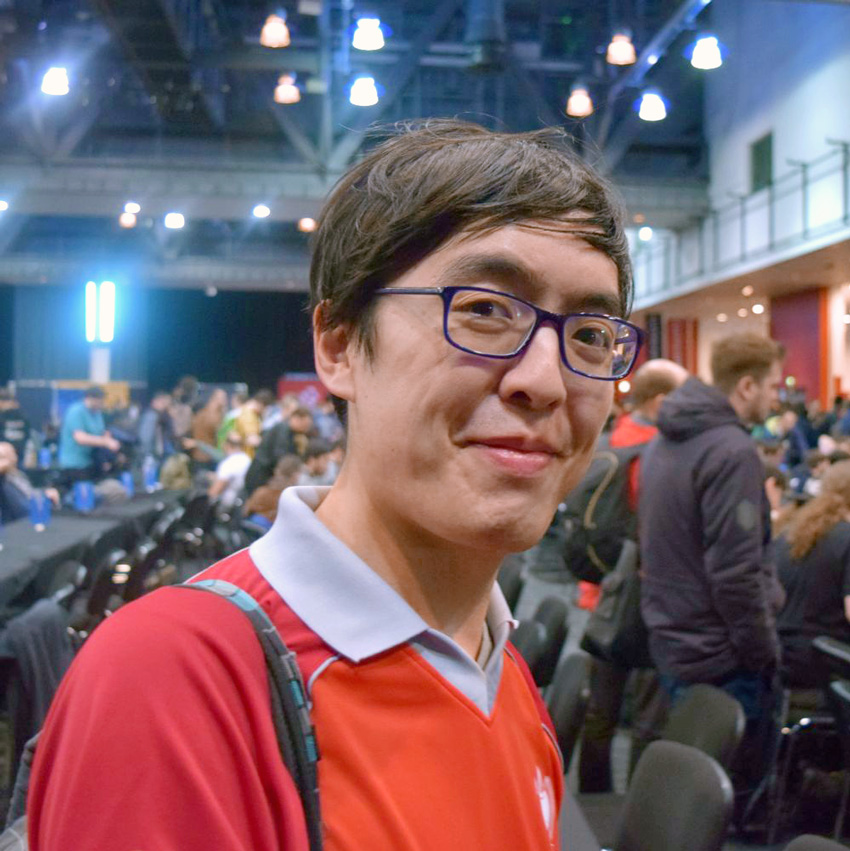 "Trying to get a picture of me when I'm looking my worst," he said.
Yep, sorry. That is what caffeine-deprived text-coverage writers do.
I was glad Chung made it, though. His unconventional Mill deck looked most interesting when it was featured on camera.
And would likely feature in Day 2, as that round one loss was the only blemish on Chung's record as he and his team won out to finish the day with a 7-1 record.
World Magic Cup Teams
While the formats were different (GP Liverpool was Team Unified Modern, The World Magic Cup was Team Unified Standard) we had a trio of national teams playing together over the weekend, either for general practice in getting the team to gel, because they were friends anyway, or because it was fun.
Team Mexico had a feature match on the back table in round 1. I caught up with the team of Daniel Becerra, Marcelino Freeman and Dagoberta Silva right after.

Team Mexico: Dagoberta Silva, Marcelino Freeman and Daniel Becerra
Freeman was the current team captain and had held the role for the past 3 or 4 years. "I'm a dictator", he joked. He was the one with the most experience, with some appearances on the Pro Tour," but the Mexicans felt they had a strong team and had high hopes for both GP Liverpool and the World Magic Cup.
He was also running Bogles for this tournament, which should be fun for him (and infuriating for his opponents as the slippery boi often is).
Also present was the Finnish national team of Matt Kuisma, Roope Metsa and Lauri Pispa.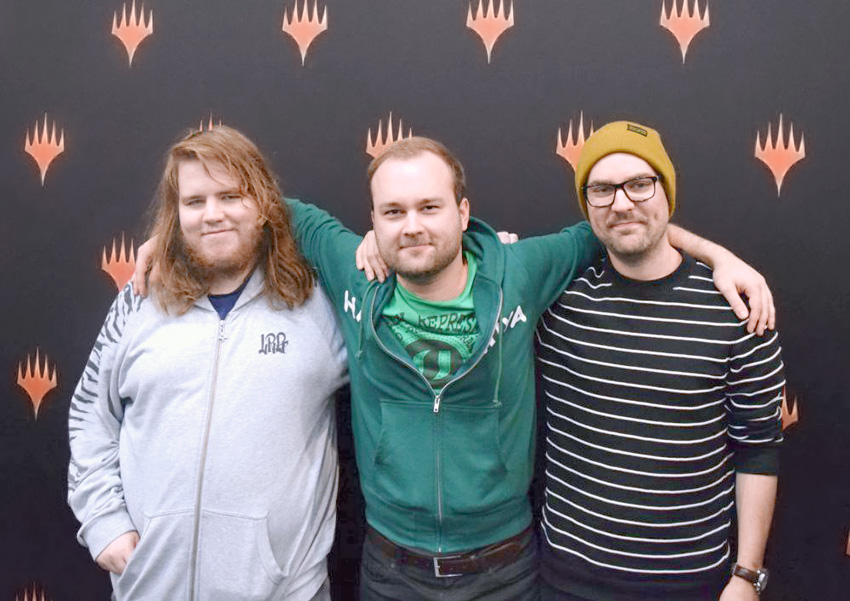 Team Finland: Roope Metsa, Matt Kuisma, and Lauri Pispa
Kuisma was the current team captain and had had a pretty good year Magic-wise. He was part of the team that finished 3rd at Grand Prix Bologna in April and then, on his own this time, went on to win GP Barcelona in June.
Of his current WMC teammates, Pispa is a former team captain from two years back. They thought this might be the strongest Finnish team ever. Given that Pispa had also recently won a Grand Prix in Prague with Hardened Scales, they might have a strong case.
And then, from much further afield, we had the trio of Chong Teng Kong, Chin Heng Tan, and Kelvin Chew, who comprised the current Team Singapore.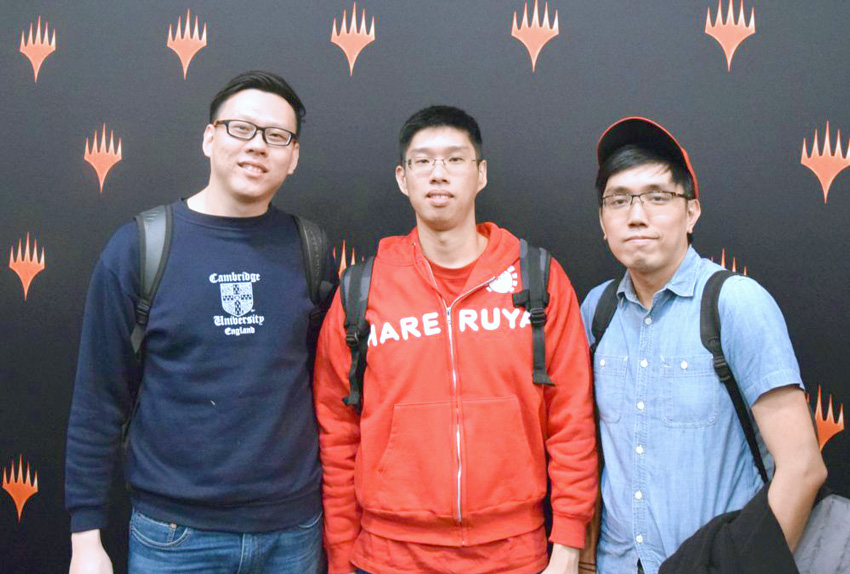 <
Team Singapore: Chin Heng Tan, Kelvin Chew, and Chong Teng Kong
We'll smoothly skip the part where this clueless reporter asked Chew if he had much PT experience.
In my defence (and to stop my coverage colleague Chapman Sim giving me a good clobbering next time he sees me), Chew's Pro Tour Top 8 came at Pro Tour Return to Ravnica, a period when I wasn't playing. Although I have less excuse for not noticing his five previous Grand Prix Top 8s, including a win in Beijing in 2017. Tan also had a previous Grand Prix Top at GP Singapore back in 2009.
So, yep, plenty of high-level play experience.
Grand Prix Liverpool also had a few star-studded "super" teams most opponents would be terrified of being paired against. Most notable of those was the combination of 2018 Player of the Year, Luis Salvatto, and the man he beat in play-off to secure that title, Seth Manfield. Given that these were the number one and number two players of last year, it would be easy to overlook the third member entirely, but Francisco Sifuentes is no slouch with 3 GP Top 8s in the past couple of years and was currently the Team Peru captain.
Magic, truly an international game.
Online Content Creators Go Tabletop
In keeping with the international theme of the Grand Prix, we also had a few names playing that might be more familiar for their videos on YouTube and Twitch. TheManaSource's Wedge was playing here this weekend, teaming up with the Twitch Magic Streamer, Vincent Chandler, probably better known as PleasantKenobi. How that team came together was facilitated by Denis Stranjak, a content creator for ChannelFireball and the founder of Windmill Slam.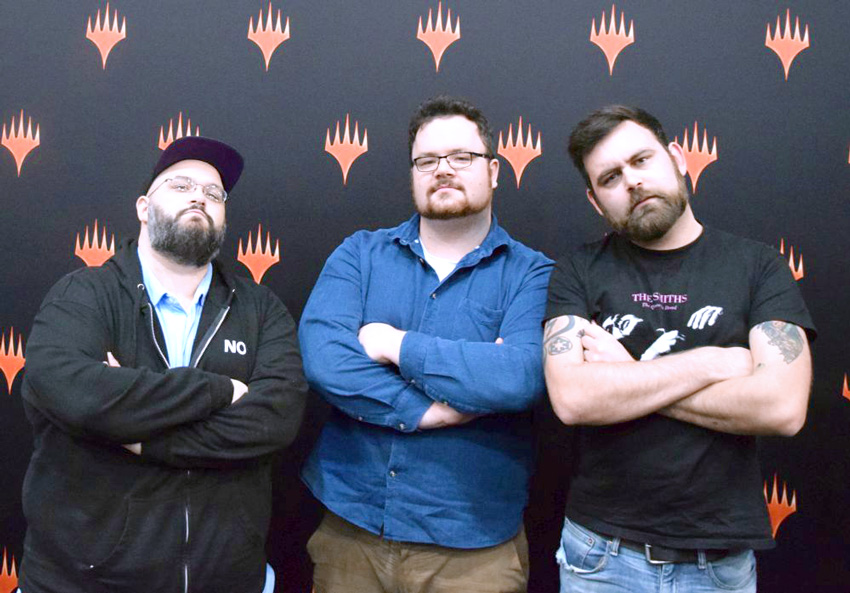 Wedge, Denis Stranjak, and PleasantKenobi
Wedge recently got married and his wife is from Sheffield, which means he's planning to be over in the UK until at least MagicFest London, and hopefully for longer. He ran Tron for this tournament, but eschewing the usual forests for some island-based shenanigans.
PleasantKenobi's was running a GW Hatebear concoction. Rather ironically, when I caught up with him in the feature match area he was playing against a friend from his local area who'd sent him the list. This meant several Blade Splicers facing off against each other and various Flickerwisp tricks and token-destruction. His opponent had gone with black rather than green for his secondary colour, which left Chandler at a bit of a disadvantage as:
"He got to murder all my guys with Wasteland Strangler."
Stranyak surprised me by telling me he hadn't played Modern. For this reason he was on the "count to 20" plan of burn. Well, count to 17. There are plenty of shocklands and fetchlands in Modern after all.
Sadly, the day didn't go so well for our heroes, as they were out of contention after falling to 2-3 after Round 5.
A Team Of Writers
As I was heading up the escalator to grab a quick snack, I noticed Swedish Hall-of-Famer Olle Råde battling away on one of the tables. I think this might mark the first occasion when we've had all of the European text coverage team in the same room.
(Tobi Henke was showrunner this weekend, I was on text and Frank Karsten was on commentary duties).
So here we are, your European text coverage team, all together in one location.

Your European Text Coverage Team: Olle Råde, Craig Jones, Frank Karsten, Tobi Henke
I hope you've enjoyed our little text summaries of the Grand Prix over the years.
You'Re Not Out Until You're Out: The Sequeling
There is a big truism of Magic—you're not eliminated until you're eliminated. The star team of Andrea Mengucci, Javier Dominguez...
Wait, haven't I written these words before?
This story seems rather familiar...
And it is. One of the stories of Grand Prix Madrid from earlier in 2018 was the escape act of Mengucci, Dominguez and Christian Calcano. After three rounds the super-team had a precarious 1-2 record and was one more loss away from elimination. They followed that with 9 wins in a row before finally being stopped by eventual winners Christoph Green, Ben Jones and Charles Eliatamby in a bubble match for Top 4.
Fast-forward to December 2018. For this tournament Mengucci and Dominguez were teamed with Portuguese superstar Márcio Carvalho. However, despite all the star power, after 3 rounds they were in trouble at 1-2. They needed to win every match to stay in the tournament and proceeded to do just that, ending the day with the 6-2 record required to proceed to Day 2.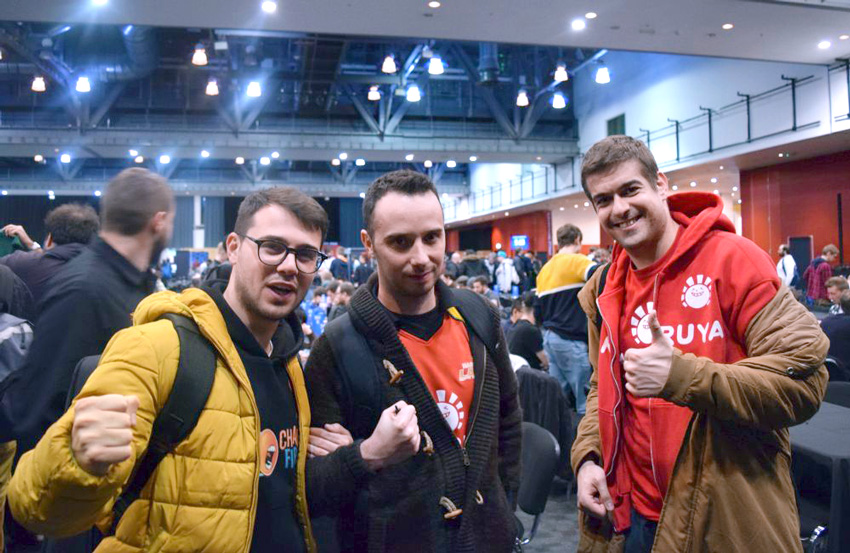 Escaped again!
Would history repeat itself again? Could the current World Champion and co. continue the winning streak deep into Sunday? Could they better the Madrid escape act and win all the way into the Top 4?
You're never out until you're out.
The Undefeated Of Day 1
After 8 rounds of Modern action, 2 teams ended the day undefeated with perfect 8-0 records. In keeping with such a star-studded tournament, the top tables near the end of the day were stacked. On table one the team of Niels Molle, Piotr Głogowski and Joao Choca emerged victorious over the team of Juan Carlos Jara Perez, Daniel Torrego, and Carlos De La Calle Arroyo.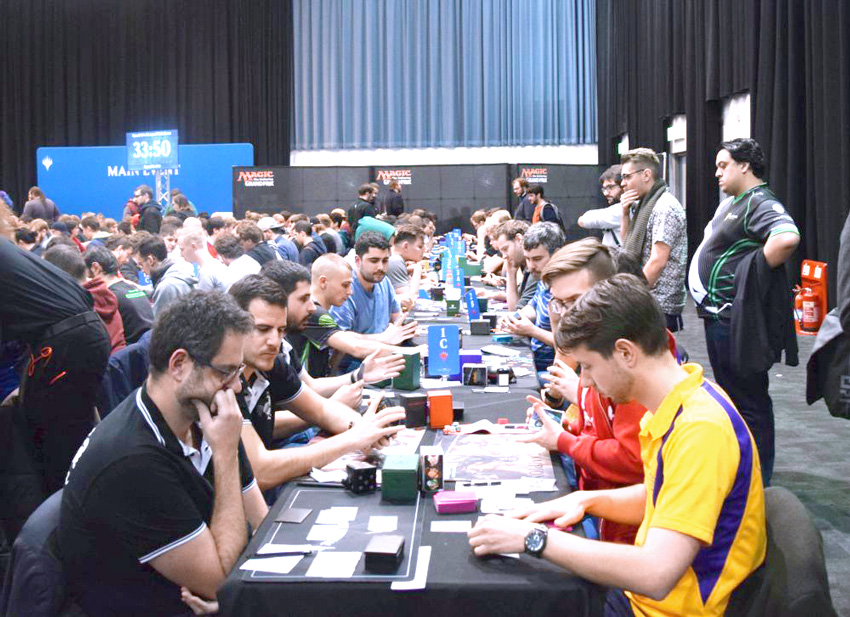 Molle was a former England team captain, but has since moved back to the Netherlands. Głogowski is probably better known by his online handle Kanister. Both he and Choca made the Top 8 of Grand Prix Atlanta in November, both also running KCI.
As Choca put it, "All of us wanted to play KCI."
However, with it being Team Unified Modern, only one of them could run the powerful artifact combo.
The other table saw Mattia Rizzi, Francisco Sanchez and Cristian Ortiz emerge victorious over the team of Thiago Rodriguez, Eduardo Sajgalik and Jeremy Dezani.
Looking through their past achievements that team could be known as the Copenhagen Connection. Mattia Rizzi won GP Copenhagen in 2017, ironically beating Ortiz in the final. In 2018, it was the third member of the team, Francisco Sanchez, losing in the final, again in Copenhagen. Rather more ominously for the rest of the field, Ortiz has already won one Team Modern Grand Prix in the past 12 months...