Five players escaped the first day's nine grueling rounds with a pristine record of 9-0: champion of Grand Prix Bilbao 2013 Mitchell Manders, Grand Prix Ghent quarterfinalist Elias Klocker, Game Day champion Cosmin Achim, Hall of Famer (8) Martin Jůza, and Francesco Fritto Hugony who so far only had Pro Tour Day 2 finishes and Grand Prix Top 16s to his name (pictured below, left to right).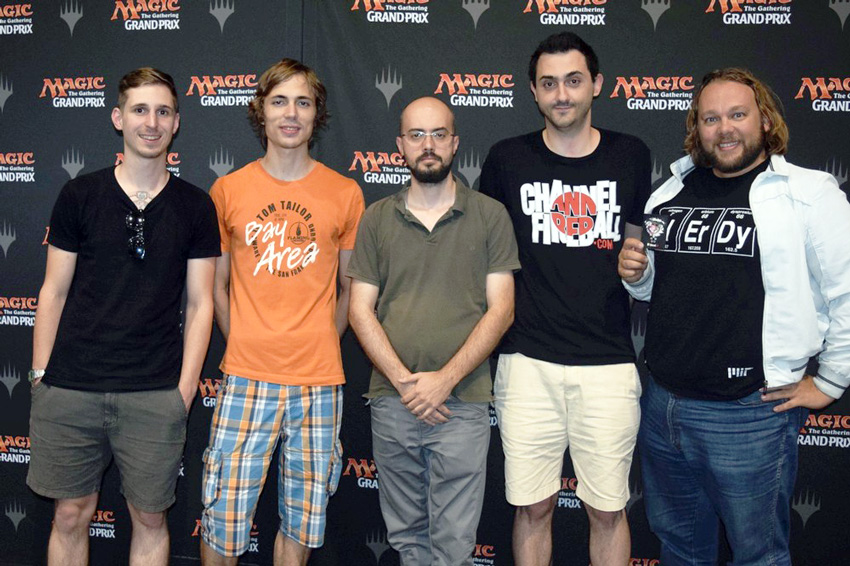 Check out the decks these people used below! Most represented color combination? Black-red. Most represented rare? Well, wouldn't you know it, it really was Dreamstealer. I guess that fits.
As Jůza said, "Sideboarding is a big part of Limited." Case in point: When he lost a game against Alexey Shashov's God-Pharaoh's Gift and Cruel Reality in Round 9—who was piloting a deck with Rags // Riches and No Mercy too!—he replaced Hour of Devastation and Edifice of Authority with Defiant Khenra and Supernatural Stamina and ended up winning the match.
Manders, meanwhile, didn't do a lot of sideboarding, saying, "Rarely changed a card. I was very short on playables."
Any major sideboarding? Hugony: "No, almost never. The deck just always performed unexpectedly well as is."
Achim stated that he had had a second deck in his sideboard, but only played three games in total with it. However, he probably couldn't have won one particular match without it, the story of which went as follows: "Lost first game to Hour of Promise ramp into Overwhelming Splendor, then switched to another deck with two counterspells, and won the next two games with it."