This was a throw-down between a foreign Grand Prix Champion and a local hero. Vieira had to 3-0 his second draft pod just to be here, whereas Flores had enjoyed the luxury of locking things up in round 14.
The Games
Flores led with Sultai Emissary into Sandsteppe Outcast, a value opening that outclassed Vieira's Mardu Woe-Reaper and Jeskai Sage. He pressed with a morph that turned out to be Abzan Guide while Vieira tried to find his feet. Vieira bought time with Crippling Chill and got out a Whirlwind Adept.
Flores didn't have a way to boost his Guide in combat, and so started to build out his forces. Vieira tried to keep up but couldn't quite manage it. Glacial Stalker was the only real deterrent he had, and as soon as Flores found a Smite the Monstrous he sent his whole army. Vieira blocked as best he could, but Flores had the best of it, and his advantage became overwhelming.
Flores 1 – Vieira 0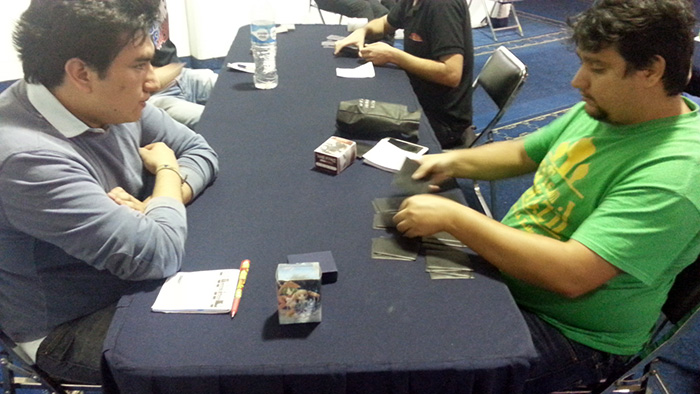 You know what's worse than missing your second land drop? Your opponent resolving Siege Rhino before you hit it.
Vieira played on regardless. He found land number two and brought out Jeskai Sage. It chumped Flores's morph and found him a third land. That let him buy another turn with Icy Blast, so Flores added Abzan Banner and Ainok Guide to his side of the board. That was about where Vieira's luck ran out. Debilitating Injury took care of Soulfire Grand Master and Flores unmorphed Abzan Guide. It was enough.
Mario Flores defeats Eduardo dos Santos Vieira 2-0