It was his first Top 8, and nobody was happier for Philippe Gareau than his roommate Pascal Maynard.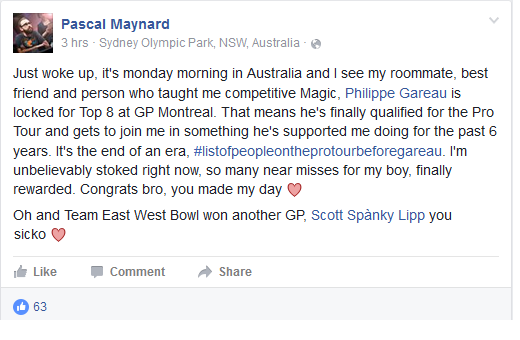 I caught Gareau just before the start of the quarters and asked for a quick run-down of the key points of his draft. It had started auspiciously with a mighty blue rare.
"Not only is Niblis of Frost a great card, but I first-picked a blue rare in both my previous drafts today. There was no way I wasn't taking this one." Second pick gave him Smoldering Werewolf over the on-color Wretched Gryff. "I think the Werewolf is the more powerful card, and I like Blue-Red. I'm not eager to take emerge cards without support." He speculated on Emrakul's Boon third, then passed on a Lashweed Lurker in favor of Curious Homunculus. "I hate Blue-Green. I won't draft it. At this point I was still hoping to be Blue-Red, and then I got the two Geist of the Archives. Unfortunately the red was getting cut." He wound up in white on the strength of a late Steadfast Cathar and Spectral Reserves.
His shift was rewarded in pack two where he was offered his choice between Spell Queller and Faith Unbroken, with more blue cards behind that might table. "It was a tough choice. Spell Queller is absurd, I had two of them in my last draft, but ultimately I needed a way to deal with a creature that was already on the table." He took a Wretched Gryff out of a relatively empty pack, then Selfless Spirit over Subjugator Angel. "I never want expensive spells. Six mana is a lot. With two Geist of the Archives I'm going to be filtering lands to the bottom of my deck." He got himself a pair of Dawn Gryffs and his deck was starting to take shape as a classic Blue-White Skies. Pack two closed out strong with a Chilling Grasp eleventh. "I was so happy to see that card. I needed it."
The task for pack three was upping the aggression. "I needed to get rid of these Curious Homunculi because I wasn't going to be playing enough spells to justify them." He started with Sleep Paralysis, then got a gift of Bygone Bishop. A pair of Devilthorn Foxes jumped into his pile, along with an Angelic Purge and an Explosive Apparatus to help him control the board. "I was able to keep my curve low. I love playing aggressive tempo decks in this format, especially when I can go down to sixteen land."
Three rounds stand between him and the trophy.