Going into the last round, the coveted Day 2 slot is still open game. Many teams were sitting at 6-2, hoping for one more win to clinch a spot at the table tomorrow. Walking around the middle tables you get a good feel of the last-round action.
But first, let's do a check-in for the Top 25 players in attendance. Fifteen of the players were here battling today, spread across twelve teams. Some of them faired very well, a couple were on the fence.
No. 17 Alexander Hayne and his teammates Craig Wescoe and Frank Skarren cruised into Day 2, clinching their spot in seventh round. Clinching a bit later, No. 20 Shahar Shenhar, No. 18 Tom Martell, and their Pro Tour Hall of Fame teammate Paulo Vitor Damo da Rosa reached 21 points in the eighth round. As did No. 22 Sam Black and his partners in crime, Matt Severa and Gaudenis Vidugiris.
No. 7 Ari Lax, Matt McCullough, and Alex John got there last round; No. 14 Josh Utter-Leyton, Josh Cho, and Gerry Thompson did as well. And the last spot earned in Round 8 was No. 19 Jacob Wilson, Matt Nass, and Jesse Hampton earning themselves a place in Day 2.
One did not fair so well. No. 25 Christian Calcano and his buddies Miguel Gatica and Eric Kreiter were out pretty early. But that left a fair amount of Top 25 players on the bubble.
Returning Grand Prix Team champions, "Peach Garden Oath," No. 1 Owen Turtenwald, No. 9 William Jensen, and No. 4 Reid Duke won their last round to stay alive, but they still need a win in Round 9. No. 11 Eric Froehlich, Luis Scott-Vargas, and Paul Cheon also kept their dream alive, but were still at a hanging-by-a-thread 18 points. As were No. 23 Brad Nelson, and his coverage extraordinaire teammates, Zac Hill and Jacob Van Lunen, and No. 13 Ben Stark, and Niel Reeves and Chris Fennell.
The bubble matches were intense. In addition to the Top 25 matches, Antonino De Rosa, Gerard Fabiano, and Alex Lieberman were playing for their lives after starting 1-2; and David Ochoa, Andrew Cuneo, and Brock Parker had rattled off two straight wins to still be in contention.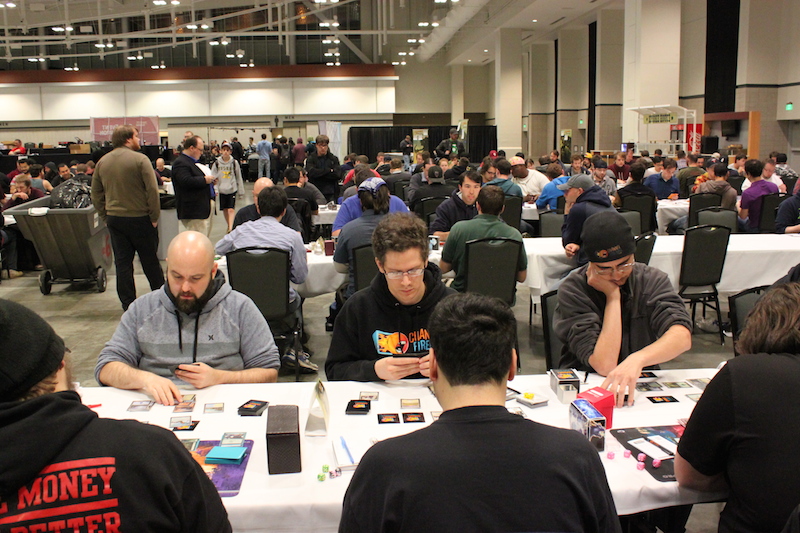 Brock Parker, Andrew Cuneo, David Ochoa
Cuneo, Ochoa, and Lieberman finished fairly early, thanks to two wins from Cuneo and Lieberman. It was sad. As Ochoa's Temur deck had some savage games going. He was fighting valiantly against multiple Mardu Hateblade, and returned-from-the-graveyard Mardu Hateblade ("Big green monsters hate that card," Ochoa said), but it ended in a "did-not-finish." However, the team itself did not end with a DNF, and spit out its third win in a row to get into Day 2.
As I passed Ben Stark, I heard his opponent say to no one in particular, 'Oh, the Trail [Trail of Mystery]. Oh, God. We fear the Trail." It was poetic that the final round came down to Mr. Stark with no Trail of Mystery in sight. With the match scores tied, the rubber game saw Stark pressuring just enough to allow a Waterwhirl to close the game. When considering casting it, Niel Reeves said to Stark, "Yeah, you got it. He's just dead." Unsurprisingly, Stark's opponent was.
A few tables down, after a quick 2-0 from Brad Nelson, and a morph kerfuffle put Zac Hill up a game, Team "Bear's Companions" made their way into the winner's circle.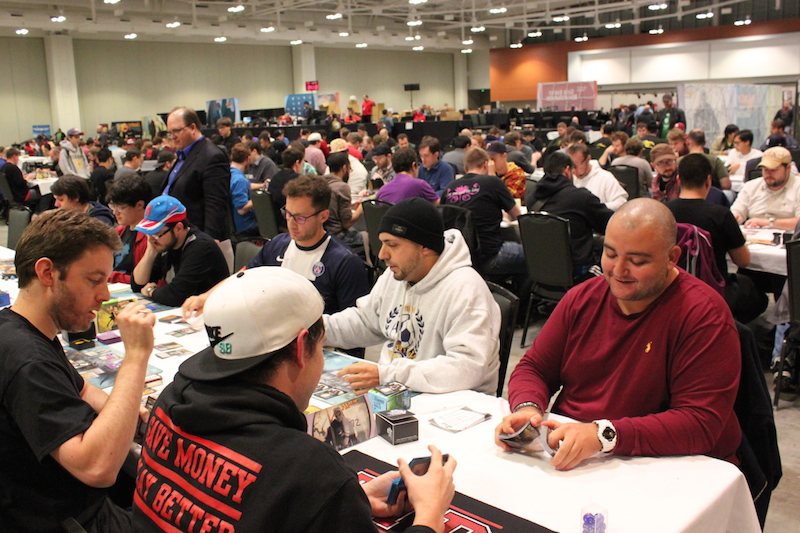 Lieberman, Fabiano, and De Rosa
The team with Antonino De Rosa, Gerard Fabiano, and Alex Lieberman pulled out their match as well. Which was quite a feat, considering that of their six practice sealed pools, Lieberman declared this either the worst or the second worst, and they started the day 1-2.
"I want it noted that both my teammates wanted to drop," De Rosa said. The others tried to deny it, but I trusted De Rosa. He said of the match that he could only lose to his opponent's Sagu Mauler. I trsuted that too because when I walked by the table, he pointed to a morph and said, "Do you have that the 6/6 or 7/6 or whatever, that hexproof guy under there? You'd better not!" And in the crucial turns, he didn't.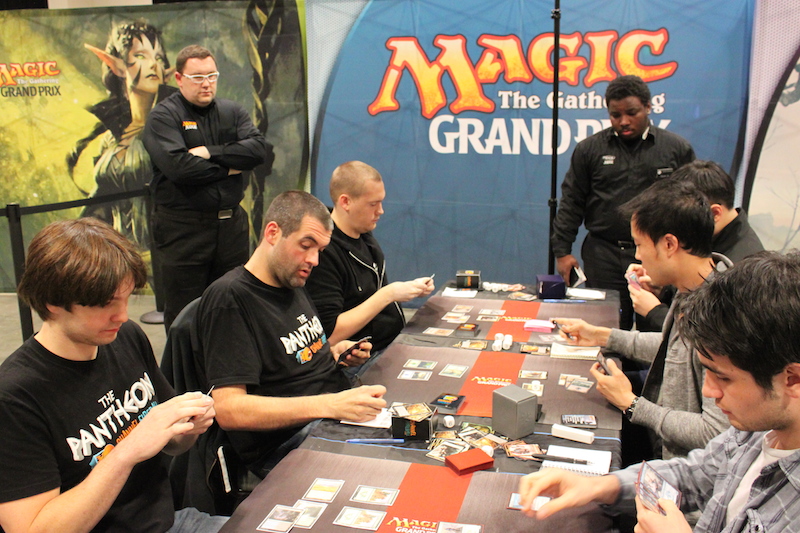 Duke, Jensen, and Owen vs. Brown, Hwang, and Tao
The Peach Garden Oath, however, was not so lucky. After Eugene Hwang quickly chewed up Huey Jensen and spit him out 2-0, Jiachen Tao did the same to Owen Turtenwald. Though Reid Duke had come back in a great game two thanks to a 3-for-1 Death Frenzy, it was for naught, and the returning champions are not in tomorrow.
But the Grand Prix Portland finalists are! Luis-Scott Vargas and Paul Cheon went 1-1 against their opponents, and it all came down to Eric Froehlich. The final game was a crazy mass of spells, and a weird game indeed.
Froehlich's opponent was a very aggressive deck, so off a fourth-turn Bitter Revelation he kept two lands over two creatures. Well, it was also because Froehlich's hand was Wingmate Roc, Rite of the Serpent, and Duneblast. All EFro needed was land to cast the gigantic spells.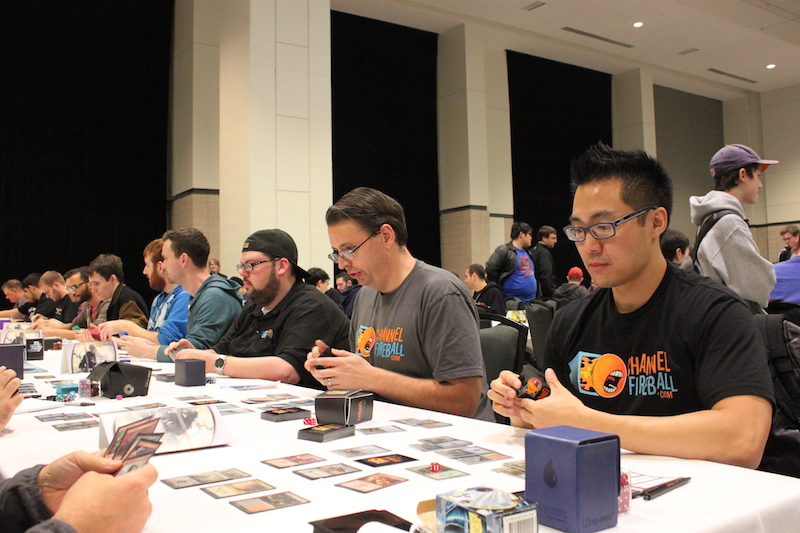 Paul Cheon, Luis Scott-Vargas, and Eric Froehlich
To his surprise, in came the sideboarded End Hostilities taking out his Wingmate Roc, and Froehlich was left with no creatures. None. Eventually he got a Mardu Hateblade, but it was literally eight turns before he would draw another creature. When he did, he immediately he snapped off the Duneblast, saving his 1/1 ("snapping" to save a 1/1 seems weird even to type, honestly).
A flurry of removal later (including a stack of Feat of Resistance, Utter End, Feat of Resistance) a Swarm of Bloodflies (or "Butterflies" as Froehlich called it), was able to take the last game. LSV, EFro and Empty the Cheons are in to the second day.
Though most of the bubbles converted, it was not Owen, Huey, and Reid's day. And of the Top 25 players in attendance, outside of the Peach Garden Oath, it was only Christian Calcano who was unable to persevere.
There are five more rounds tomorrow with a completely new pool before cutting to the Top 4. There are some incredible players in the running, and we're in for another great day of Magic tomorrow!